There are some cameras which you can't help but like. Something about the way they combine form and function. In the world of action cameras, for me anyway, my favourite has long been the DJI Action 2. It can be a tiny camera alone or, magnetically attached to a reversible battery extender and reversible monitor for the full functionality of a vlogger-friendly action camera.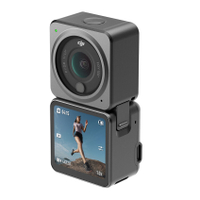 DJI Action 2 PowerCombo|was £349|now £210
SAVE $220 Whether you're looking for the best action camera or a compact selfie camera, the DJI Action 2 can do it all with the dual-screen combo, offering DCI 4K 60p or slo-motion 4K 120p or even 240p at 1080p – this is a tiny but versatile camera for action, vlogging or both!
This discount is available on Amazon UK.
For reasons I can't quite understand it didn't catch on. DJI have now reverted to a more traditional GoPro-like shape, so the latest DJI Osmo Action 4 looks very similar to the new GoPro Hero 12 Black. Both, of course, have their merits (as can be compared in our guide to the best action cameras) but the standard GoPro shape has never really changed.
Me? I like the Action 2 because it tried to change things and, for a lot of my purposes, it is actually more useful. The ability to switch form factors is useful – cheaper than owning a mini and full-size version of an action camera even before this deal!
The magnetic attachment system is great for clipping the camera together and clipping the camera to a T-Shirt in moments for quick first-person videos without all the fuss of a strap mechanism.
If you were looking for a problem, then divers will find they need a case when using the battery attachment. That, perhaps, is why 'traditional' action cameras have remained strong. But for vloggers, cyclists, drone pilots and the very many of us who don't routinely take our devices underwater I maintain this is a great choice, as I did in my original DJI Action 2 review.
Given you can capture 4K video at up to 120FPS with good-quality image stabilization and horizon balancing, I don't see these staying in stock long at this price!
Check reviews of the DJI Action 2 and the latest DJI Osmo Action 4, as well as our guide to the best action cameras and the best GoPro alternatives.