There has been a significant shift in the global smartphone market lately, as tech giants Apple overtakes Samsung in terms of the number of smartphone users worldwide, as well as the rising popularity of the brand.
Data gathered from the Mobile Vendor Market Share Worldwide report from GlobalStats has been analyzed by the team over at Atlas VPN, revealing the results and in turn, the new shift in the smartphone industry.
• See our picks of the best camera phones in 2023.
We may only be three months into 2023, but there's already been a surprising change in structure determining the 'top dog' of the smartphone industry. For photographers especially, having a smartphone that can capture a high-quality image is essential, and the best iPhones for photography are on the rise.
With the release of the latest iPhone 14 range of devices, it appears that Apple is spearheading a recent surge in sales and has finally overtaken Samsung in the global smartphone market as the most popular smartphone in 2023, at least according to the GlobalStats Mobile Vendor Market Share Worldwide report.
The Atlas VPN team has been digging through the data from the latest Mobile Vendor report and has found that Apple's market share in February 2023 was 27.1%, whereas Samsung has fallen only slightly below, making up 26.75% of the market share in February 2023.
Key findings also established that 1.85 billion people are using iPhones in 2023, whereas Samsung smartphones had 1.82 billion users in 2023, out of the total (roughly) 6.84 billion smartphone users worldwide.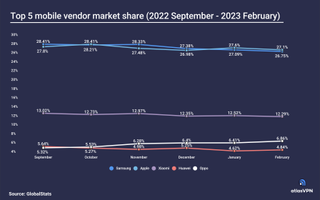 Samsung has been the dominant player for several years in the cell phone industry, with the highest market share of all smartphones through 2022. This makes the sudden, however slight, fallback in Samsung's rank interesting. For the last three months and the entirety of 2023, iPhones are now the leading smartphone.
Is this just a short-term trend? Or perhaps it's the beginning of a new era as older iPhone generations drop in price, and the newest Samsung Galaxy S23 series suffers some seriously bad publicity, accused of camera issues resulting in a blurry photo warning as well as faking captured images of the moon.
It's important to note that these figures from the report and analyzed data are just estimates, and it's impossible to track and trace every cell phone sale, especially with the popularity of purchasing secondhand smartphones, as well as the fact that many people might have multiple devices, work-issued phones, and could even be using both Apple and Samsung devices at once.
Interestingly, Atlas VPN also found that Xiaomi phones comprised 12.29% of the market in February this year, while Oppo had a 6.86% share, and Huawei smartphones have been on the decline for the past 6 months reaching a market share of just 4.84% last month.
Atlas VPN's Cybersecurity writer, Vilius Kardelis, has shared that, "While it is impossible to predict the future with certainty, Apple's success will likely continue due to its strong brand image, customer loyalty, and effective marketing. While Samsung is undoubtedly a formidable rival, it will need to innovate and differentiate itself to catch up to Apple."
• You might also be interested in the:
Best Android phones
Best dumbphones
Best Xiaomi phones
Best stylus phones
Best Oppo phones
Best Nokia phones
Best waterproof phones
Best Google Pixel phones
Best Huawei phones
Best rugged phones