The phrase 'best dumbphone' might sound like a contradiction in terms. Surely a smartphone is best, and a 'dumbphone' is inferior in every way? Well actually, for some people it's actually the opposite.
For example, maybe you're suffering from phone addiction, and need a digital detox. In that case, a simpler phone that doesn't let you access social media will be a preferable option. If you're buying for elderly, tech-challenged grandparents, a basic phone will be easier to use, so again that can make it a better choice.
If you don't want to spend a lot of money and just want to make calls and send texts, the best dumbphones are incredibly cheap. They also tend to have very long battery life, and be more robust if you drop them.
'Dumb' isn't, of course, a word that many retailers will use, preferring terms like 'feature phone'. Whatever the moniker, we're talking about basic phones that can handle calls, are relatively robust, and will, in all likelihood, only need charging once a week rather than twice a day. And while they certainly won't be the best camera phones, they'll normally have some kind of camera on board. (If you need something that can handle a very rough environment, check the best rugged phones).
An important thing to remember is that many older dumbphones are now useless (though some are styled to look like them). That's because in the US, the FCC has now phased out 2G and 3G, and other countries have done the same, so phones without 4G/LTE compatibility might well be useless. Before you buy a dumbphone, be sure to first check that it's not a 2G or 3G phone, but supports 4G or another current technology, like a satellite network. Every device on this list does.
Best dumbphone: our top picks
Best dumbphone in 2023
Why you can trust Digital Camera World Our expert reviewers spend hours testing and comparing products and services so you can choose the best for you. Find out how we test.
Best budget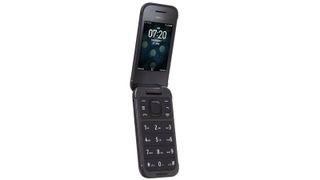 Nokia hasn't let go of the flip phone or KaiOS, which means they're keeping designs fresh, but this is – more than anything – a low-cost handset, available at under $20 in some places. Despite that, it has a 5MP camera, better than a good many on this list, and screens inside and out. There is also a headphone jack and, crucially for many, support for not only Bluetooth 4.2 but M4/T4 hearing aids too.
If you're looking for long life in the field, then the phone has a swappable battery. This is especially handy in the 4G era (call time is never as high on the more modern networks; 3.4hr talk rather than 7.3 on 3G). We also appreciate the arrival of a USB-C connection as well as the 3.5mm headphone jack. There is also little bloatware, although Youtube, Google Browser, and Maps are there.
Best for seniors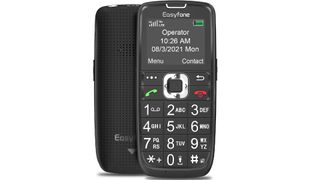 Want an easy phone your grandparents can use without getting overwhelmed? We recommend the Easyfone Prime A6, which keeps things nice and simple with big buttons, large fonts, and basic, easy to use functionality. We also love that it comes with an SOS button for emergencies (which you can disable if you prefer), and that it's hearing-aid compatible.
You don't get a camera, and there's little in the way of features, but that's kind of the point: keep things simple, and your oldest relatives will be able to make and receive calls without getting stressed or confused by too much modern tech.
Best just calls and texts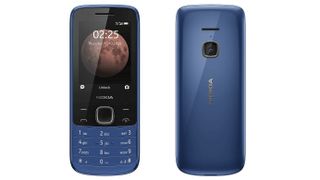 Here's another good choice if you want to avoid the distractions of a modern smartphone, while still enjoying a few smart features. This simple handset can take and receive calls; read (but not compose too many) texts, and even browse YouTube and Facebook. That's watch YouTube, by the way: the camera only takes stills).
If avoiding distraction is your priority, though, it's worth bearing in mind that the color screen is good enough for some of Nokia's famously playable games to work. So if you're a keen mobile gamer, you'll still need to exercise some self control.
One lovely nod to feature sets from phones 20 years its senior is the inclusion of an FM radio; a more battery efficient way of getting music, news and entertainment than the average smartphone will offer you. Note, though, that you can also add 32GB of MP3s via the MicroSD card slot.
Best pre-paid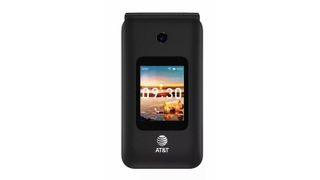 The Cingular Smartflip IV runs KaiOS 2.5, giving it the power to run apps like Facebook or the – essential to some – WhatsApp. There's also a camera which isn't much to write home about, though it can record low frame rate postage-stamp videos (352x288) if that's your thing.
If you're not a fan of typing, Google Assistant provides voice-type in most text entry fields, and the contacts sync with Google and Outlook (to a maximum of 1000). You can also use a Bluetooth headset, but you'll still need to open the phone and press 'OK' to start Google Assistant. Some reviewers said that they appreciated the ability to switch predictive type on and off, while at least one enthusiastic texter on Amazon did seem to find the system confusing.
As a classic phone, though, this is a good value device. The handset supports HD calls and the keyboard can be operated by feel well enough, ideal for those who like the form factor, don't want a touch-screen, and need to keep in touch across generations.
Best for digital detoxers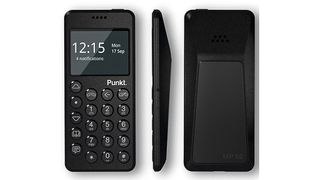 The MP02 is expensive given its stripped-down feature sets, but its design is wholly deliberate. This isn't an old design fished out and re-branded for the elderly: it's a new phone purposely designed to serve as a minimal distraction from the modern world. Well, it was new in 2019 anyway – there are some rumors of a newer model, but it seems Punkt are currently more interested in promoting a book, Low Tech Life , than developing their tech!
The Phone is 4G, and it can be a hotspot when needed, but as a phone, it's distraction-free monochrome. The striking design shouldn't be a surprise given the Swiss company have had their design appear in MoMA and the V&A.
The MP02 is available in both black and a gorgeous light blue, in both cases with a soft-touch pad on the rear for grip. As well as looking good the device appeals where privacy is a concern. It offers support for the Signal protocol, which allows for encrypted internet-based calls as well as metadata and communications. The IP52 glass-fibre case will also take a few knocks, so this is a practical, privacy-friendy, talking point of a choice.
Best rugged dumbphone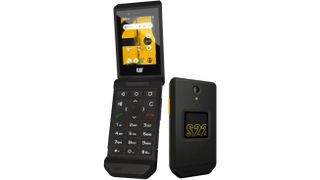 Flip phones need not be flimsy, and not only does this one have a IP68 and 810H military spec but CAT promises the hinge has been tested 150,000 times (presumably not on the handset you buy!) The screen is Gorilla Glass 5.
Admittedly you're limited to T-Mobile, but in terms of the smart/dumb choice this handset opts to walk a tightrope with the Android Go operating system which uses the keypad but can still behave a little like a full smartphone (there is a Google search bar and icons familiar to Google Android users).
Being half-smart also means you get a 5MP main camera with flash and 2MP selfie camera so you can capture images on-site and the phone has GPS positioning. Up to 5m water resistant means it can easily be cleaned, too, and the charger is USB-C.
Some customers didn't seem to appreciate the rugged bulk (and the fact it weighs more than an iPhone Pro Max). The PTT button, too, is a useful tool for some tradesfolk but perhaps the phone could be dumbed down to remove it for others – this is more of a semi-smart built with a bit of a battering in mind.
Oh, a final possible restriction – at the time of writing this is only found on the US T-Mobile network.
Best for remote locations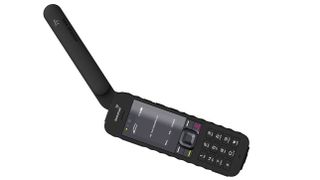 A final device that deserves inclusion on this list is one of the best satellite phones. Due to the limited bandwidth of the satellite network, this technology doesn't really do fast data transfer. Physics, however, does give it one huge advantage: a few satellites can see most of the Earth's surface. That makes the tech perfect for keeping in contact from remote locations.
The IsatPhone 2 is built for adventure with IP65 compliance, a reflective screen with Gorilla glass, a dedicated location-sharing button (texting your location as a GPS text to an interested follower), and an SOS button. Put up the giant antenna nearly anywhere in the world and thanks to a network of geostationary satellites you will be able to make a call.
Best for design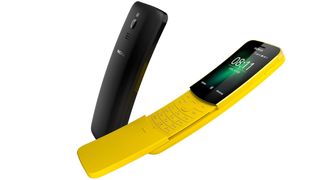 The flip-phone style may be old-fashioned, but it's still iconic thanks to pop culture references like the Matrix movies. The keyboard slider makes this phone not only light and compact but practical too, with no accidental pocket dials (or bag fluff) likely to cause a nuisance. The other side of that argument is that the plastic seems a little more easily scuffed than you'd like, and the processor could be snappier, but the price is very attractive – an ideal backup phone. It's got a 2MP camera, too.
Big button flip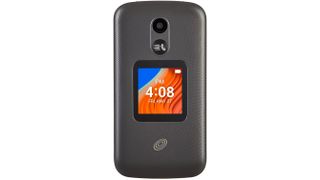 Not the most stylish, or the most powerful, but because its locked to Tracfone it is very cheap to buy. The big buttons should make it straightforward to use, as do the limited features. That said you do get wi-fi capability so you wont need to blast through your minutes.
Charging, via USB-C, will buy you nearly seven hours of talk time and about a week of standby. You might find that you need a computer to manage a Tracfone account, however, so it might be a better back-up than only phone. Reading though online reviews shows that some buyers have struggled with this, but if you're looking for a handset for your kids, for example, there shouldn't be an issue.
FAQs
What is a dumbphone?
The simple answer is a dumbphone is the opposite of a smartphone – retailers tend to call them "feature phones." Dumbphones get rid of all the things that make smartphones too complicated to use, opting for simpler user interfaces, larger text, and physical buttons instead of touch screens and gestures that many people struggle to use with modern smartphones.
What is the smartest dumbphone?
Well if you are looking for a modern dumbphone with a few smart features you can't go wrong with our top pick of the Nokia 2760 flip phone. It has a passable camera for snapping photos as well as features like Bluetooth for connecting to headphones and hearing aids. The phone also has an internet browser and mapping.
Do manufacturers mind the name 'dumbphone'?
Not really. You might think 'dumb' sounds a bit offensive, but it's just the opposite to 'smart'. Nokia even have a page called 'dumbphones' on their site.
How do we pick dumbphones
How do we pick the best dumbphone?
This is a complicated area, because different people have different needs from dumbphones. To be sure we're making the best recommendations we not only asses the handsets on the market against what we in the office like, but make sure we check with real-world users, or online retail reviews to get as many perspectives as we can from different users, be they seniors looking for a straightforward experience and uncomplicated buttons or evangelists looking to re-invent our relationship with devices. Where possible we review everything in house, but this is one of those instances that seeking as broad a range of opinion as possible definitely helps!