Insta360 has made a play for the title of best 360 camera with a new immersive camera boasting so many shooting modes it's branded as "a pocket camera crew."
It's an update on the Insta360 ONE X, a product originally launched three years ago, with the new Insta360 ONE X2 adding a host of new features designed to make it a better vlogging camera. The key innovation is MultiView, which displays two angles at once with different fields of view. The accompanying app uses face tracking to keep the subject in the frame. It's also now possible to connect a pair of Apple AirPods to operate the camera via some voice commands as well as to record four-mic 360º audio on the go.
Aside from the default 360º capture and MultiView, there are two other shooting modes. Steady Cam captures ultra-wide footage from one lens, just as a regular action camera.
New on the One X2 is InstaPano, which captures panoramas without the need to move the camera or stitch multiple photos. Another new mode is PureShot, which enhances the dynamic range of low-light photos while reducing noise and preserving detail. It goes up to ISO 3200 and captures as JPG or RAW.
If the One X2's new vlogging-centric features are no surprise, it doesn't feature the expected jump in resolution in the wake of the launch of the Kandao QooCam 8K 360º camera from earlier this year. Like the original One X, the new version maxes-out at 5.7K and 30 frames per second (fps) at a bitrate of 100Mbps when shooting in 360º.
• Read full Insta360 ONE X2 review with sample videos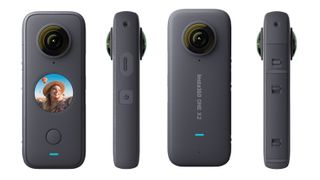 Physically the One X2 is very similar to the One X, but it's not identical. The same small spherical 360º screen is there, though this one is touch-sensitive and shows a 360º preview. At 149g it's slightly heavier than the One X's 115g, though its 1,630mAh battery is bigger than its forebear's. It's got an estimated run-time of 80 minutes, which is 20 minutes longer. Another new feature is IPX8 waterproofing, which means it can be used 10 meters/33ft underwater without a case.
Despite its new feature, the One X2 is likely to be judged on is FlowState, a 6-axis gyroscope-powered image stabilization and horizon-levelling system, which on the One X2 uses new algorithms. Also here from previous Insta360 cameras is the Invisible Selfie Stick, an extended monopod that allows the capture of aerial angles before automatically being edited-out of the finished videos.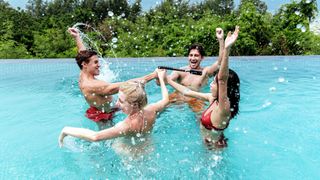 That's part of a suite of AI-powered features in the Insta360 app and desktop software, which now includes a Shot Lab exclusive to the One X2. It's a curated collection of one-tap cinematic effect templates using the latest 360 editing techniques. Examples include 'Fly Lapse', 'Dolly Zoom', 'Stop Motion', 'Clone Trail', 'Shadow Clone' and a 'Star Lapse.' There's even a handy 'Ghost Town' mode that takes a 360 timelapse and removes people from it.
The Insta360 One X2 is on sale now for $429.99/£429.99.
Read more
Best 360 cameras
Best action cameras
Best cameras for vlogging
Best camera phones