Insta360, known for producing some of the best 360 cameras, has announced its first-ever gimbal stabilizer. The Insta360 Flow comes with the bold or being the world's most advanced AI-tracking smartphone stabilizer.
Auto tracking enables your smartphone to follow you or your desired subject with unmatched precision, while 3-axis stabilization delivers ultra-smooth shots. Paired with a built-in selfie stick, tripod, and power bank, Flow has everything a creator needs to shoot pro-level content on the go.
JK Liu, founder of Insta360, explains: "For our first smartphone gimbal, we wanted a device that goes beyond the basic functionality of a gimbal and offers a whole new way to film moments on your smartphone. Powered by our AI technology, honed over years of research and development, Flow tracks, stabilizes, and edits content for you"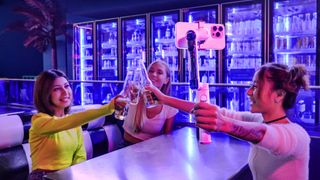 With AI tracking and 3-axis gimbal stabilization, Insta360 Flow makes bringing your creative vision to life effortless.
Whether running after your kid or traveling to the next stop on your bucket list, Flow's mechanical stabilization guarantees shake-free shots in any scenario. It excels where a smartphone's electronic stabilization often fails, such as filming in low light and zooming in. Flow's stabilization and convenient handheld design also mean creators aren't limited to simply setting up the device in a stationary position to track themselves. Creators can take Flow wherever their inspiration strikes, and always be assured of getting perfectly stable shots.
Flow's gimbal design paired with Insta360's leading AI tracking technology Deep Track 3.0 enables Flow to follow subjects in real time, rotating to follow the movement of the subject and framing shots automatically for creators. Deep Track 3.0's unmatched precision is thanks to a number of unique technical advantages:
For a truly automated shooting experience, solo creators can even set up the tripod and use gesture control to prompt Flow to start tracking hands-free—no need to point the camera or press a button.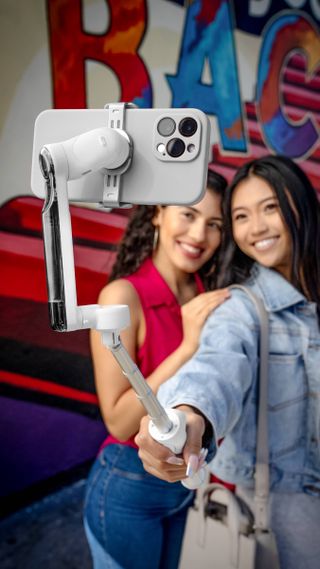 Prioritizing portability and versatility, the Insta360 Flow is the only smartphone stabilizer that builds all of a creator's essential shooting tools into one device for on-the-go shooting
Flow unfolds in just one motion thanks to 1-step rapid deployment. Simply attach your phone via the magnetic phone clamp, unfold the gimbal, and you're ready to start shooting. With iPhones, the Insta360 app will detect Flow when attached and send a notification to open the Insta360 app to connect.
For creators who want to take the wheel with full creative control, Flow offers that too. The SmartWheel boasts a minimalist design that gives creators quick, easy access to a host of useful functions, from shooting controls to video replay, and more. A swipe of the wheel toggles between four main modes: Auto, Follow, Pan Follow, and FPV.
Unique to Flow is Auto mode, which automatically adjusts gimbal settings based on the user's movements for guaranteed shake-free shots, perfect for beginners. For more adventurous creators, FPV mode can be used to spin your smartphone and simulate FPV drone-like movements, such as a barrel roll.
The Insta360 Flow gives powerful pro-level stabilization to your mobile, with handy AI to help make you create and shoot the best possible angles for any production.
Insta360 Flow is available today via Insta360.com, Amazon , and at select retailers, retailing for $159.99 (approximately £130.33 / AU 240.53) and will include a magnetic phone clamp, charge cable, grip cover, and protective pouch.
The Insta360 Flow comes in two colors, Summit White and Stone Gray, with accessories sold separately including a spotlight and custom decorative inserts to make Flow your own.
If this article has been helpful why not take a look at the best smartphone gimbals, the best iPhone for photography, or see what the best Android phone is on the market right now.