I don't even really need another MacBook, but the M1 MacBook Air – the last version with the gorgeous wedge-shaped design – has gotten even cheaper for the last day of Amazon's 2-day Prime Day event.
The newer MacBook Air is a spectacular machine for sure, but I personally prefer the aesthetic of the previous one and the M1 chip is no slouch either. The M1 is so good at managing memory that the 8GB RAM and 256GB SSD storage is enough for day-to-day work with MacOS in entirely silent operation. It got 7547 on Geekbench 5 – not too bad at all (and very close to the chunkier 13-inch MacBook Pro M1).
How could you not want this in your life?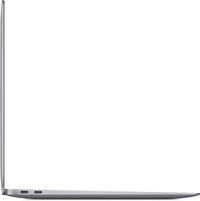 Apple MacBook Air M1 2020 | was £999 | now £739.09
Save £259.91 All the power of Apple's M1 processor with 8-core CPU / 7-core GPU system-on-a-chip for 18-hours of silent running from the battery. 13.3-inch retina display, stunning wedge-shaped design, and 100%-recycled aluminium enclosure. A design icon.
Battery life is also a stunning 18 hours (more than I plan to do in a day), and the 13.3-inch 2560 x 1600 "retina" display is ideal for emails and photo editing. There are two USB-C ports, which is fine for most of the time, too (and how the device draws power – very elegant).
I'd been thinking I'd like an iPad as a portable computing device, but this might be a better choice – it's a good bit cheaper than an iPad Pro, especially if you factor in the keyboard.
I've seen how fast offers have disappeared this Prime Day. The most likely way I'll hold onto my money is by getting to the page and finding everyone else has beaten me to it!
Note: It's already selling low – as I post the Silver is still at £729, the gold is £779, and the space grey version is all gone.
If you're interested in other Apple discounts, check our our main Prime Day Deals Page, which also has some great monitors to bundle with your new laptop. See our review of the MacBook Air 2020 and new 15-inch MacBook Air M2 if it's a bigger screen you're after.