The best things in life really are free, such as getting a Canon EOS M6 mirrorless camera absolutely free when you buy a Canon EF-M 18-150mm lens. In fact, the camera is actually better than free; B&H is effectively paying you to get an M6!
The Canon EF-M 18-150mm f/3.5-6.3 IS STM lens sells for $499 at B&H. However, the dealer is selling the Canon EOS M6 with 18-150mm for just $449 – so you're getting a free camera worth $679 AND getting an extra $50 discount in this ridiculously good deal!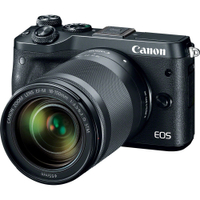 Canon EOS M6 with 18-150mm lens: $449 (was $1,179)
The M6 is a mini mirrorless marvel, small enough to throw in your glove compartment or travel bag, but powerful enough for serious imaging! It packs a 24.2MP APS-C sensor and 1080p 60fps video, and the fantastic zoom range of the 18-150mm means you can shoot virtually anything.
While the newer Canon EOS M6 Mark II is now here, we love the original M6 which is still a great camera. Its 24.2MP sensor produces beautiful images, and with 1080p at up to 60 frames per second you're covered whether you're shooting stills or video.
Ultra compact, yet ultra capable, the 18-150mm lens (28.8-240mm in full frame terms) gives you a phenomenal focal range to shoot all manner of subjects. Thanks to the folks at Canon News for spotting this great bargain!
Latest buying guides:
The best dash cam in 2020: constant protection for you and your car
The best 360 cameras: shoot panoramas, 360 video and even 3D
The best mirrorless camera in 2020: these are the best compact system cameras