We already reviewed the Funleader Cap Lens 18mm f/8 and found it limited but actually rather appealing, and now Funleader has produced a new, updated version with a classic retro Leica-esque design... and we think it looks amazing.
The new lens comes with a Leica M bayonet mount, but you don't have to use a Leica because Funleader is also selling it with adapters for L-mount, E-mount, Canon RF, Nikon Z and even Fujifilm X mounts – you just specify the adapter you need when you order.
The Funleader CAPLENS 18mm F8.0 is a 'dumb' lens (in the nicest possible way) that has a fixed f/8 aperture and a manual zone focus lever, so apart from the physical connection, there is no need for any electronic connections with the camera at all.
Funleader CAPLENS 18mm F8.0 features
Where the Funleader Cap Lens we tested was fixed focus, this new version has a focus 'stick' which you can operate by touch, with four settings for distances from 0.8m to infinity. The short focal length and f/8 aperture means focusing won't be that critical (except close up) and zone focusing is easy.
It's still a very slim lens, but it is a little thicker than the previous fixed focus Funleader lens we tested, though still only 14mm thick and with a weight of just 40g. It's no plastic novelty, either, with a one-piece aluminium alloy barrel and a lens construction of 6 elements in 5 groups.
The previous Funleader 18mm f/8 showed strong corner shading in our tests and a little softness, both correctable to a surprising degree in software, so we look forward to seeing what this new lens can do.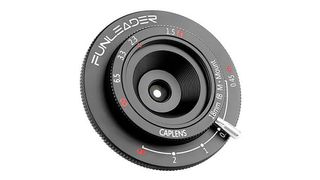 Funleader CAPLENS 18mm F8.0 specifications
Focal length: 18mm
Frame: 35mm Full-frame
Mount: Leica M-mount
Aperture: f/8.0
Field of view: 100°
Closest focusing distance: 1.48ft (0.45m)
Lens construction: 6 elements in 5 groups
Coating: Multi-coated
Body material: Aluminium
Weight: Approx. 40g
Dimensions: 51×14mm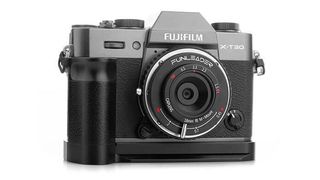 Price and availability
The Funleader CAPLENS 18mm F8.0 0.45m-∞ for M-mount costs $198 with free worldwide shipping, and the adapter is another $29 when bought at the same time. It's available now, though Funleader is quoting 2-4 weeks shipping time.
Read more:
• Funleader Cap Lens 18mm review
• Best Lomo and Lensbaby lenses
• Best pancake lenses
• Best wide-angle lenses