Fujifilm has refreshed its entry-level mirrorless lineup with introduction of the X-A5 compact system camera.
The X-A5 arrives fifteen months after the X-A3 model, which is billed just above the X-A10 in the range.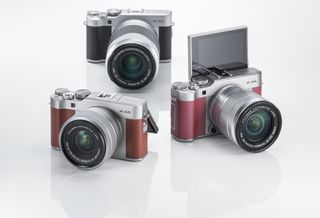 It arrives with a similar focus as the model it updates, namely a connected, selfie-friendly body that's light to carry and easy to operate, although it bolsters this with a collection of new features.
Perhaps the most significant of these is 4K UHD (3840 x 2160p) video recording, although it's only possible to capture footage at 15fps for a maximum five minutes. This is complemented by a 4K burst mode, which captures 4K-resolution still images at 15fps before allowing you to choose your favourite.
Full HD (1920x1080p) footage to a maximum 60fps is also on hand, while standard HD (1280x720p) slow-motion video output from high-speed capture is also possible.
Overall processing speeds are also said to have risen by 1.5x over those of the X-A3, while a phase-detect AF system joins the contrast-detect AF setup found on the X-A3 to result in a Hybrid AF system that can focus twice as fast as previous models.
Fujifilm X-A5 specs
24.2MP APS-C sensor with Bayer RGB filter
Fujifilm X mount
ISO 200-12,800 (ISO 100-51,200 extended)
4K UHD video recording (15fps maximum)
4K burst shooting mode
+/-5EV exposure compensation (+/-2EV in video recording)
3in tilting touchscreen 1,040,000 dots
11 Film Simulation modes
17 Advanced Filter modes
6fps burst shooting for up to 10 frames (3fps for up to 50 frames)
Wi-Fi and Bluetooth Low Energy
SD/SDHC/SDXC card slot (inc. UHS-I)
2.5mm microphone/remote port
Built-in flash
450-shot battery life
116.9 x 67.7 × 40.4mm
Approx. 361g (without lens, inc. battery and card)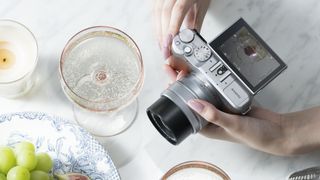 While the camera uses the same X-mount as it pricier siblings, it follows the X-A3 in offering a 24.2MP APS-C sensor that's fronted by a more conventional Bayer RGB colour filter array, instead of the X-Trans CMOS sensor architecture more commonly used in the range.
The X-A5 does, however, maintain many touches that have been popular among Fujifilm users, such as 11 Film Simulation modes and a Quick button for easy access to commonly used settings.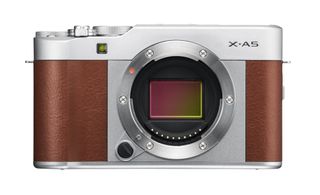 It also carries over the wireless connectivity option we've seen in previous models, and becomes the latest model to include Bluetooth technology, which was recently incorporated into the X-E3 and XP130 models.
Read more: Fujifilm X-E3 review
The new model also debuts a few options that are likely to feature on future X-series cameras. The Quiet Venue mode does as we might expect, silencing all operational sounds for more discreet capture, while a new Dark Mode allows the user to capture images in darker conditions while hand-holding the camera. Two new Advanced Filters, meanwhile, namely Fog Remove and HDR Art, join 15 others.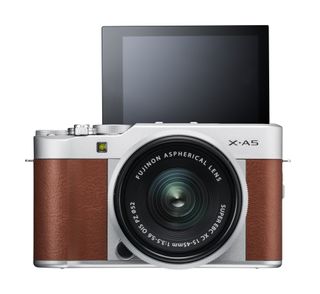 As with the X-A3, the new camera has been designed with a 3in LCD screen that can tilt through a 180º angle to face the front, and this responds to touch. The company has also kept to the same idea as before with the arrangement of physical controls, with a sub command dial on the rear and a main command dial on the top plate joining the mode dial.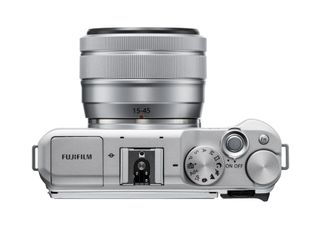 The camera sports a built-in flash and a hotshoe for external accessories, while a 2.5mm port around the side can be used for external remotes as well as microphones. Everything is written to the users choice of SD, SDHC and SDXC memory cards, with support for the UHS-I standard, while battery life is rated to a respectable 450 frames per charge.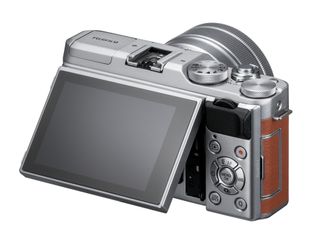 XC15-45mm F3.5-5.6 OIS PZ kit lens
Announced alongside the X-A5 is a new XC15-45mm F3.5-5.6 OIS PZ kit lens, which is the smallest and lightest zoom lens in Fujifilm X-series lineup, as well as the line's first electric-powered zoom lens.
This provides an effective focal range equivalent to 23-69mm against the X-A5's sensor, and incorporates a three-stop optical image stabilisation system. It measures just 44.2mm long, but it's one of the few X-series to lack a physical aperture ring, which means that aperture needs to be changed through the host body.
Fuji X-A5 price and release date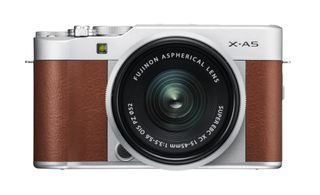 The X-A3 will be made available as a kit with the above lens, with an asking price of £549/$599. It will come in brown, pink and black options, and should hit retailers' shelves in February.
The new XC15-45mmF3.5-5.6 OIS PZ lens, meanwhile, will be available on its own in silver and black finishes from March, with a price of £259/$299.
We'll update this page with prices for the Australian market once we have them.
Read more: 10 tips on getting the best out of your Fujifilm camera