DxO PureRAW already works as an export plug-in for Lightroom Classic, where raw files are processed using DxO's proprietary lens correction and denoising technologies and ingested automatically back into your Lightroom catalog.
With version 3.7, though, DxO says that you can place processed images into any Lightroom Collection, within any Collection Set, or create a new Collection that you can view and rename as required in Lightroom Classic. This is a free update for existing PureRAW 3 users.
DxO PureRAW offers automated lens corrections and DxO's DeepPRIME/DeepPRIME XD noise reduction which it can apply directly to raw files and then deliver a new, corrected Linear DNG file back to Lightroom Classic. Linear DNG files behave just like regular raw files in Lightroom, but with DxO's own raw processing applied rather than Adobe's.
DxO makes some of the best photo editing software on the market, including DxO PhotoLab and the Nik Collection.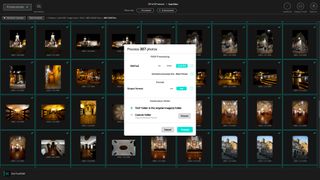 Why use DxO PureRAW 3.7 with Lightroom Classic?
Lightroom does of course have its own automated lens corrections and, thanks to its latest Enhance options, it can offer AI-powered noise reduction just as DxO PureRAW does.
However, DxO is keen to point out that its custom lab-developed lens profiles offer the best precision and correction features available. PureRAW uses the image EXIF data to find and apply the correct camera+lens correction profile from the tens of thousands in its database, and covers everything from entry-level camera equipment to professional gear.
DxO says the result from its processing are like getting a sharper lens and an upgraded sensor, and that its DeepPRIME noise reduction offers over 2.5 stops of noise compensation, so that an image shot at ISO 4000 can look like one taken at ISO 800.
The lens correction profiles applied are highly sophisticated. They don't simply apply the same level of sharpening across the frame but are especially tailored to compensate for additional edge softness, lens by lens.
DxO's optical corrections often yield a larger image area than regular lens profiles, especially with wider angle lenses and focal lengths. The chromatic aberration correction tackles not just lateral chromatic aberration but longitudinal fringing too, and DxO's vignetting correction uses the power of its denoising and raw processing tech to deliver a wider dynamic range and better tones and colors in corrected areas.
DxO PureRAW 3.7 is offered as a better-quality alternative to Lightroom Classic's own processing, and the differences are readily apparent when you inspect high ISO images and edge detail.
DxO PureRAW 3.7 is a free update for existing PureRAW 3 users. It costs $129/£115 for new users and £$79/£69 as an upgrade from PureRAW 1 or 2.