When the Zeiss ZX1 full frame concept camera was first announced at Photokina 2018, the industry was intrigued. However, with almost a full year having passed since this announcement, we're still waiting for the ZX1 to materialize. In February, a pre-production camera appeared at CP+2019, but there was still nary a whisper as to when it would actually be available to purchase.
However, in the first update in months, Zeiss' official Twitter account has responded to a question from user @TimCastleman asking how the Zeiss ZX1 was coming along (as reported by Photo Rumors).
• Read more: Best compact cameras
"The Zeiss ZX1 is a camera concept that enables a creative photography workflow." The Zeiss Twitter account says, "We are delighted to have received such positive feedback. We are currently working on advancing this novel concept and are testing the first cameras."
The account went on to say, "We are looking at the feedback we've received to make further adjustments and improvements."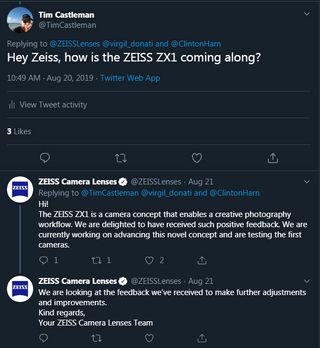 Considering that the Zeiss ZX1 was initially meant to be ready to ship in early 2019, it's slightly concerning that it's seemingly only just entered the testing stage. However, at least those looking forward to getting their hands on this premium compact can rest assured that the camera is still being worked on - and hasn't just been quietly scrapped.
With a fixed 35mm f/2 lens, a 37.4MP sensor and Lightroom CC software housed within the camera itself, the ZX1 is set to be a fun oddity in the world of cameras. However, with an expected price range of between around £3,450 ($4,259) - £4,250 ($5,245), we can't feel too frustrated that Zeiss is clearly trying to iron out all of the kinks before they release the ZX1.
If you're waiting with baited breath, you can sign up for the latest updates on a website built specifically for the ZX1. Alternatively, you can join us in crossing fingers for at the very least a 2020 release…
Read more
Best mirrorless camera in 2019: we pick the best compact system cameras
Best travel camera in 2019: see the world and capture amazing images
Best 50mm lens in 2019: Which 'standard prime' is the right one for you?