The DJI Mini 3 Pro might have got a cheaper cousin since it first launched, but it's still the leading drone company's ultimate ultralight – and for Amazon Prime Day – it's cheaper than the cut-down Mini 3 while retaining all the top features – unmissable.
Personally, I got one like this at full price, so I can confidently tell you I've had a good few months use out of it, and while I'd have loved the discount, I can assure you that, even having paid full price, this is a device I'm pleased to own. If you're on the fence, that very healthy discount is very hard to argue with.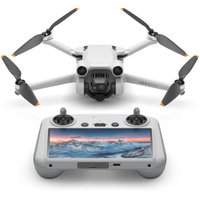 DJI Mini 3 Pro + DJI RC | Was $888 | $693.49
Save $195 A "beginner's" drone that you might never grow out of, with 4K camera that rotates to portrait for social media. Fly safe in the knowledge you have collision sensors and an ultra-lightweight frame. The DJI RC gives you a color monitor without the need to connect your phone.
• Read our full review of the DJI Mini 3 Pro
What makes the drone stand out from the pack is that, despite being in the safe low-weight category you're allowed to fly quite near people (and so get amazing shots), while it is also equipped with high-end features like collision sensors and a great camera.
Even if you're operating in at least slightly breezy coastal spots the drone's power will fight the wind with some strength too – I've personally flown this on a Greek island on a far-from-still day (see the picture) and it coped well. It also captures great 4K video at up to 60fps and, if you like a bit of vertical-format for your reels, it'll turn the camera to portrait mode – no loss of detail.
The DJI RC adds enormous convenience to the fold-out-and-fly experience that the drone already brings by saving you from needing to connect to your phone; this also leaves your phone free (unless you want to transfer files, which it can do, perhaps later as you take a refreshing drink, before posting to your accounts).
It's also worth pointing out that, in the US anyway, you don't need to do any paperwork at all with the FAA if you want to fly this drone. You should still follow the rules – don't fly near airports and the like – but you don't need to register.
Best camera drones
Best DJI drones
Best cheap drones
DJI Mini 3 Pro vs Autel Evo Nano Plus
DJI Mini 3 Pro vs Mini 2