The new issue of Digital Photographer is out now!
Subscribe today to get DP delivered to your door and device.
This month we have another amazing issue for you, featuring professional tips, reviews, and practical how-to guides. Here's a sneak peek of what's inside!
Plus it's coming with something special - you could be one of 5 lucky winners and get £1,000! Visit WHS stores to figure out how to win.
Harness the power of RAW
RAW files provide unparalleled power, enabling you to craft your unique style by utilizing a combination of camera and software skills. By working with these files, you can achieve superior image quality and gain creative control. Knowing how best to expose the images and how to treat them in software is key to getting the best out of the files. Our Editor, Peter Fenech, shows how to get more from your RAWs starting from page 24.
Take a look at the other parts of the Masterclass series, available in issues 266-269, to catch up on what you may have missed.
Master urban architecture
The blend of modern and historical buildings in cities is truly amazing. The old structures serve as a tangible reminder of the city's origins, while the constantly evolving urban landscape reflects its progress and growth over time. The buildings that have stood the test of time continue to shape the city, create a beautiful and inspiring environment for photographers.
Our Technique Editor, Kim, shares expert tips on how to creatively frame the urban environment with minimal gear and clever approaches. You will also get insights from pro photographers Natalia Zmyslowska and Jacek Durski on how to capture the soul of the city through urban architecture.
Easy one-light portraits
It can be tough to figure out the perfect lighting for studio photography, especially when you are on a budget or don't have a lot of space. Fortunately, there is a solution: a one-light setup. This straightforward approach is easy to handle, affordable, and still yields high-quality, professional-looking results.
Pro photographer Jade Keshia Gordon explains how to elevate your photography game using just one light source while showing the art of frequency separation.
Photo finish
Video star
Get your copy of DP Issue 270 today!
Get a digital copy instantly on your digital device
Where to find Digital Photographer
Plus we've got the usual tutorials, interviews, insight and opinion, from a range of experienced pro photographers from across the industry.
Don't miss out on all of this essential professional-level advice. Get your copy of Digital Photographer now.
Why not Subscribe for a print copy or you can read us on your mobile device with a digital subscription.
You can get your copy of Digital Photographer in stores - but if you can't get out, then order a copy direct from us, either in print or digital form.
For printed back issues go to Magazines Direct
For digital editions of the magazine, you have a variety of options available:
Apple app (for iPhone and iPad)
PocketMags app (multi-platform app for Android and other devices)
Zinio app (multi-platform app for desktop and smartphone)
Readly (all-you-can-eat digital magazine subscription service)
Connect with us
Find us on Facebook and Twitter and subscribe to Digital Photographer, to ensure you never miss an issue!
Digital Photographer on Facebook
Digital Photographer on Instagram
Digital Photographer on Twitter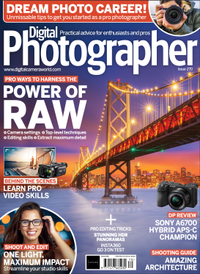 Digital Photographer is a monthly magazine, and the kitbag essential for pros, enthusiasts and amateurs alike!
Inside, you'll find practical guides, shooting tips and techniques from working photographers, plus all the latest industry news.
Read more:
Essential exposure technique: settings for seamless backgrounds
Photo therapy: the art of patience - why it's worth waiting!
Adapt and conquer! Learn to use lens adaptors the right way
Lighthouse photography: learn to compose images of very tall subjects