There is a reason we call it 'buying into a system' when we invest in an interchangeable lens camera. Once we have acquired a significant number of lenses and accessories it can be an expensive affair to replace everything, should we change camera systems. However, in the rapidly evolving photo industry of today, there may be a call for a switch, promoted by new technology in another camera range. The costs of time and money may be offset by the benefits the new camera will bring.
However, even with a major change in camera brand, the use of a lens adaptor can save a lot of outlay on new compatible optics. There is a choice of automatic adaptors, which feature electrical contacts, enabling full autofocus and aperture control, as well as lens-based image stabilization systems.
Read more:
• Best fisheye lenses
• Best cameras for landscapes
• Best lenses for landscapes
These are more expensive than manual adaptors, which serve as 'cold' mechanical bridges between the camera and lens mounts. Whichever adaptor you choose, ensure it allows focussing at infinity, despite the extra distance between the sensor and rear elements. Furthermore, with an automatic adaptor, check that the camera will still be able to drive AF - some older lenses lack an internal AF motor, relying instead on the camera to drive the elements.
Ensure compatibility
Be certain to check you have the correct adaptor for the lens-camera pairing you need. A Canon EOS - Samsung NX adaptor, as used here, will allow Canon EF/EF-S lenses to be used on NX camera bodies.
Check secure lock
Check to ensure your adaptor allows a secure connection to the lens and the camera body - cheaper adaptors have been known to improperly lock, which can result in separation and damage to the lens.
Set focus
With a manual adaptor autofocus control will be lost, so focus manually. If you have an AF adaptor always ensure your lens and/or camera are set to the correct focus mode to enable the camera to drive the AF motor.
Check for vignetting
With the correct adaptor you should not experience edge darkening, but always check at first use and crop if necessary. Similarly, with aperture-fitted adaptors, test each setting for vignetting strength.
Use an ND
If you lose aperture control by using a manual adaptor, the diaphragm will be locked wide open. To control exposure in bright light, use an ND filter to prevent overexposure. Focus stack to deepen depth-of-field.
Shooting mode
With the loss of aperture control you may also lose auto exposure. While you may still be able to shoot in Aperture Priority, if errors occur switch to manual to lock in settings and gain predictable results.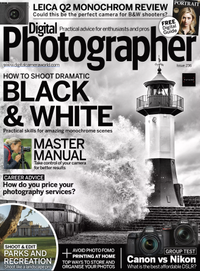 Get the kitbag essential for Enthusiasts and Professional photographers. Packed full of pro advice, tutorials, techniques, interviews and kit reviews, Digital Photographer Magazine will help you take your images to new heights.
Read more:
Fisheye lens camera tips: get great shots with a fisheye lens for Canon and more
Best wide-angle lens: ultra-wide zooms that get everything in the picture
Here's what to expect from Fujifilm at The Photography Show virtual event
Here's what to expect from Nikon at The Photography Show virtual event