Portraits can be a tricky business – especially if you're on a time limit. However, photographer James Musslewhite took this to the extreme and gave himself a unique challenge of capturing four portraits in just 60 seconds. James travelled to Brighton beach with Riptide Wrestling star Chuck Mambo for this shoot, capturing four energetic portraits right next to the shore.
With just 60 seconds to shoot his four images, James worked with the elements he had immediately around him: some craggy rocks near the shore, the crashing waves and Chuck Mambo's charismatic wrestler personality.
• Read more: Best Canon camera
So, did James manage to pull it off? Spoiler alert: yes – but it was pretty close to the wire! Make sure to watch the video above to see how James pulled it off.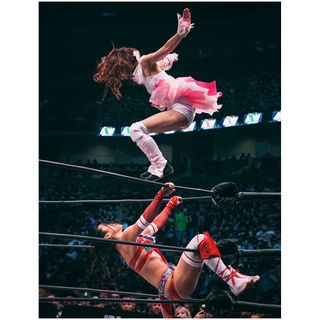 As a seasoned sports photographer, James uses a Canon EOS 5D Mark III and an EF 24-105mm f/4L IS USM lens to help him capture all of the exciting wrestling moments. In an interview with Canon Europe, James says: "The Canon lenses have been entirely flawless. There's a reliability in the focusing, the speed and the sharpness that, in the back of my mind, gives me one less thing to worry about."
James began his photographic career in a high street studio shooting family and baby sessions. However, after reading an article about a wrestler in a local newspaper, he got in contact to offer his skills – and the rest was history. James now works with some of the largest wrestling companies in the UK and travels the world covering events.
See more of James' amazing '4 in 60' challenge videos at his YouTube channel and discover more of his sports photography at his website.
Read more
Best camera for sports photography
Photo ideas: Capture powerful sports portraits with a fisheye lens
Best budget telephoto lenses: for Canon, Nikon, Sony and more