We all learned the hard way that you can't just fix a bad image by applying sharpness, the same way that converting to black and white isn't the ultimate cure. Sometimes, we have to accept the fact that we've captured a bad image, and that even the best noise-reduction software can't save us now.
The latest advancements in AI technology are getting smarter every day, and Canon is proving this with its latest cutting-edge deep learning image processing technology that might just resurrect that blurry shot you took three years ago.
The photo editing software market is busy, and it can be confusing and even frustrating trying to figure out which one best suits you and your editing style as a photographer, but with Canon's new AI deep learning process it seems that things are becoming much clearer (quite literally).
Canon has established new technology to correct phenomena that under the principles of photography and specialized lenses, cannot usually be avoided. These problems include the regular appearance of image noise, blur, moiré patterns, reflections, distortion, chromatic aberration, fringing, and plenty more.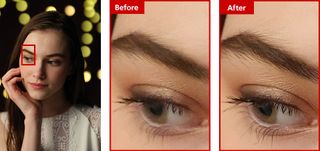 Deep learning is said to be an advanced AI technology process that uses a neural network, which mimics the neural circuits of the human brain, in a relatively mathematical model. These networks are used to provide a computer system with a large amount of data that it can then learn from, until it is able to derive its own inferences and judgments using features from said data.
In the context of what Canon is aiming to achieve with true-to-life photography, this specific deep learning technology is said to cover three areas; noise reduction, color interpolation, and aberration diffraction correction (lens blur correction).

A lot of the latest diagrams provided by Canon Japan's breakdown of the technology have not been translated, but do give a brief understanding of how this AI deep learning process works. It involves pairs of "teacher images" and "student images" otherwise known as learning data in the form of Canon's own extensive image database of RAW camera and lens images.

The company suggests that the accuracy and image fixes are a result of combining the three areas of image correction that have been realized by deep learning image processing technology. When translated using Google, the news release from Canon Japan states that:
'It is necessary to develop an algorithm that optimizes the combination and order of each technology, and the relevant departments such as camera development, lens design, image quality evaluation, and product implementation can physically cooperate closely. It is no exaggeration to say that this image processing correction technology was only possible with Canon.'

The new technology has also been tested to improve blur that tends to occur in the peripheral areas of starry sky and astrophotography images. 'Appropriately combining the three areas of image correction produces a synergistic effect that greatly reduces aberrations and noise, enabling unprecedented photographic expression.' Shares Canon Japan.

In summary, the technology can achieve noise reduction that leaves details intact, as well as a new color interpolation fix that it calls the "Neural network Demosaic" by suppressing false colors, plus it can also correct blur caused by aberration in overexposed areas through studying lens optimization using training simulations based on design values for each lens.
You may also want to take a look at the best AI image generators, plus the best photo organizing software for photographers, and not forgetting the best photo editing tools and accessories to make work easier.