Canon is hard at work on another constant aperture f/2 zoom for the RF mount system. And, according to reports, it looks set to be the Canon RF 16-28mm f/2L USM.
Rumors first started emerging last week, when it was reported that Canon had begun work on a new f/2 zoom lens to complement the formidable Canon RF 28-70mm f/2L USM (pictured above).
"The focal length of this zoom lens is unknown at the time of writing this," noted Canon Rumors. "However, the source did say this could end up being a 'second holy trinity' of lenses for the RF mount."
The comment about the holy trinity lenses is intriguing; the Canon RF lens roadmap already lists what have been accepted as the trinity lenses for the mount, the RF 15-35mm f/2.8L IS, RF 24-70mm f/2.8L IS and RF 70-200mm f/2.8L IS.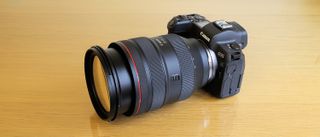 It seems, then, that Canon might be working on two tiers of holy trinity lenses: an f/2.8 line and an f/2 line, the latter being the kind of showcase optic that is only possible on the Canon EOS R, and couldn't be achieved on the EF mount.
Adding fuel to the fire came a second Canon Rumors report, stating that the lens currently in gestation is the Canon RF 16-28mm f/2L USM.
"We've been told that the next f/2 zoom from Canon will be an RF 16-28mm f/2L USM, which will fit nicely with the RF 28-70mm f/2L USM," wrote the site. "None of the f/2 zoom lenses will get image stabilization, but don't fret, all future EOS R bodies will have in-body image stabilization."
The question then remains, what will be the final lens in the f/2 holy trinity line-up? By all reason it should be broadly equivalent to 70-200mm, but the RF f/2 optics have had slightly reduced focal lengths – could we see a holy tetralogy of lenses instead?
Read more:
Canon RF lens roadmap
Canon RF 28-70mm f/2L USM review
Canon EOS R review