Canon has launched two new versions of its Ivy Cliq hybrid cameras that it launched last year. Like its predecessors, the new Ivy Cliq2 and Ivy Cliq+2 cameras combine a digital camera with an instant print camera – allowing to get the best of two worlds. As with the best instant cameras, you get the fun of being able to share hard copies at a party, say. But you also get a digital version that you can backup for posterity or share on social media.
The two new versions are remarkably similar to the earlier versions – with the notable differences being that the Mark 2 cameras can now print onto circular stickers, and come in a different range of colors.
Both versions use Zink instant paper, which provides you with 2x3in prints on peel-and-stick paper, which develop in just 50 seconds.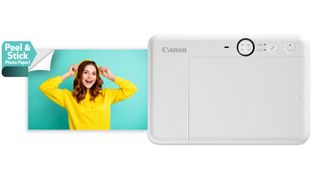 The Cliq2 is the basic model in the new range, and has a 5 megapixel digital camera with a built-in optical viewfinder, and a microSD card for recording your images. The fixed lens focuses automatically with the closest AF distance being 50cm. The ISO range of the digital camera is limited to ISO 100 - 1600. There is a selfie mirror at the front to help you line up your selfportraits, and there is a reprint button so you can print off multiple copies of your best shots.
The Canon Ivy Cliq2 will be available in a petal pink, charcoal or turquoise colors.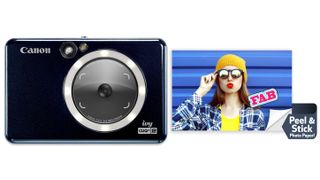 The Ivy Cliq+2 upgrades the proposition with the 8 megapixel sensor and a built-in ring light. Like the Cliq2, there is no LCD screen on the camera itself, but this model can link up with your smartphone so that you can see your digital images straight after shooting without the need for a computer via Bluetooth, using the free Canon Mini Print app.
The app also can be used a remote control for the camera - helping with group portraits. The app also allows you to customize the sounds made by the camera.
The Canon Ivy Cliq+2 will be available in a midnight navy or rose gold color options.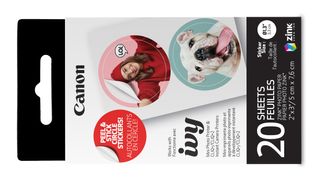 The Canon Ivy Cliq+2 and Canon Ivy Cliq2 instant camera printer are scheduled to be available for in-store purchase in September 2020 at a retail price of $149.99 and $99.99, respectively. Each camera comes with a starter pack of 10 sheets of 2×3 photo paper.
The Zink Pre-Cut Circle Sticker paper will be sold in 10-sheet packs providing 20 stickers and will cost $12.99
The Canon Ivy Cliq range is sold under the as the Canon Zoemini in Europe - but availability and pricing for the new versions of the camera have yet to be announced.
Read more:
The best instant cameras in 2020
Best digital instant cameras and hybrid cameras
What type of instant film do I need?