The upcoming Canon EOS R5 is the camera that has been universally praised by the press and pundits alike, but what about the public? What about the photographers at large who are actually supposed to buy the new product?
It appears that consumers aren't nearly so enamored by news emerging of Canon's next full-frame mirrorless camera. Because, in spite of the Canon EOS R5's "cinema industry-standard" video specs, what photographers really want is a new camera for photography.
We turned to our social media channels to gauge the response from paying customers, and the response was overwhelmingly similar.
"When are they going to release a camera just for photographers," pined Alan Minsell, on Digital Camera World's Facebook page. "One that doesn't have video, and a price to reflect that. I am sure they would sell a huge amount. We don't all want 4 or 8k video."
"Maybe one day they will build a camera just for still photography, like they used to be," concurred Danny Laureys on the PhotoPlus magazine Facebook page. "Currently I shoot with a Canon 5D4, why should I pay for all video extras when I only shoot stills. Just being practical."
"Yes agree 100%," replied Mark Myburgh. "All this video crap. If you want to shoot video- go buy a video camera. Well said Sir."
This raised an interesting point; Canon has gone to great lengths to explain that the Canon EOS R5 is a production-standard camera, and a body that can work in sync with the new Canon EOS C300 Mark III. But when the C300 III costs $10,000, people who want to shoot video will opt for a cheaper hybrid camera instead.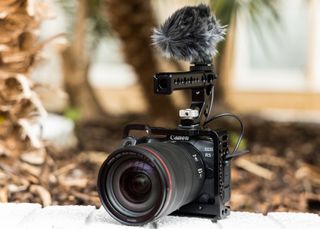 "While most of people won't buy video camera for video (I don't know why), they won't [make a stills-focused camera]," asserted Balázs Papp. And indeed, every new camera on the market today possesses video features for this exact reason.
"Can you give me one camera in the last 10 years that don t do video from the major companies?(canon nikon sony panasonic...)" asked Saad Alami.
"Nikon Df," responded Brett Guy, referring to Nikon's pure photography camera from 2013 that eschewed video functionality as a point of principle. "It was a flop."
Some photographers did recognize the many obvious benefits of the R5, beyond just the headline video features – though even these were still somewhat backhanded.
"IBIS, eye auto focus, focus points everywhere, and an incredible line up of new lenses," said Tim Woodier. "But I agree in some ways, Also use a 5dmk4 and I couldn't care less about video. It is worth noting that 8K raw essentially means 30fps silent 40MP stills shooting. Not that I have any desire to work in that way in reality."
Perhaps the most pertinent question, even if it was a facetious one, was asked by Steve Bastiman on the Photography Week Facebook: "Any 8K users out there?"
The answer, it seems, is that there are very few 8K shooters out there – and, at least from those who responded, even fewer who actually want this 8K camera. So if the Canon EOS R5 doesn't have a sky-high 70MP sensor to excite stills shooters, this camera may not be the success that the hype suggests.
Read more:
Canon EOS R5: 5 things we know, 5 things we don't
The 10 highest-resolution cameras you can buy today: ultimate pro cameras
The best camera for filmmaking in 2020 for photographers, vloggers, pros