Things have been pretty quiet on the DSLR front. Mirrorless cameras have been grabbing the headlines for months and DSLRs seem to have been heading slowly into the history books. But now there's this.
The Canon EOS 90D has been rumored for weeks, and the specs have been leaking out steadily for pretty much all of that time, so that the final announcement may not have any huge surprises but does confirm just what Canon has achieved with the EOS 90D.
The headline specs include a brand new 32.5-megapixel sensor with more resolution than any other APS-C camera, uncropped 4K video for the first time in Canon's APS-C camera range, 10fps continuous shooting (11fps in Live View) and a Dual Pixel CMOS AF system that makes the EOS 90D as fast and as flexible as any mirrorless camera – but with the bonus of an optical viewfinder too.
Purely on specs alone, the EOS 90D looks set to become one of the best DSLRs you can get right now.
• Hands on: Canon EOS 90D
• Canon EOS 90D vs Canon EOS M6 Mark II: how do you choose?
• Canon EOS 90D vs EOS 80D vs EOS 7D Mark II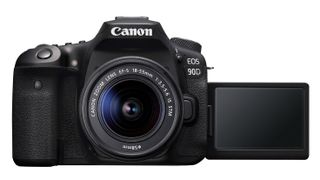 Canon EOS 90D specifications
Sensor: 32.5MP APS-C CMOS, 22.3 x 14.8mm
Image processor: DIGIC 8
AF points: 45 point phase detection, all cross-type, Dual Pixel CMOS AF
ISO range: 100 to 25,600 (exp. 51,200)
Max image size: 6,960 x 4,640
Metering modes: Evaluative, centre-weighted, partial, spot
Video: 4K UHD at 30p, 25p
Viewfinder: Optical pentaprism
Memory card: SD/SDHC/SDXC (UHS II)
LCD: 3-inch vari-angle touchscreen, 1.04m dots
Max burst: 10/11fps, 30fps RAW Burst
Connectivity: Wi-Fi, Bluetooth
Size: 140.7 x 104.8 x 76.8mm
Weight: 701g (body only, with battery and SD card)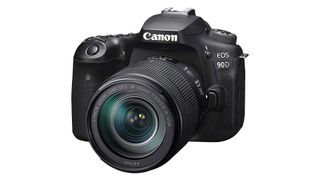 Who is the EOS 90D for?
Canon is aiming the EOS 90D at camera enthusiasts ready to take their work to the next level, particularly sports and wildlife fans. Effectively, the company has merged its old EOS 80D all-round enthusiast camera with the high-speed sports specialist the EOS 7D Mark II. You get the versatility and user-friendliness of the EOS 80D with the speed of the 7D Mark II.
Canon says the EOS 90D is built on the design of the EOS 80D, with a familiar, robust body, a large grip for better balance and handling with larger lenses, twin multi-function dials, including one newly-created multi-controller on the back, lifted from Canon's pro DSLRs.
How good is 32.5 megapixels?
Until the EOS 90D, APS-C camera sensors topped out at 26MP (Fujifilm) and most were 24 megapixels. The EOS 90D 32.5MP sensor is therefore a large step forward, and brings the EOS 90D in line with the full frame EOS 5D Mark IV and EOS R cameras.
The EOS 90D has 8.5 megapixels more than than previous APS-C Canons, and the company says this means you can 'crop further' and take more detailed images than ever before.
Canon's keen to push the 'advantages' of APS-C relative to full frame cameras, notably that the same lens will give a much longer 'reach' on the APS-C EOS 90D. It's a debatable point, but it does show how Canon is targeting sports and wildlife enthusiasts.
10/11fps continuous shooting
Remarkably, Canon hasn't just launched its highest resolution APS-C sensor yet, it's also achieved a 10fps continuous shooting speed – or 11fps in Live View. That's a remarkable achievement and the credit must go to Canon's latest DIGIC 8 processor.
While the EOS 90D has the burst rate of a pro camera, however, it doesn't have the same buffer capacity. It can capture up to 58 JPEGs in a burst or 25 RAW files. That's a little down on the buffer capacity of the EOS 7D Mark II, one of the cameras it replaces, and a long way short of Nikon's APS-C sports specialist, the Nikon D500.
That 11fps in Live View isn't quite all it seems, either. That's actually in single-shot AF mode, with the focus locked on the first frame. The speed drops to 7fps with Servo AF.
Still, this is a deeply impressive performance from an enthusiast level camera with such a high resolution sensor. The EOS 90D delivers its best performance in 'viewfinder' mode, and because it's an optical 'finder, there's no lag.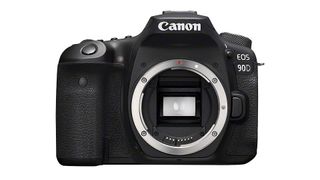 4K video breakthrough
This is by no means the first Canon consumer camera to have 4K video, but previous models have been hampered by a heavy crop which makes your lenses look much 'longer' and means wideangle shots need ultra-wideangle lenses.
The EOS 90D, however, can shoot 'uncropped' 4K using the full sensor width, which means your lenses don't lose any of their angle of view when you switch to 4K video mode.
We don't yet know if Canon is using pixel binning or oversampling here (we assume oversampling), but it looks as if it's found a bit more processing power to handle 4K capture without cropping. (There is a 4K 'crop' mode too if you want your telephoto lenses to have a little extra reach.)
Other video features include the ability to capture full HD 1080 video at up to 120fps, a microphone port, headphone port, focus tracking and eye tracking.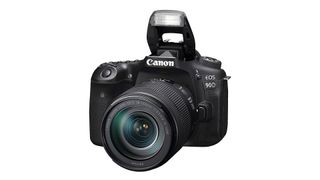 Dual Pixel CMOS AF and what it means
Canon's Dual Pixel CMOS AF system splits the photosites on the sensor into two halves, which then act like the two halves of a phase-detection AF system. This gives it autofocus performance that traditional on-sensor 'contrast AF' can't match. In fact, it's the same system Canon uses on its mirrorless cameras.
What this means is that the EOS 90D has an autofocus system as effective in Live View and video modes as any mirrorless camera's. There is no inherent penalty for using a DSLR camera. That's one of the big selling points for mirrorless cameras gone in an instant.
The DSLR design has other advantages, including battery life. Canon says it's coaxed an amazing 1,300-shot battery life out of the EOS 90D, which is about four times what you'd get from the average mirrorless camera (including Canon's own).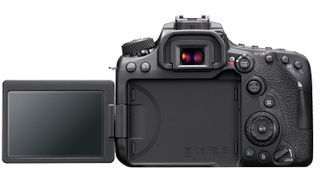 When you can get the EOS 90D and what it will cost
The Canon EOS 90D is available for pre-order from the Canon store, and goes on general sale from September 2019. The only sticking point is the price. At $1199.00 / £1,209.99 body-only, it's not especially cheap.
Read more:
• These are the best DSLRs you can buy today
• Which is the best Canon camera right now?
• We pick the best professional camera systems