Ahead of the NAB 2023 broadcast industry show, Adobe has highlighted key new features in their video apps. These include AI-powered text-based editing, significant GPU acceleration, and new ways to collaborate efficiently in the newest version of Premiere Pro (which was, by the way, used to edit over 60% of films at the last Sundance Festival).
Text-based editing isn't the same as speech-to-text; Premiere Pro can already do that (though has now learned some more languages). It instead means that an editor can access the transcript and cut and paste parts, just like a word processor, and have Premiere Pro adjust the timeline accordingly, slashing the time it takes to prepare a rough cut. If you're not already an Adobe Cloud user, you can try Premiere Pro for free.
Editors working with a mix of HDR footage will undoubtedly be grateful for the Auto Tone Mapping Feature and Log Color Detection which offer a quick route to using footage from different cameras. The software can produce consistent color without LUTs (lookup tables) or manual adjustments.
Speed is the order of the day for all the key improvements too. Adobe is keen to highlight how much under-the-hood work they've done to ensure GPUs carry their share of the load. Not only can you work with 8K footage in the timeline, but the scopes and transitions are quicker too.
Teamwork makes the dream work, and features for collaborative working include the ability to lock a sequence you are working on, or take a section of a larger project offline. These, of course, use the Creative Cloud, but Adobe is also expanding collaboration via Frame.io, the live production collaboration tool it acquired in 2022. Frame.io is free with subscribers to the Creative Cloud App Apps suite, or with individual subscriptions to Premiere Pro and After Effects.
• Frame.io – pricing, how you get it, and what the heck it is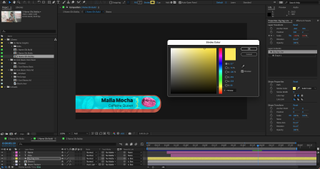 After Effects also sees improvements, including a new context-sensitive Properties Panel and ACES and OpenColorIO which, like the improvements to Premiere, are designed to make colors behave more consistently across apps. There are also some improvements designed to 'fix common issues without the need for IT expert assistance' – perhaps some security bottleneck fixes?
Premiere Pro, After Effects and Frame.io are all part of the Adobe Creative Cloud, and these features will be rolled out to subscribers by May.