We all delete files from our devices, email, or cloud storage, and for many of us, that is considered the end of it, with automatic processes usually taking the work out of emptying these various recycle bins after a set amount of time. How many of us actually go and empty our recycle bins manually on a regular basis? (please don't email me).
I was completely unaware that Adobe did not have a mandatory automatic process for permanently removing old files, well until now that is. Adobe has updated its policy around removing your Creative Cloud files from your deleted items folder, and will now automatically remove them for you after 30 days.
Adobe Lightroom CC has deleted your old photos from your bin after 60 days for quite some time already and it looks like that 60-day figure is going to remain, with this just affecting Creative Cloud files.
I welcome this change, as I just checked my deleted files on my Creative Cloud account, and it is full of things that I really wish had been removed from existence a long time ago, including many awful (and occasionally inappropriate) sketches from Adobe Fresco and younger selfies I had edited on Photoshop CC trying to find my angles.
I even checked a secondary Adobe account that I have not logged into for around a year, and my bin still had some not-so-treasured memories that I thought would not be preserved for all this time.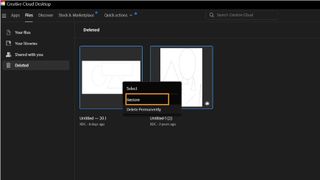 I am sure I will be furious about this change in a few months when it turns out I accidentally deleted something that I wanted to keep, but it is a small price to pay for the convenience, and frankly, I only have myself to blame. This also just brings Adobe in line with almost the entire rest of the cloud storage industry, with Google Drive, Microsoft Onedrive, and Dropbox all deleting files after a set amount of time. Even Gmail and Outlook will clean out your deleted email folders for you.
Anyway, if you also didn't know this, then this is a good chance to sift through all your trash before Adobe gets rid of it. And if you are someone who relies on recovering files quite a lot, then this is a warning to be more cautious about hitting that delete button. You have until June 4 to recover your old files, more assistance can be found on the Adobe help website.
Find out more about editing software with our guides to the best photo editing software and the best video editing software.