In exciting news for any Fujifilm shooters itching for a new wide-angle prime lens, leaked images have just given us our first look at the upcoming Fujinon XF 8mm f/3.5 R WR lens.
This lens has been on the Fujifilm roadmap for quite some time, after being teased at an X-Summit in 2022 – and it is actually the last lens for the X-mount that has been officially to be on its way. Although, with the next X-Summit just around the corner, there might be a new roadmap for X-mount cameras and lenses in store.
• Check out the best Fujifilm lenses available right now
The Fujinon XF 8mm was revealed to the world with just an outline sketch, which left us wondering how bulky this super wide-angle lens would end up being in reality, as these lenses are often not the most compact. However, these leaked images – courtesy of the always well-informed FujiRumors – show an impressively small lens when mounted on what looks like an X-T camera.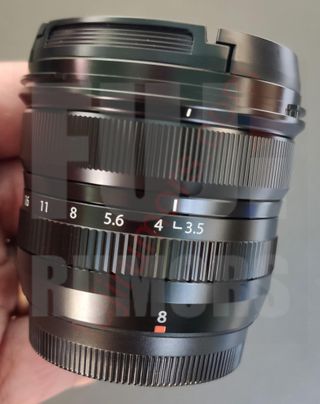 Styling-wise this lens blends in with all the most recent Fujinon lenses, with a manual aperture ring, and it will also be weather sealed for resistance to dust and moisture. At f/3.5 this optic is respectably bright for some low light shooting, although at 8mm (a 12mm full frame equivalent), it won't provide much depth of field or subject separation.
Importantly, unlike the plethora of 8mm third-party lenses for the X-mount, the Fujifilm XF 8mm lens will not be fisheye but will be rectilinear. A rectilinear lens is designed to produce images with straight lines, without any noticeable distortion. This means that the lens can accurately reproduce the straight lines of architectural or geometric subjects, without causing them to appear curved or distorted. In contrast, fisheye lenses, purposely distort the image in a way that can create a unique visual effect.
Previously the only way to get as wide as 8mm with a Fujinon lens was with the very large and very expensive Fujifilm XF 8-16mm f/2.8 R LM WR, with the nearest prime being the Fujifilm XF 14mm f/2.8 R. So it is great that there is a new option for wide-angle enthusiasts that hopefully will be much lighter and cheaper than previous offerings.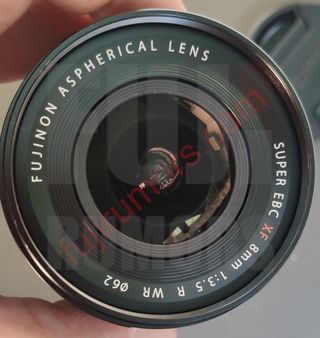 Read more about what is in store from Fujifilm with our Fuji rumors hub. You can also find out more in our guides to the best Fujifilm cameras and the best fisheye lenses.