Every year Adobe holds an annual conference in California, Adobe Max, where the opening keynote includes a flurry of software announcements. These are often a little bit random: a case of "whatever they could get out of the barn in time". But this year, a clear theme has evident. Adobe is going all-in on AI.
In doing so, it's essentially positioning itself as the "frenemy" of photographers. On the one hand, Adobe's new generative AI tools enable anyone who doesn't want to hire a photographer to make something that looks almost indistinguishable from a photo, with just a few text prompts. Which isn't exactly endearing them to professional shooters.
At the same time, though, Adobe is using AI tech to make photographers' lives easier. Primarily by making edits that used to take hours of painstaking labour in Photoshop and Lightroom happen automagically (yep, that is a word now), at the touch of a button.
You may have played with some of the tools and features they've already added to the Creative Cloud, but at today's Max, they're scheduled to announce even more. So below, we share the latest Adobe AI features photographers need to know about.
New features in Lightroom for 2023
The headline feature coming to Adobe Lightroom, Adobe Lightroom Classic and Adobe Lightroom Mobile is a Lens Blur tool that makes it easier than ever to add an aesthetic blur effect to any part of a photograph without requiring an expensive camera lens.
Lens blur is the effect of a part of an image being out of focus. Traditionally, it was caused by the limitations of camera lenses, which cannot focus perfectly on all objects at the same time. But the amount of lens blur can also be manipulated by playing the aperture setting, the focal length of the lens, and the distance between the camera and the subject. Consequently, the ability to create a cool lens blur affect in Lightroom, through some simple AI button pressing, will appeal to many.
Other updates to the Lightroom suite include HDR Optimization, enabling photographers to edit and export their images with brighter highlights, deeper shadows and more vivid colors. There's also Point Color, which promises to help photographers make precise, accurate and detailed color refinements.
Of course, all these AI-fuelled features are making it harder and harder to distinguish between a "real" photo and one that's been heavily edited, or even entirely AI-created. In response to this concern, Adobe's been pushing its Content Credentials system: metadata that shows people the attribution and provenance details behind all the ingredients used to make the final content. So in this update, Adobe has extended Content Credentials support for new file types to continue Adobe's "commitment to transparency".
More mundanely, Adobe's also streamlined the Lightroom mobile toolbar to prioritize popular features and make it faster and more intuitive to edit photos on your phone. They're dubbing this an "all-new mobile-optimized editing experience".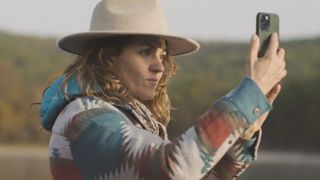 Sounds pretty cool, right? Keen to hear more details? Well, to be honest so are we. However, these tools have only just been announced from the podium, so we haven't had a chance to test them out yet. And so basically, at this point you know as much as us.
Which, actually, is unusual. Normally a few days before Adobe Max, journalists are invited to a virtual press conference in which Adobe experts demo the new features and take questions on them. This year: silence, and we weren't even given any press images or videos that show the new features in action. Even the press release seemed shoddy and rushed; for instance, in a number of places the word [LINK] appeared without any, er, link.
We're not hating on Adobe: we all know what it's like delivering to a deadline, and sometimes things don't go to plan. And we're sure everything's fine with the new features. It's just odd that, writing this just a couple of hours before the conference kicks off, we haven't see them yet.
What's new in Photoshop?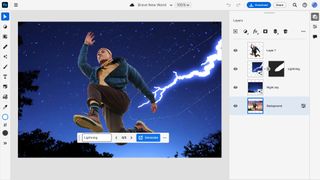 Here's another way that this year's Adobe Max announcements are a bit unusual... there's not much about Photoshop. In fact, there's just one, and that's the web version of Photoshop will shortly be available on Google Chromebook Plus devices, along with the all-in-one creativity app Adobe Express.
Just so you're aware, Photoshop on the web isn't quite as powerful as the full-fat desktop of Photoshop. But you can still do quite a lot with it, especially as just a few days again Adobe added its powerful Firefly AI tools to the browser-based version. That includes Generative Fill, which allows you to remove unwanted objects from your images, change the background of your images, fill in missing or damaged areas of your images and add new objects or scenes to your images.
So it's lovely that Google Chromebook Plus users can use Photoshop for web, as this Chromebooks have seemed a bit of a blindspot in the Adobe ecosystem until now. But in terms of Photoshop announcements, we were still hoping for a little more.
How to watch Adobe Max for free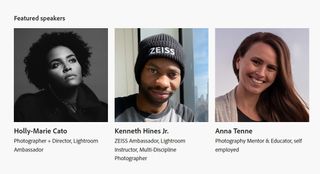 Want to see all the speakers, demos and other sessions at Adobe Max as they happen? The good news is that you don't have to fly to California: you can watch everything online for free.
Running from October 10-12, the three-day conference in Los Angeles isn't just about software announcements, it's also packed with creative luminaries to inspire and educate you. This year's speakers include actor Adam Devine, record producer, songwriter and entrepreneur Oak Felder, creative director Karen X Cheng, designer and founder Aaron Draplin, and co-founder and creative director Walker Noble.
Virtual event attendees can livestream keynotes at max.adobe.com today and tomorrow: you just have to register first. And one bit we highly recommend is Sneaks, which happens tomorrow and gives you a glimpse of the most exciting new tech Adobe's currently working on.