Adobe has announced the release of Photoshop for the web which will be available to everyone signed up for a Photoshop plan. This release comes following a successful trial of Photoshop web and now includes Adobe Firefly generative AI features such as Generative Fill and Generative Expand.
Widely known as the go-to photo editing software for professionals, Photoshop hit a major milestone when it first introduced Photoshop for the web last year. The early beta version had limited capabilities but, thanks to Adobe's active collaboration with its global community and feedback from over 40 countries, Adobe has made big improvements to the tools available to web users.
• Elevate your editing workflow with the best monitors for photo editing - where color accuracy and resolution are key
With this latest release, Adobe caters to both newcomers and long-standing users of Photoshop. The web-based version offers a streamlined user experience, making it easy for beginners to navigate while providing existing Photoshop enthusiasts access to tools like Generative Fill from any web browser.
One of the most notable advantages of Photoshop for web is its accessibility. Users can now harness the power of Photoshop without the need for downloads or installations. Whether starting fresh or continuing work on an existing project, this web-based solution offers flexibility, convenience, and the ability to seamlessly.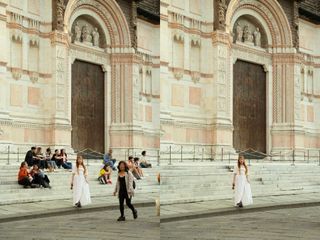 Collaboration is a key feature of this release which will be useful among people who work together on creative projects remotely. Users can invite others to cooperate on projects simply by sharing a link and the collaborators don't even need to have Photoshop to get involved.
Since the beta launch, Adobe has made significant improvements to the web version, making the most commonly used Photoshop tools available. The user interface has been modified so that tools are grouped together based on specific workflows. This makes it easier (most of the time) to perform tasks such as retouching portraits, object selection, and applying quick actions. Tool names are now visible in the toolbar, providing added clarity to users who may not yet be familiar with Photoshop tool icons. For those who are used to working on the desktop app, there is also an option to toggle this view and work on a familiar desktop-like interface.
The big new feature is the introduction of Adobe's AI model – Adobe Firefly. This means Photoshop web users can also use Generative Fill and Generative Expand which enable non-destructive content addition, expansion, and removal of objects while seamlessly matching the light and style of your image. All this can be accomplished using simple text prompts in over 100 languages.
Adobe has also introduced the Contextual Task Bar which recommends the relevant next steps in key workflows, reducing the number of clicks required to complete projects and making common actions more accessible. While Photoshop on the web may not offer all the features available in the desktop version, Adobe promises to continuously update and expand its capabilities. Users can expect to see other favorites – like the Patch tool, Pen tool, Smart Objects, Polygonal Lasso, and more – in the near future.
Why not also check out the best monitor calibrators so you can alway be sure your screen displays colors exactly as they should appear