California based model and self-portrait photographer Kimberly has become Instagram famous in the space of just three years. She's always wanted to be a model and started directing her own photoshoots in her parents spare bedroom in the hope of catching the attention of modeling agencies.
In 2019 alone she directed 127 of her own photoshoots, most at home and with minimal budgets. She's now built up over 300k followers on her Instagram since she started out.
• Read more: Best cameras for Instagram
We sat down with Kimberly to find out more about her working life as a photographer – and to discover what kind of kit she uses.
"I started taking my own photos three years ago, when I was 21. I had graduated college with my Associate of Arts degree and didn't have a job, but I really wanted to be a model. I couldn't afford a photographer to help me build up my portfolio, but, undeterred, I began shooting self-portraits.
"I mainly shoot in my parent's spare bedroom, adding different backgrounds and fabrics to get fresh and exciting looks, but I do shoot in other rooms and outside occasionally too, to give my portraits variety.
"Over the years I've made my DIY sets more elaborate and intricate but my budgets are always very tight, so that's where I have to be a bit creative to make $50 look like a million! This can be done with clever lighting, creative camera angles, props, smoke, water and clothing.
"I find my inspiration first, whether it's through Pinterest, a movie, editorials, or God sending me an idea while I'm taking my morning drive. When an idea does come to mind I'll sit on it for a few days and really think it through before I even start to build the set, which can take another two or three days to build.
"I take great pride in being able to create these portraits with next to zero budget and with basic camera equipment – this allows me to focus more on the modeling and posing. Instagram has been a fantastic way to get my pictures seen and I love that I'm able to inspire others to create great portraits at home without expensive kit too."
01. Canon EOS Rebel T6
"I shoot mainly with my Canon Rebel T6 (known as the Canon EOS 1300D in the UK). I wanted something that could take higher quality photos than my phone, as my shoots were getting more elaborate and it works great. Definitely an impulse buy that paid off. I only shoot one frame at a time, so I don't need it to fire off rapid bursts or anything like that. Being able to connect to it by Wi-Fi and shooting through the app on my phone is how I take most of my self portraits."
02. Canon EF-S 18-55mm f/3.5-5.6 IS II
"For an entry-level kit lens, this 18-55mm lens works surprisingly well and I find it perfectly sharp enough for what I need it for. For some reason the autofocus has stopped working on it, so it's out of commission until I get a replacement. However, I do use it with manual focus occasionally, when I need the wide angle to capture pictures of my entire set."
The Sigma 35mm is super sharp and, when I use it on my APS-C Canon body, it has a film equivalent of 56mm, giving it a mid-range focal length and perfect for mid-length portraits. Shooting on an APS-C body also has the advantage of cropping out the corners, which are usually the softest part of the frame. The super wide f/1.4 aperture also lets me blur the background easily when needed.
• Sigma 35mm f/1.4 DG HSM Art review
04. Bendable mini tripod
This little tripod was recommended to me from somebody on Instagram and it works really well. I love taking self-portraits from high angles, so I'll often wrap this around one of the blades on my ceiling fan to get the camera face down looking towards me. As it's a very small tripod it's also great for low angles looking up.
05. Apple 13" Macbook Pro
"I'm always using my Apple Macbook to edit my shots using Lightroom Classic CC to develop the Raw files and Photoshop CC to process them further. I'll then send my edits over to my iPhone to upload them to Instagram, because there's currently no way to do it through a laptop. When my images are finished I'll transfer them over to my iPhone 11 Pro Max to upload them to social media and Instagram."
• Best MacBook for photo editing
06. Limostudio 700w 24 x 24" softbox
To keep costs down I was given my lighting kit from my cousin, though even if I was to buy one from Amazon this kit from Limostudio is very budget-friendly. It's a constant light source, which is great for being able to see how the light is affecting the scene as I move it around and get the position of the light just right. It also comes with a 24x24in softbox, to make the light less harsh for pro results.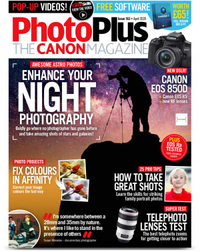 PhotoPlus: The Canon Magazine is the world's only monthly newsstand title that's 100% devoted to Canon, so you can be sure the magazine is completely relevant to your system.
Read more:
The best lens for portraits: our pick of the best 85mm lenses right now
The best camera for portraits: cameras and lenses perfect for portraits
215 photography tips, techniques and tricks for taking pictures of anything