What does the Rolex Submariner, Fiat 500, Triumph Bonneville and Fender Stratocaster all have in common? They all started production in the Fifties and their iconic designs are still prevalent today. And now you can add 1959's Nikon F to that list, thanks to the new Nikon Z fc.
Camera connoisseurs will point out Nikon's latest Z camera is actually modeled after 1982's Nikon FM2, but arguably every Nikon SLR harks back to the fantastic Nikon F. Either way, they're two of the best film cameras ever made!
• Read more: Nikon Z fc vs Nikon Z50
I can't help but think of the Nikon Z fc as the spiritual successor to 2013's Nikon Df. In both instances the 'f' stands for 'fusion', and they're both retro-looking cameras, but the similarities end there.
The Nikon Df is a full-frame DSLR and was built around the same sensor as the Nikon D4. However, with much slower burst shooting and no video capabilities, it was hardly a D4 in period clothing. Looking back, it's a charming camera with a somewhat awkward identity. It lacks some of the features present in comparable Nikon DSLRs, but it's not an authentic reissue either.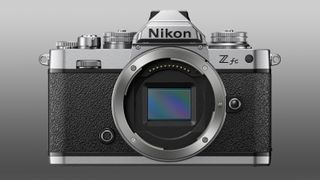 The Z fc, on the other hand, boasts all the bells and whistles you'd expect from a modern Nikon camera. In fact, its spec sheet is virtually identical to the very well-received Nikon Z50. It's an unapologetically modern camera with a retro design that will, no doubt, appeal to collectors and casual photographers. It's no coincidence, then, that the 'c' supposedly stands for 'casually.'
It makes sense for a brand with a history as rich as Nikon's to celebrate its past – something other heavyweights have been doing in their respective fields for years. My dad has a 2019 Triumph Bonneville T120. It looks very similar to a 1959 T120, but has mod cons like ABS and traction control, and is more reliable than an actual classic bike.
And yet retro isn't for everyone. The Z fc probably won't be the workhorse you drag through hell and high water, and you can pick up essentially the same camera in a Z50 housing for less. But when a retro object really speaks to you, sometimes it's worth the price of admission.
I'll reserve my final judgement for when I have the Z fc in my hands, but until then all I have to go on is my Dad's Triumph. He won't risk taking it out in the rain, and sometimes I think he spends more time polishing the chrome than riding it, but on a sunny day he pulls out of the driveway with a smile that's 10 miles wide. Maybe they don't make them like they used to, but they can get pretty darn close…
Read more:
Best Nikon cameras
Nikon Z50 review
Nikon Z fc vs Fujifilm X-T30