Back in 2012, wireless connectivity was not yet a regular commodity on most cameras and there were special Wi-Fi memory cards that you could use to bring such connectivity to your camera.
To cut a long story short, I had one of these 'special' cards and ended up formatting it. Needless to say, the memory card didn't like this very much at all and corrupted the files I took the next day on an important photoshoot. The card ended up in the trash and we had to reorganize a reshoot to take the images again. Thankfully Wi-Fi cards are a thing of the past, and any modern digital camera worth its salt comes with wireless connectivity built-in nowadays.
• Make sure you use the best memory cards to protect your images!
Over a decade later, I'm asking myself what lessons did I learn from that heart-sinking moment? And what advice can I offer you, so that you never have to experience the same pain? Well alongside the obvious – don't remove your cards too early, and always make sure you safely eject them from your computer – here's my best advice and steps you can take to mitigate the loss or corruption of your digital images…
1) Dual card backup
The obvious option is to record your files to two cards at once, if your camera has dual card slots. This may be dual SD, or SD and CF on older cameras, or a mixture of SD and CFexpress on newer camera models.
Go into your menu and set up the camera to record a backup to the second card slot. To save time you could also set it up to record RAW files to one card and JPEGs to the other, so at least you'll have a JPEG backup if your primary RAW card fails.
2) Single card backup hack
If your camera only has one memory card slot, then a good trick you can try to mitigate a corrupted card is to use lots of smaller-sized cards. Shoot on a whole bunch of 8GB or 16GB cards and change them as they become full – this way, if a card does corrupt, you'll only lose a small amount of images, which would be less disastrous than seeing all the files from a full 256GB get destroyed.
If you're shooting a wedding, for example, you should then have enough images to rescue the situation rather than it be an all-out disaster. And while far from ideal, it's a good step to take to mitigate any potential losses. I'm sure the bride and groom would rather have some images from their special day rather than none at all, so this may be a method to try out if your camera only has one card slot.
Wedding photographers also usually shoot on two camera bodies, with different lenses, so they can take shots on the fly quickly. You'd also have to be pretty unlucky for both cards in both cameras to corrupt, so this would be another failsafe.
3) Use high quality cards
Look online and you'll find ridiculously cheap memory cards. While the low prices are tempting, these are often unbranded and can even be counterfeit cards. Either way, they're unreliable and it's simply not worth the risk.
It's worth paying the extra for a reputable card from a store you can trust. It's also worth buying cards with the fastest write speeds you can afford, so that you can clear the camera buffer quickly when recording a fast burst of images or 4K video. Having fast cards is also important if you plan to record your images to two cards at once.
4) Send broken cards straight to the trash
Take broken cards seriously and be ruthless. Throw away any cards that are starting to show signs of wear, such as plastic cracking or pieces falling apart. I once bought a brand-new memory card and gave it a slight twisting pressure and could hear the plastic cracking – I did the same stress test on my other cards and they didn't make the same noise, so I quickly decided it was a cheaply made product and returned it to the store and bought a more premium option for peace of mind.
5) Back up your files
Losing data is just as common for digital images stored on your computer, too. It's a good idea to follow the 3-2-1 rule to back up your photos. This is where you have at least three copies of your images on at least two different types of media (such as a hard drive, SSD or the cloud) with another copy stored off-site (such as at a friend or family member's house) so that you still have a copy if the files at your house are stolen or compromised.
6) Avoid using adapters
A microSD to SD card adapter can be very useful for transferring images to your computer if it only has a full-size SD card port. However, try to avoid using these adapters inside your camera. MicroSD cards are great for smaller cameras, such as drones, action cams and even some phones, but you want to avoid using them within an adapter in the SD card slot of your camera as it's just an extra point of failure – and it wouldn't take too much to jostle the connections and pins while writing to the card to result in a corrupted file.
7) Keep track of full cards on a shoot
One way you could lose your files is to accidentally write over and format a full card unintentionally. But this is easily avoided! We recommend getting yourself a sturdy memory card case and flipping over any used cards, so you know not to use them next. Then, when you're all backed up at your computer, you can format them and turn them the right way up once again – then repeat.
8) Recovery software
While I know the heart-sinking feeling from seeing a corrupted drive or card all too well, try not to be too disheartened as all may not be lost. There is software available such as the Lexar Recovery Tool and also data recovery businesses that specialize in restoring corrupted files (though the latter can be an expensive route).
However, it's good to know that there are options available to potentially recover your files in the worst case scenario if you absolutely need to get your files back and you can cover the bill.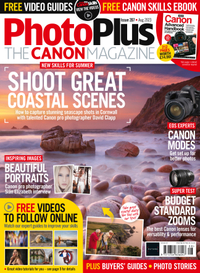 PhotoPlus: The Canon Magazine is the world's only monthly newsstand title that's 100% devoted to Canon, so you can be sure the magazine is completely relevant to your system. Every issue comes with downloadable video tutorials too.
Check out the best recovery software and our list of the best memory card for your camera gear. If you're looking to back up your photos for extra peace of mind be sure to check out our best external hard drives.