Perhaps the most surprising optic in this week's announcement of two new Nikon lenses is the Z 180-600mm f/5.6-6.3 VR.
We knew that a mysterious 200-600mm lens was listed on the Z-lens roadmap, but with no fewer than four super-telephoto optics announced in 2022 – as well as the Nikon Z 100-400mm f/4.5-5.6 VR S, announced at the tail-end of 2021 – I'll readily admit that for a hot minute I'd completely forgotten there was still a Z-mount contender for the best 150-600mm lens in the pipeline.
So what makes this new lens stand out among all the other Nikon super-telephoto lenses to come out of Minato, Tokyo, recently? Well, for starters, it's not an S-Line lens. While Nikon's premium-label glass is undoubtedly a good thing for professionals and serious enthusiasts, not everyone is willing to part with premium wads of cash.
When long lenses are already notoriously expensive, it's about darn time we got a standard-range super-tele that's well below the $2,000 / £2,000 price point. To put things into perspective, the S-Line RRPs range from $2,699-$15,499 / £2,599-£15,499, but the 180-600mm will retail for $1,699 / £1,799.
It's still an expensive piece of kit, but it's comparatively excellent value, especially when you consider the incredible versatility of that 180-600mm zoom range.
That's what makes this lens so compelling for amateurs and even pros on a budget. Nikon isn't filling a fanciful niche here. If you're a sports, aviation or wildlife photographer, this could conceivably be your go-to optic for the next seven or eight years (maybe longer).
And if we've learned anything from standard Z-mount lenses, it's that what they lack in ultra-fast apertures or premium features they more than make up for with snappy AF and impeccably sharp image quality.
My time away from N-Photo: The Nikon Magazine is often spent trackside, and this is shaping up to be an amateur motorsport photographer's dream lens. I think 400mm will stand you in good stead at most national race circuits, but the additional headroom provided at 600mm – up to a whopping 1200mm with a Z teleconverter – means you could shoot from the crowd at a big international circuit with huge run-offs (think Paul Ricard) and still get close enough to the action!
The 180-600mm is essentially the spiritual successor to the old Nikon AF-S 200-500mm f/5.6E ED VR – and I've lost count how many N-Photo readers have told me they own that lens. Assuming it reviews well, I reckon this latest Z lens is going to shift faster than Max Verstappen in Q3!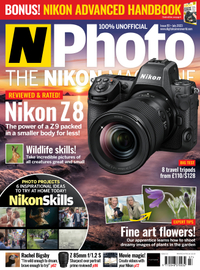 N-Photo is 100% Nikon-devoted, and 100% editorially independent. If you're a Nikon owner and want to improve your images, get the best buying advice and reviews, see some of the world's best Nikon photography, N-Photo is the title for you.
Subscribe now and save!
If you enjoyed this article, you might be interested in reading about the best Nikon Z lenses for FX and DX cameras. If you're clinging to your DSLR you can also check out the best lenses for the Nikon D850, and it you're embracing the revolution then take a look at the best lenses for the Nikon Z6 II.