DJI makes some excellent cameras, often attached either to drones or, in the case of the Osmo Pocket 3, a gimbal on a handle. The thing is, I've already got a compact DJI Mini 3 Pro drone, and it's got a gimbal, so why shouldn't I use that instead of forking out for a Pocket 3?
Well, that's what I thought before I tried it anyway! On the crucial question of whether it's possible or not then yes – yes you can hold your drone in your hand and capture stabilized footage. The battery will last a lot longer that way too, since none of the motors are doing any work. So far, so good. In fact you even get a 4K camera which can rotate to vertical mode with the Mini 3, Mini 3 Pro and Mini 4 Pro drones, and the later will do 10-bit 4K.
After that, well, that's where things start to get a bit tricky. The most obvious problem is that a drone doesn't have a record button so in use it's going to be a lot more clumsy than you'd first hope as you'll also need the controller.
The drone doesn't have a built-in microphone either, though if you're just looking for shots to edit with that will be less of an issue. If on the other hand, the plan is to get something out there quick – or to livestream it – well, it's going to be silent. You could of course buy the DJI Mic to record sound, or something like it, but you can get that linked to the Pocket 3 in the Creator bundle.
Oh, and there are other issues too – the folding props hand loose on the frame of the drone so, although a DJI Mini 3 Pro (the model I tried this out with) isn't too big to hold, it does have some slightly irritating (and mobile) edges.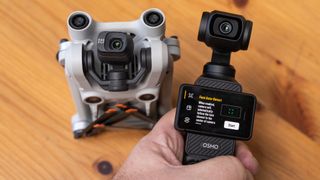 Then we get into the depths of the tech that makes DJI special. Things like ActiveTrack, a technology which can keep a subject in shot for you, which all the best DJI drones have. The same term is used to describe the tracking features of the DJI Osmo Pocket 3 but for that device they have, of course, been refined to match the user experience.
In our full review the Pocket 3 could manage to track a train which seemed a mere dot on the screen all the way past, and pan with it. With the drone you have a big touchscreen to identify objects but you do need three hands, which is tricky for us non-evolved mere humans.
So, in short, it's not a piece of cake but it's possible. You can switch camera modes and take swooping 'FPV style' (leaning camera) or steady horizon modes. It will work if you keep the drone horizontal or at about a 45-degree angle (go all the way to holding it vertically and you start to hit the limit, since the drone camera is designed to tilt between forward and 'down'.
It's just a lot easier to have the controls in the handle than in another hand!
If you're interested in other vlogging alternatives then check our guide to the best vlogging cameras and, perhaps especially, the best budget vlogging cameras.