Samsung's Galaxy Tab S8 Ultra is the largest tablet around. With its giant 14.6-inch Super AMOLED screen, the tablet looks striking and combines powerful Qualcomm internals with an incredibly thin chassis, as well as a new and improved S Pen.
The Tab S8 Ultra also boasts smart, creativity, and productivity-focused software, and promises future support for apps like LumaFusion – the iPad OS and iOS video editor of choice for many. Add to the mix smart integration with Samsung phones, as well as a dual-front camera, so you can capture wide and ultra-wide angle photos from it, and it fast becomes clear – Samsung isn't pulling any punches with its latest iPad competitor.
Costing $1,099 / £999, the Tab S8 Ultra's price matches that of Apple's ubiquitous creative tablet, the iPad Pro. No iPad packs the kind of high-impact AMOLED display the S8 Ultra does, and Samsung also ships an S Pen in the box, so arguably offers better value for money than Apple.
We tested the S8 Ultra across a host of scenarios: as a wireless viewfinder for our Canon EOS R6 while on a shoot, a magazine reader with the excellent Readly app, as a photo editing suite matched with Adobe Lightroom, and a document editing, Netflix streaming tool. While we're delighted with how it's fit in with our workflow – the question is, will it fit in with yours, and how does the S8 Ultra stack up against Apple's latest, greatest slate?
Design and Screen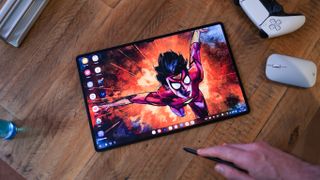 Despite its huge screen, the Tab S8 Ultra is incredibly slim at 5.5mm. That's significantly slimmer than the also skinny iPad Pro (2021) 12.9, which measures 6.4mm thin.
While initially, we were concerned by its waif-like profile, the Tab S8 Ultra's Armor Aluminum casing ensures it's hardy enough. We had the misfortune of whacking the side of our Tab against a metal table leg, and to our surprise, the tablet was unscathed despite making an almighty clanging sound.
The Tab S8 Ultra is available in one color – Graphite, and has a blasted metal matte finish. Around the back. The magnetic strip that extends from the camera is where the S Pen stows and charges, though if it doesn't need a charge, you can also attach it to the long side of the tab.
The front camera is housed within a notch, and the rest of the Tab S8 Ultra's front is pretty much all-screen with a slight bezel, making for an impressive 90 percent screen-to-body ratio.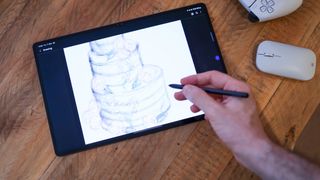 While you could brave carrying the Tab S8 Ultra standalone, its size does make it feel unwieldy. Additionally, the magnet that secures the S Pen isn't particularly strong, so won't hold when the tab is in a laptop sleeve in a backpack. In turn, we'd suggest a dedicated sleeve, folio case, or keyboard dock with a slot for the pen.
When it comes to screen quality, if you're an indoor tablet user, nothing can touch Samsung's latest flagship tablet. Its Super AMOLED screen is striking and betters iPads and their LCD screens when it comes to depth, zing, and pop, complete with HDR.
Where the screen quality falls behind the iPad is brightness, with the Tab S8 Ultra capping at 420 nits – less than half the brightness of the top-end iPad Pro. This means that the Tab S8 Ultra is harder to see clearly outdoors than the best iPads.
Another key difference between Apple and Samsung tablet screens is the aspect ratio – 4:3 (iPad) versus 16:10 (Tab S8 Ultra). While the iPad may be better for document editing, therefore, and working comfortably in both portrait and landscape orientation, the S8 Ultra is the obvious choice for anyone who wants to watch widescreen TV shows and movies with minimal letterboxing.
Camera specs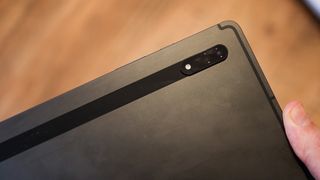 As with the rest of the Samsung Galaxy Tab S8 series, the Tab S8 Ultra features two rear cameras, a wide and an ultra-wide system. The wide camera sports a 13MP resolution sensor, measuring 1/3.4-inch, matched with an f/2 lens and a 26mm focal length. That's complemented by a 6MP ultra-wide camera with an f/2.2 aperture.
As for the selfie cameras, both feature 12MP resolution and support for 4K video capture. Samsung also includes auto-framing when capturing video, so you can place your Tab S8 down and move about as it chooses optimal framing for you, sort of like some of the best live-streaming cameras around, and Center Stage on the iPad Pro.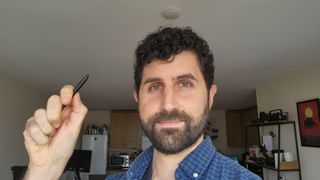 As with most Android devices, shooting modes on the Tab S8 Ultra are more extensive than those of Apple counterparts. In addition to Portrait, Photo, and Video modes, there are Pro, Pro Video, Single Take, Night, Food, Panorama, Hyperlapse, and Portrait Video modes.
Camera review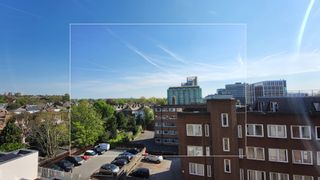 The cameras on the Tab S8 Ultra are unsurprisingly worse than those of any premium smartphone released in the last two or so years – perfectly predictable for a tablet whose focus is slimness above all else. It's fair to say, none of these cameras do a good job in low light, so don't expect Galaxy S22 Ultra-grade night video from these. That said, we love the fact the selfie camera is centered when the Tab is in landscape orientation – much more flattering and natural for video calls than the iPad's portrait-optimized front camera.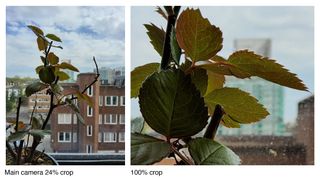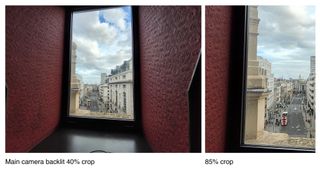 Pinch into photos taken on any of the four cameras, and while there's pleasing saturation and contrast, oversharpening and blotchy noise reduction become noticeable in all but the best lighting. While you can override auto mode, and take long exposure photos with the tab steadied on a surface for superior results, you'll unlikely want to use the tablet for much in the way of photo taking. The main reason for this isn't the photo quality – it's down to how unwieldy it is.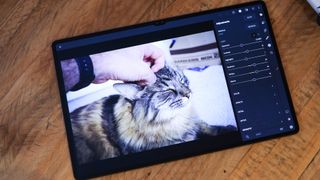 In turn, like the iPad Pro 12.9, the Tab S8 Ultra's cameras will likely be used primarily for video calls and only occasionally for photos and videos. This means that, despite not being excellent, the tablet's cameras are good enough. More important is how easy it is to get content off your superior camera phone and onto the tablet for big-screened Lightroom editing with Google's Nearby Share and Samsung's Quick Share. The USB-C port also works with SD card readers and USB-C hubs, so can ingest external storage quickly and easily.
Other specs and features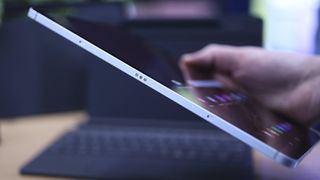 The Tab S8 Ultra is powered by a Qualcomm Snapdragon 8 Gen 1. With a starting capacity of 8GB RAM and 128GB storage, that spec climbs up to 16GB RAM, 512GB storage in the highest capacity model – and all versions enjoy MicroSD card expansion. You can also pick the Tab S8 series up in Wi-Fi and 5G versions.
Running Android 12 with Samsung's tablet-optimized version of One UI 4.1 over the top, the Tab S8 Ultra offers smart integration with the S22 Ultra. For example, you can use the phone as a color picker when working in Clip Studio.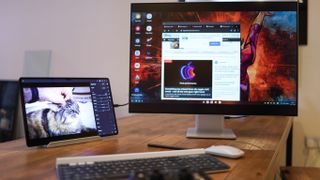 Unfortunately, LumaFusion video editor isn't available just yet – this will make the tab much more desirable for creators, however, there's plenty of smart software under the hood to help the Tab S8 Ultra stand out. For starters, the S Pen integration is excellent. Making notes and drawing on the slate is a dream – and using a brush in Lightroom when photo editing delivers more nuanced control than a stubby finger.
The Tab S8 Ultra packs DeX, Samsung's desktop interface which works either on the tab itself or when connected to a big screen. This makes the whole experience feel much more like a MacBook or a Windows device – perfect for pairing a keyboard and mouse.
Loaded up with an ample 1120mAh battery, the Tab S8 Ultra has reverse wired charging, so works as a power bank for your phone. It also charges up at 45W – nice and fast, powering from 0-100 percent in less than 90m.
Samsung Galaxy S8 Tab Ultra: Verdict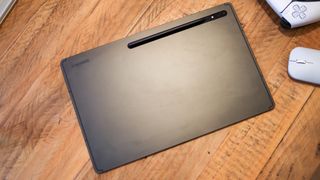 If you want the biggest screened tablet around for photo editing, word processing, and a full-blown PC-like experience in an impossibly thin package, the Tab S8 Ultra is pretty much in a league of its own. It's niche given its size – this isn't going to make for a comfortable E-book reader, but it's nevertheless striking and wonderful in its uniqueness.
iPads offer more optimized interfaces and better apps – that's thanks to Apple's work on iPad OS being more extensive than Google's work on Android as a tablet OS. For iPhone users, therefore, the Tab S8 Ultra doesn't make a huge amount of sense given just how good iPads are, and how well they work with iPhones (and MacBooks). That said, Samsung compensates for an underloved tablet OS with some very smart software enhancements that make the Ultra an obvious Android and Windows user's alternative to the iPad Pro.
From its excellent S Pen, smart note-taking software, the fact it acts as a Miracast receiver – so can double up as an extended monitor for a phone or PC, not to mention its ample speed and stunning screen, almost everything about the Tab S8 Ultra is top-tier. Matched with its waif-like design, even with its adequate but unexceptional cameras, it's still one of the best tablets of 2022, and the best option money can buy when it comes to watching movies and TV shows on.
• Best tablets for photo editing
• Best Samsung phones
• Best iPad alternatives
• Best tablet camera
• The best phablets
• Which is the best iPhone for photography?
• The best gimbals
• Best phone cases