The best photography video games come in all shapes and sizes. Tutorial-style software, virtual photo safaris, frantic zombie games… even racing games where you physically drive a camera around your living room!
While the new Xbox Series X and PlayStation 5 are setting the gaming world on fire, many of the best photography video games can actually be played on your computer, phone, Nintendo Switch or older games consoles from years past.
So whether you're looking for something camera-related to buy for your new console, or you want to test your trigger finger on some headshots rather than head shots, here are the best games about, featuring, or involving photography!
1) New Pokémon Snap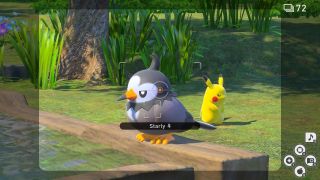 by Bandai Namco Studios
Nintendo Switch
You don't need to be a Poké-fan to enjoy this game (though it certainly helps!), as it pits you on a virtual safari on an island populated by Pokémon. Your task is to photograph and catalogue all the species – and Professor Mirror will judge and reward your images based on composition, the behaviors your subject is exhibiting, and the rarity of the species you've photographed.
A long-awaited sequel to the 1999 classic for the Nintendo 64 (re-released in 2016 for the Wii U), this is unquestionably the finest pure photography game out there – and you can even get real instant photographs of your shots, too, using the Instax Mini Link printer!
• How to print Instax photos from your Nintendo Switch (including Pokémon Snap)
2) Polaroid Pete / Gekibo: Gekisha Boy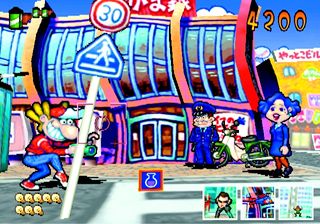 by Tomcat System
PlayStation 2
Originally a Japanese game, Gekibo: Gekisha Boy, released for the 8-bit PC Engine (Turbografx 16) console in 1992, the sequel was published in the United States as Polaroid Pete for the PlayStation 2 in 2002. A frantic side-scrolling action game, you control a paparazzi photographer as he avoids obstacles and photographs subjects and surroundings.
Those inclined to pixel peep will no doubt take umbrage at the Polaroid licensing, since Pete clearly uses an SLR and rolls of film, and there are some rather "dated" stereotypes in there. However, it's still a silly and enjoyable slice of 2D fun.
3) CameraSim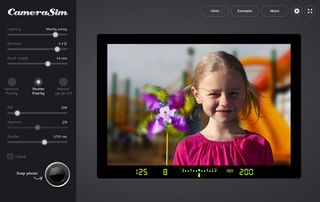 by Tuitive
OS X / iOS
Okay, CameraSim isn't technically a game – it's an educational photography tool that enables you to learn various aspects of a camera through interactive virtual scenarios. However, it's very game-like – and there's a free version that you can play with on your browser.
The full Camera Sim Pro costs $39 per year and features interactive setups where you can experiment with composition and settings at different times of day. We recommend trying the free web version (also $1.99 / £1.99 on the App Store) which is guaranteed to keep you busy for a few minutes!
4) Afrika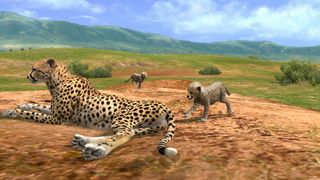 by Natsume
PlayStation 3 / PlayStation 4
If you like the sound of Pokémon Snap but would rather take photographs of real animals, Afrika is for you. You take the part of a wildlife photojournalist in an unspecified part of Africa, where you'll be taking photos of various animal species in their natural habitats.
Unlike the Pokémon game, which is "on rails" (like a rollercoaster, moving along a fixed path), here you can roam the terrain by foot, Jeep or balloon to go wherever you want – including right up close (but not too close!) to your subjects.
Afrika was only released in Japan, but is perfectly playable without understanding Japanese – and there are a number of online translations to help with any tricky parts you encounter.
5) Mario Kart Live: Home Circuit
by Nintendo
Nintendo Switch
The only game here that features an actual camera, Mario Kart Live: Home Circuit is a cutting-edge version of the long-running Mario Kart series. Here you have physical, miniature karts with real cameras mounted to them; by building a track around your home, and pairing the karts to your Nintendo Switch, you control them just like RC cars and race them around the room!
It's a brilliant combination of camera technology, classic Mario Kart gameplay and augmented reality. And even though each set is north of a hundred bucks, it makes a perfect gift for kids of all ages.
6) Fatal Frame / Project Zero (series)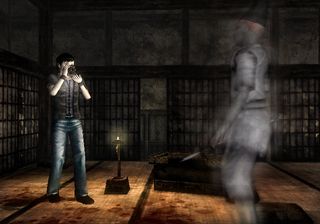 by Koei Tecmo
Xbox / PlayStation 2 / Nintendo Wii / Nintendo Wii U / Nintendo 3DS
If you love creepy Japanese horror, the Fatal Frame (US) / Project Zero (Europe) series sees you confronting ghosts in haunted locations using the Camera Obscura – a supernatural device that damages and captures spirits when you photograph them (particularly if you hit them with the titular fatal frame to their weak spot).
The efficacy of the old-fashioned camera is affected by how accurate your manual focus is, along with aspects such as composition. You can also acquire different film stocks (effectively different 'ammo') to increase the camera's damage.
The series has been dormant since 2014 (with a movie adaptation stuck in development hell), and we'd love to see it return – until then, definitely check it out if your nerves can handle it!
7) The Bradwell Conspiracy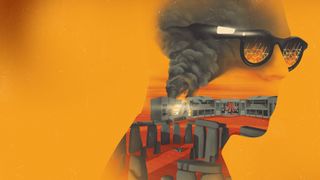 by A Brave Plan
Xbox One / PlayStation 4 / Nintendo Switch / Windows / Apple Arcade
An unnerving first-person puzzle game, set amid a technological disaster beneath Stonehenge, The Bradwell Conspiracy features a unique premise: you and another character are trapped but separated from one another, yet must work together to help each other escape.
However, your character is unable to speak – so the only way you can communicate is to take and transmit photographs using your Google Glass / Apple Glasses-like spectacles. It's a slow-burn and narratively driven adventure, but one that's well worth taking.
8) Life is Strange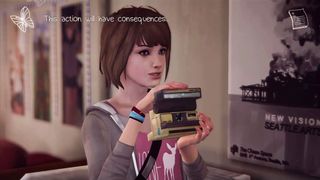 by Dontnod Entertainment
Xbox 360 / PlayStation 3 / Xbox One / PlayStation 4 / Windows / Android / iOS
If there's one game on this list that you ABSOLUTELY HAVE TO PLAY, it's this one. Life is Strange is a supernatural episodic adventure game in the tradition of Netflix serials, evoking shades of Stranger Things and the 13 Reasons Why.
You play Max, a student with a passion for photography (and a Polaroid camera, which you will intermittently take snaps with) and a hidden ability with the power to make (and unmake) incredible change – and the game features a dynamic decision / consequence system that will shape the direction of your story.
One of the most affecting (and, at times, disturbing) pieces of media you'll ever consume, if you have any interest in videogames whatsoever then you really do have to try this wonderful title.
9) Dead Rising 4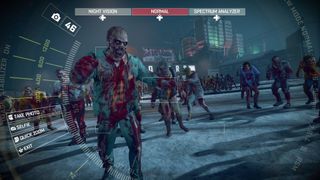 by Capcom
Xbox One / PlayStation 4 / Windows
The original Dead Rising was basically Dawn of the Dead with a photographer, crafting makeshift weapons and armor while trapped in a shopping mall and taking photographs of the undead carnage to score points.
Fast-forward to Dead Rising 4 and the zombie infestation is out of control on a near World War Z-like scale. The focus is firmly on creating ludicrous weapons (baseball bats with nails in have given way to battery powered, electrified exo suits) with which to despatch the undead, but using your camera to reveal secrets, find clues and capture photos (including selfies!) is more enjoyable than ever.
10) Beyond Good & Evil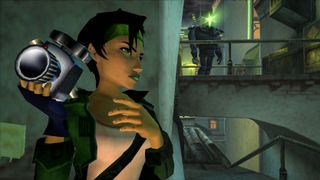 by Ubisoft
Xbox / PlayStation 2 / GameCube / Xbox 360 / PlayStation 3
You know those cult TV shows that people just won't shut up about? The quirky, undiscovered movies that your hip friend insists will change your life? Beyond Good & Evil is the videogame equivalent, a sadly overlooked gem that never got its due, but has developed a fervent following over the years.
You play an investigative reporter armed with a camera, with which you will expose, oppose and rebel against an evil regime. Games where a journalist is the hero are quite the rarity, but this experimental and exquisitely European third-person action game built its towering reputation on subverting expectations. A bona fide classic.
11) Outlast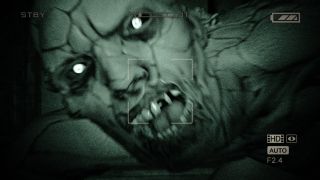 by Red Barrels
Xbox One / PlayStation 4 / Nintendo Switch / Windows / OS X / Linux / Android
Where Fatal Frame was more about creeps and chills, Outlast is an exercise in abject terror. Another rare game featuring a journalist protagonist, this first-person horror game plunges you into the bowels of an abandoned asylum – and you'll be spending much of your time in total darkness.
The only way to see – and to escape the horrors chasing you – is by using the night vision capabilities of your camcorder, though this drains the batteries, so you need to ration its use while searching for more juice. And if you're brave enough to stay and record certain events instead of running the other way, as an investigative reporter you'll document it. Definitely not one for the faint of heart!
12) Phasmophobia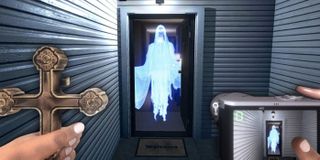 Kinetic Games
Windows
If bustin' makes you feel good, then Phasmophobia will make you feel great… and just a little bit terrified, especially in VR! A co-operative online multiplayer ghost hunting game, you and four buddies will use a variety of equipment to track down and gather evidence of the paranormal.
Among your tools are EMF readers, Spirit Boxes (which let you use ouija boards by talking through your mic), thermometers, and night vision cameras, CCTV cameras and stills cameras. Find clues, record proof, and sell it to the ghost removal team to get rid of the supernatural troublemakers. We ain't 'fraid of no ghosts!
13) Firewatch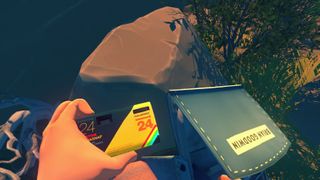 Campo Santo
Xbox One / PlayStation 4 / Nintendo Switch / Windows / OS X / Linux
Photography is, in one sense, only a small part of Firewatch – a wonderful first-person mystery, set in a national park in the aftermath of the 1988 Yellowstone fires. While you investigate the unexplained events that start taking place, you find an abandoned backpack with a disposable camera.
You can use its 18 remaining shots to take photos of the beautiful golden hour landscapes. And then, once you've finished the game, you can 'send in your roll of film' to be developed – and 2-4 weeks later, you'll then receive glossy 4 x 6-inch prints mailed to you! Campo Santo is no longer offering this service (the game did come out in 2016, after all), but your photos are still uploaded for you to see later.
14) The Sims 4: Moschino Stuff Pack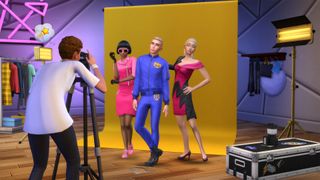 by Maxis
Xbox One / PlayStation 4 / Windows / OS X
Even non-gamers have probably heard of The Sims, a long-running life simulation series that sees you populate a virtual town with characters who wake up, eat, sleep, get married, get jobs, get fired and basically have the chance to live the lives we all dream of. And, with the Moschino Stuff Pack for The Sims 4, that dream career now includes freelance fashion photographer.
Take bookings from clients, curate an appropriate clothing collection, choose the perfect subject (different Sims have different poses and expressions, with some having more "cameras instincts" than others!), create and decorate your own studio and conduct photoshoots. It's one of the best Sims expansions yet, and a whole heap of fun.
Read more:
Virtual Photography: taking photos in videogames is imaging's next evolution
Landscape photographer explores the rise of in-game photography
The best cameras to buy: cameras for every user level and every lifestyle!