Apple Glasses has been rumbling on the horizon for almost five years now, but could this futuristic product finally come to fruition in 2020?
If you can cast your mind back to 2012, when Google first officially announced the Google Glass, AR glasses seemed like the technology of the future. Fast forward a few years and the product had, for lack of a better word, flopped.
With the Google Glass' downfall, AR glasses somewhat slipped out of the mainstream public consciousness, with enthusiasm for wearable technology being mostly diverted to smartwatches instead. However, AR glasses continued to capture the imagination of product developers in companies across the world – including Apple.
• Read more: iPhone 12: What we know so far
There have been persistent rumors that we could be seeing Apple Glasses appear at some point, with some patents even dating back as far as 2015. However, the road to produce the Apple Glasses has clearly been rocky terrain. Over the past few years, there have been reports that the product has been delayed – and perhaps even cancelled altogether.
However, 2019 brought fresh hopes of seeing the Apple Glasses come to fruition – and there's even been speculation that we could see it hit the market by the end of 2020, with one rumor saying that Apple Glasses could be announced in October 2020.
With patents on the Apple Glasses appearing from as far back as 2015, it's clear that this form of wearable tech has been on Apple's agenda for a while. However, it's only within the past year or so that the rumor mill has begun to really make some noise. Some rumors have speculated that the Apple Glasses could be announced alongside the iPhone 12 in September, but later reports said that we would be more likely to see an announcement in the October 2020 launch alongside the new MacBook Pros.
However, while we might see an Apple Glasses announcement in 2020, we might not see the actual product hit the market until as late as 2022.
How much could the Apple Glasses cost?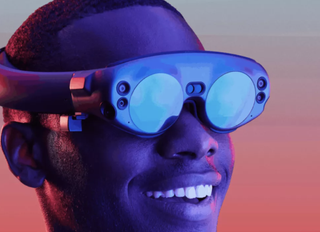 The average consumer would be forgiven for not realizing that you can actually buy and wear AR glasses now, with products such as the Microsoft Hololens 2 and Magic Leap One available for purchase. However, the technology is pretty expensive, with the Hololens 2 and Magic Leap One running for $3,500 and $2,295 respectively.
However, many of the AR glasses currently on the market are targeted to companies, professionals and app developers. If Apple Glasses is going to be the next big thing in wearable technology, it would have to be priced competitively enough to win over the average consumer.
There isn't much information on what the Apple Glasses will cost, but one rumor suggests that we could see a price of $499 (£410 / AU$765). While we should likely take this rumor with a healthy pinch of salt, we could see this being a reasonable price point that would open up the AR glasses market beyond solely professional use.
What are the Apple Glasses specs?
There's recently been a sizable leak from reliable leakster Jon Prosser, who's stated that the Apple Glasses will be known by the moniker 'Apple Glass'. Apparently, the Apple Glasses will be capable of displaying information on both lenses and the user will be able to control them by making gestures both on and in front of the frames.
Somewhat predictably, it seems that you'll likely need a connected iPhone to make the most out of the Apple Glasses, as that's where all the processing will be handled. Meanwhile, there will be a LiDAR scanner (performing the same function and similar to time-of-flight cameras) for the AR experiences.
There have also been some Apple patents appear that could possibly be related to the Apple Glasses. One explains how specially-designed lenses could be used to cast images on a user's eye. Meanwhile, another explores glasses with adjustable opacity, which would help users to be able to properly see the screen on particularly bright days.
One of the most interesting confirmations of Apple's interest in Apple Glasses is their acquisition of NextVR, a startup that had produced virtual reality content for the NBA and Fox Sports. While this company hadn't produced any AR glasses themselves, their technology will likely help inform the production and design of Apple Glasses.
Read more
Best phablet: big-screen smartphones are back, but which is best?
Best tablet for photo editing and photographers
Best iPhone for photography: from the iPhone 7 Plus to 11 Pro