Following the recent postponement of The Photography Show and The Video Show, it has now been announced that this year's event will now take place from 19-22 September 2020 at the NEC in Birmingham, UK. Find out more information here.
The change in dates might result in a few amendments to products and scheduled talks, but most things should proceed as previously planned, including products such as the Canon EOS R5 and the Nikon D6 being on display. 
Jonny Sullens, Head of Events for The Photography Show, says: "Our aim is to ensure the UK photography and filmmaking communities do not lose this event for another year. We know how much value is placed on the educational aspects of the event, as well as the opportunity to get hands on with the latest equipment, and it's important that we give visitors a chance to do that in 2020."
All existing tickets for the original event will be transferred to the new dates. Further details can be found on The Photography Show and The Video Show website.
The Photography Show 2020 and The Video Show 2020 is the UK's biggest and best event for photographers and videographers of all abilities, whether you're shooting on a traditional DSLR, mirrorless camera, dedicated cinema camera, smartphone, drone or action camera.  
Taking place at the Birmingham NEC from 19-22 September 2020, The Photography Show 2020 is packed full of manufacturers and other exhibitors keen to show off their latest products, together with talks from professional photographers, live demonstrations, shooting opportunities and much more.
• Get tickets for The Photography Show 
It will be the seventh exhibition to be held at the National Exhibition Centre since The Photography Show first started back in 2014. Each year over 30,000 photographers visit the event.
The Photography Show: Burst Mode
We're pleased to present Burst Mode – a series of in-studio specials where we will showcase some of the new and exciting products that would have been on display at the event in March, to give you a glimpse at what you'll see in September. 
Your hosts, David McClelland (presenter of The Photography Show TV) and James Artaius (editor of Digital Camera World), will get hands on with the latest kit, and talk to representatives from the manufacturers themselves, direct from the Burst Mode bunker. 
We know how disappointed many of you were not to be able to join us as planned in March, so this is your chance to see some of the great offerings that you can look forward to seeing in person from 19-22 September when the physical takes place.
Check out all the latest videos on our The Photography Show: Burst Mode hub!
Video highlights from TPS 2019 
Exhibitors
Over 300 brands will be exhibiting at The Photography Show 2020 and The Video Show 2020, so you're bound to come away inspired, educated and wanting to take all aspects of your photography to the next level.
Whether you want to get your hands on the most recently announced cameras from the likes of Canon, Nikon, Sony, Olympus, Panasonic and Fujifilm, or a lens from the likes of Sigma, Samyang, Zeiss and Irix, The Photography Show 2020 is the place to do it. Even if you just want to quiz the experts on the best gear for your needs, come along and get asking!
Many stands will also be featuring their own talks and demos. One of the talks we're most looking forward to is from sports photographer Eddie Keogh on the Canon stand. Eddie Keogh has over 30 years of experience shooting everything from archery to Zinedine Zidane. He's worked with prestigious names such as Rolex, Rolls Royce, O2 and Barclays, and he's also a Canon Ambassador. Eddie will be sharing stories about his time behind the lens with the England men's football team.
• See the current list of exhibitors
Not in the market for a new camera or lens? There's still plenty to see, from top-quality paper from Hahnemühle through to super-sturdy tripods from 3 Legged Thing and stylish bags from Manfrotto. 
Studio photographers can check out backgrounds, lighting systems and props, and wedding photographers can check out the latest styles of album and photobooks.
And if you fancy taking it home, you'll be able to stop by some of the biggest photo retailers such as LCE, Wex Photo and Cameraworld, where you'll find great deals and some exclusive show offers.
Exclusive photography gear displays
Not only will The Photography Show have a wide range of talks and demos for attendees to explore, there will also be some fantastic pieces of camera equipment that will be on display for the first time. 
We're particularly looking forward to the Canon EOS R5, which will be making its public debut at The Photography Show on the Canon stand, situated at E131-D141 in Hall 5. Canon UK has confirmed, "Exciting news! The recently announced EOS R5, RF 100-500mm F4.5-7.1L IS USM lens and new extenders will be making an appearance at the show. Make sure you visit our stand to get your first glimpse at the new additions to the EOS R System."
However, that's not the only exciting camera you'll be able to see. Nikon has also confirmed that the Nikon D6 will be on display at The Photography Show at the Nikon stand (C11 and C12). There will also be the incredible Nikkor 58mm f/0.95 Noct , the AF-S Nikkor 120-300mm f/2.8E and the Nikkor Z 70-200mm f/2.8 VR S.
Savvy Studio will also be launching their new business management software designed specifically for photographers. Their unique platform has an enviable feature list including online booking and customizable branded websites for photographers, automatic reminders and one click email communications, unlimited brands, order management, a 'marketing angel' and much more. Savvy Studio will be available from 14 March at £12/mo.
Beginner and Turning Pro Masterclasses
Whether you're just getting started or you're moving into full-time professional shooting, you'll want to check out one of the many Masterclasses that will be taking place over the four days. 
The full Masterclass programme will be revealed soon, but you can expect Beginner Masterclasses in both photography and filmmaking, to help newcomers get on the right track with their photography. 
The Turning Pro Masterclasses, meanwhile, enable you to get advice from working professionals about making the jump from being an enthusiast to being a pro photographer.
For the benefit of photographic novices, masterclasses will include everything from what kind of kit to buy to how to process your images. Those turning professional will be able to learn essential marketing skills and better understand how to make video work for them. 
Super Stage
The Super Stage has previously played host to some of the world's most famous and respected photographers, such as David Bailey, Sebastião Salgado, Art Wolfe and Rankin.
The 2020 program of speakers for the Super Stage this year have now officially been announced, and it looks like this year is set to be bigger and better than ever. The first headliner to be confirmed is top American photographer Chase Jarvis, who is the founder of CreativeLive.
However, the Super Stage will also be graced with the presence of five other inspirational photographers. Documentary photographer Susan Meiselas has been a member of the prestigious Magnum Photos since 1976 and is known for her coverage of the insurrection in Nicaragua and her documentation of human rights issues in Latin America.
Fine art photographer, author and conservationist David Yarrow will also be gracing the stage. He has been a working photographer from a young age, shooting the World Cup final in Mexico City for The London Times in 1986 when he was just 20. He has since gone on to become one of the most celebrated fine art photographers of our time, documenting the natural world from new perspectives. 
Meanwhile, award-winning cinematographer and co-creator of The Slow Mo Guys, Gavin Free will be hosting a two talks on his life as a successful YouTuber and his work on TV and film productions, including Hot Fuzz and Dredd.
Jarvis, Meiselas and Free will also be joined by music photographer Ross Halfin, who's captured bands such as Aerosmith, Kiss and Metallica and will be discussing his craft. Fine art photographer Juno Calypso will also be taking to the Super Stage to discuss how she creates her evocative imagery.
And last, but certainly not least, conceptual fine art photographer Brooke Shaden will be wrapping up the Super Stage line-up by sharing how she led the charge into inclusive art.
Photo Live Stage
The Photo Live Stage is your front row seat to get inspired and educated by a range of professional photographers working across multiple disciplines! Whether you dabble in light painting, you want some pointers for your portraiture, or if you want to see professionals getting creative results using flour and liquids, there will be something for you. And the best bit? Every single talk is completely free!
One of the most interesting talks we're looking forward to is from Gavin Hoey, who'll be explaining how to create effective shallow depth-of-field portraits. Meanwhile, Elli Cassidy will be demonstrating how to create beautiful newborn images while being as productive as possible during your shoots.
However, there's plenty more exciting demos to look forward to, and you can browse the complete list here.
Shutter Street Stage (new for 2020)
Be inspired by sessions and live demonstrations at this stunning feature stage! It will showcase a huge range of topics across both stills and video shooting, from street photography to guerrilla filmmaking.
There are plenty of interesting sessions to look forward to, but we're particularly excited for award-winning automotive advertising photographer Nigel Harniman to take to the stage to demonstrate light-painting a motorcycle to create a stunning commercial image.
Alternatively, if you're a fashion and portrait photographer, you might enjoy Jay McLaughlin's session on how to find great locations for your shoots, including what makes the ideal backdrop and how to find light after dark.
However, if cars and people aren't your thing, maybe you'll enjoy Victoria Hillman's talk on garden wildlife photography, including how to make your garden a wildlife haven, the best ways to shoot different subjects and how garden photography can improve your images overall. 
Check out the full list of talks and demos here.
Video Live
Aaaaaaand… action! Expert filmmakers will demonstrate how to produce the very best video content, whether you're shooting for social media, cinema, streaming video and more, with insightful sessions and lively displays.
The Studio has a range of experts to give you insight into what it takes to produce engaging video content, whatever your level. One of the talks we're most looking forward to is from BBC camera operator and filmmaker Carys Kaiser, who will be going through her kit bag and giving us her secret tips and tricks on what to use to make a broadcast-quality film with portable kit. 
However, there will also be plenty of other exciting talks and demos. Video creator Shanil will be giving us the low-down on how mobile story-tellers and journalists can use 360 cameras to create effective content. Plus, pro wedding filmmaker Emma Wilson will be explaining how to set up your kit to capture audio and visuals for a wedding congregation. 
If you're a budding YouTube star, Luke Curtis will be creating a YouTube video live on stage, revealing how he plans, shoots and shares his popular videos. 
Take a gander at the other exciting talks in our complete list here. 
Analogue Showcase (new for 2020) 
Love creating images the old fashioned way? Our brand new Analogue Showcase will feature creative demonstrations of analogue photography, from traditional techniques to innovative uses of film photography. This is guaranteed to be a big hit with old school shooters and young film aficionados alike.
Photo Editing Suite
Got the gear, got the eye, but looking to add the missing ingredient to bring your images to life in post-production? Here's your one-stop shop for top tips and advice on stills photography editing, across a variety of software suites and apps.
Drone Zone x Action Arena (new for 2020)
One of the big new additions for The Photography Show and The Video Show in 2020, you'll find an exclusive Action Arena with ramps for stunt bikers, skaters and parkour, incorporated into the ever-popular Drone Zone for flying demos, aerial advice and practical tips.
One of the most exciting sessions we're looking forward to is the excellently named 'Game of drones' talk, which promises to have a much more satisfying ending than its namesake. Lead by photographer Nigel Harniman, the talk will cover how he uses drones to capture award-winning commercial images.
There will also be sessions on elevating your gimbal skills, getting creative with the latest drone tech and even the opportunity to get hands-on experience with flying a drone. For a full list of talks, demos and sessions, check out official page here.
Social Stage
The Social Stage returns in 2020 and will take you one step closer to going viral! Food photography, vlogging, behind-the-scenes, shooting on the go, and the business and marketing strategy behind it all – talks on the Social Stage will get you conquering content creation.
The Studio (new for 2020) 
Whether you're a seasoned content creator or you're just starting out, head to The Studio for talks offering insight into producing engaging content, storytelling, and creating projects using different techniques across various genres of moving image.
Behind The Lens
Every photograph or video tells a story. Our experts will dive deep into the ways that photography and film build a narrative for their audiences, as well as the different projects and genres that they can explore.
When is The Photography Show 2020?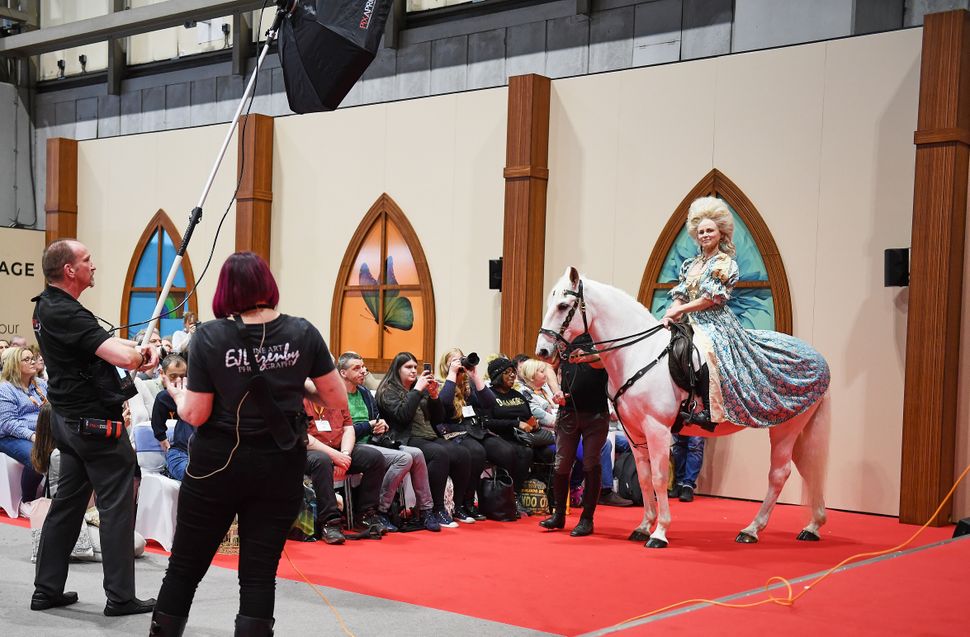 The Photography Show 2020 and The Video Show 2020 will now take place from Saturday to Tuesday on 19-22 September 2020, at Birmingham's NEC. Doors will open at 10:00am and will close at 17:00 on each day.
The NEC is just a short walk away from Birmingham International railway station and Birmingham Airport. 
For more information on getting to the NEC and parking, click here
When can I get tickets to The Photography Show 2020?
Tickets for The Photography Show 2020 are available here. You can also purchase tickets for any of the Masterclasses you'd like to attend.
Member of the trade, or professionals who make the majority of their income from photography or videography, you can apply for a free Pro pass. 
If you're studying a photography or video-related subject and want to visit the show on the Student Day, you can apply for a free Student pass.
You can also sign up to get the latest updates on the workshops, speakers, galleries and exhibitors that will be at the Show.


What if I can't make it to The Photography Show 2020?
Although there's no substitute for being at the show itself, you can stay up to date with what's going on by following the official Facebook, Twitter and Instagram channels of The Photography Show and The Video Show.
Digital Camera World will also be there, live every day to bring you all the photo news, so make sure to keep us bookmarked, and stay up to date by following us on Twitter , by liking our Facebook page, and by signing up to our daily newsletter.