The big headline feature of the iPhone 15 range might have been the addition of USB-C charging, finally bringing it in line and up to date with the rest of the industry. However, Apple's real charging innovation in the last few years has been the inclusion of MagSafe and its slow but steady transition to take advantage of wireless charging in all its devices. Soon we might not even be talking about what port the next iPhone has.
Belkin BoostCharge Pro 3-in-1: Specifications
MagSafe output: 15W
Case compatible: Yes
Compatible models: iPhone 12 and later
Size: 18.75 x 16.21 x 20.96 cm (7.38 x 6.38 x 8.25 in)
Weight: 95g (3.35oz)
The Belkin BoostCharge PRO 3-in-1 Wireless Charger with MagSafe is a versatile and elegant charging solution for your iPhone, Apple Watch, and AirPods. It features a 15W MagSafe charger that can hold your iPhone in portrait or landscape mode, a magnetic charger for your Apple Watch, and a Qi wireless charger for your AirPods.
Belkin is known for its great design, build quality, and reliability, offering a $1500 insurance policy for devices connected to its products for charging faults. But is the BoostCharge PRO 3-in-1 worth the $140 price tag? This places it firmly in the premium bracket when it comes to wireless charging stations, with Belkin clearly hoping its unique design can set it apart from the other more pedestrian-looking chargers out there. But in an increasingly crowded field do premium products still have a place?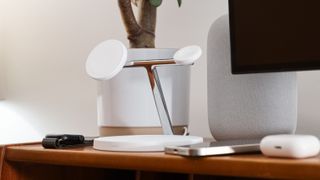 Belkin BoostCharge Pro 3-in-1: Design & Handling
I am torn over whether I like the design of the Belkin 3-in-1 stand or not. When the stand is loaded up with devices, it looks really good, the iPhone and Apple Watch look like they are floating in the air and that looks pretty cool.
However, when there is nothing on the stand then just sitting on a desk or side table then it begins to look a little out of place. It's when nothing is on it as well that I realized the stand is actually quite large, and the MagSafe arms for the phone and Watch stick out a little to get caught, especially the MagSafe puck which is quite significant in size.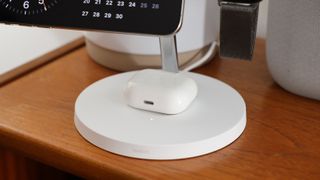 The stand is just really well built, the entire design feels premium from the polished metal trunk and branches, to the clean minimal design of the base and pucks for placing my devices. I have the white version of the stand, which is my personal favorite, although there is a black version available as well, although the black version has white charging pucks, which I find an odd styling choice.
The wireless stand does not collapse in any way, so there is no way to make the stand more compact when not in use, and the awkward shape of the stand also means packing it for travel would be a bit silly, although this was never the intention of this product anyway.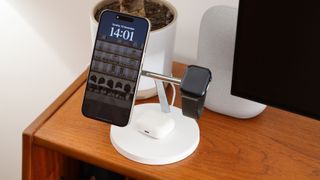 The stand has a grippy material on the bottom which I found helped the stand not to slide around. Surprisingly the stand isn't too heavy, which was an initial concern that it would be easy to tip when balancing something like an iPhone 15 Pro Max, however, I found the stand to be very stable, probably owing to its wide base anchoring it down.
One minor note; there is no wired throughput on the charger, and the charging is powered by its own barrel-type connection, so there is no way to charge your devices with a wired connection if you wanted to.
Belkin BoostCharge Pro 3-in-1: Performance
The 3-in-1 stand was able to give my iPhone 15 Pro Max the full amount of wireless power it is able to take, meaning it is much faster to charge, I was able to recharge my phone in around an hour and thirty minutes, with it reaching around 50% full in 30-35 minutes.
The 3-in-1 stand also easily handled charging my Apple Watch and Apple AirPods at the same time. The charger for the Apple Watch is compatible with Apple's fast charge system, and my Watch also took around an hour and thirty to charge, the same as the phone. The final wireless charger in the base of the stand is the most versatile as it doesn't have any magnetic element, so can charge most wireless devices including Apple's AirPods but also other brands' headphones or accessories, which is nice if you want to use a pair of Sony's superior noise canceling earbuds with your iPhone.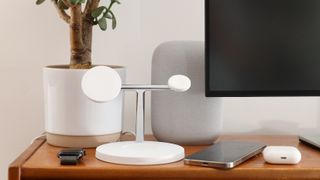 The magnetic adhesion for both the iPhone and the Watch is strong, however, I will caveat that by mentioning I don't use a case on either device, which might affect your experience. I found the devices were easy to align and snap onto the stand, and I was left confident that they were not going to drop from their perch without a significant knock. I might not put this stand anywhere with a big drop onto a stone floor though, just in case.
Belkin BoostCharge Pro 3-in-1: Final Verdict
With its distinctive design, the Belkin Wireless charging stand made a stylish statement on my desk, but its unique design may not appeal to everyone's tastes. When it is empty, it looks somewhat oversized and awkward, but it becomes more functional and attractive when it is holding up to three devices. The MagSafe connection feels strong and secure, and I found it easy to drop my iPhone into place.
It also offers the fastest wireless charging speeds for your compatible devices and charged my trio of iPhone 15 Pro Max, Apple Watch 8, and AirPods simultaneously in good time comparable to the original chargers. But having all three charging on one stand is a level of efficiency and organization I appreciate.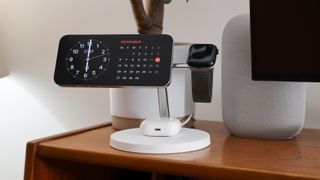 Should you buy the Belkin BoostCharge Pro 3-in-1?
✅ Buy this if...
You want a stylish stand for your desk or nightstand
You want the maximum wireless charging speeds
You are an Apple fan with an iPhone, Watch, and headphones
🚫 Don't buy this if...
You want a compact wireless charger
You want a wireless charger that is able to travel
You want the option of wired charging
You might also like...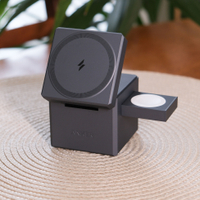 If you are looking for a more compact wireless charger for all your Apple devices, then I would recommend the Anker 3-in-1 Cube, which is an ingenious little device that is MagSafe compatible with your iPhone, Watch, and one other device.