Apple's MagSafe was one of the many iPhone gimmicks I rolled my eyes at during the announcement and then ate my words when it turned out to be very useful. Magnetic accessories are now everywhere, from wireless stand chargers by your bed, to clip-on dashboard holders for your car. One of the best uses so far is snapping an additional battery to your phone to extend its meager battery life.
Belkin BoostCharge 5K: Specifications
Capacity: 5,000mAh
Total output: 10W
Wireless output: 7.5W
USB-C output: 10W
Size: 9.37 x 6.38 x 1.65 cm (3.69 x 2.51 x 0.65 in)
Weight: 150g (5.29oz)
We now use our phones for so much media consumption – streaming, gaming, social – that the batteries often barely last the day. I am regularly running to find the nearest outlet to charge my phone by the evening.
The Belkin 5K magnetic power bank can stick to the back of my phone giving a much-needed lifeline of additional power to get through your Netflix queue… I mean, work day. The power bank's secret weapon is its flip-out stand on the rear that can prop the phone up in either portrait or landscape positions, for productivity or entertainment.
Now there are a lot of these power banks on the market, with different capacities and price points. The Belkin power bank here has 5,000mAh of power, which is enough to charge most iPhones once while powered off, but when running and using the battery at the same time, this is reduced. It is also not the cheapest, but Belkin is a reliable name, and it has a Connect Equipment Warranty for two years that promises to insure the devices you connect (so long as they are used properly and not damaged).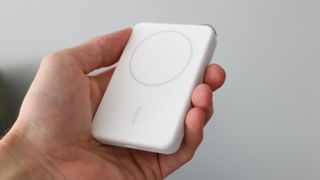 Belkin BoostCharge 5K: Design & Handling
The Belkin power bank looks good, I do like the minimalism of Belkin's designs, especially the white version I have been sent for review (although it is also available in black). It shares the aesthetic of clean white plastics used by so many Silicon Valley devices, the design also offers a welcome contrast to the metallic designs from Anker and Ugreen. However, I do worry about how the white version will fare long term with being thrown into bags and used with dirty hands.
The top of the charger has a softer plastic (or perhaps silicon), which is really nice to touch, and more importantly, will be less likely to scratch the back of my phone should any grit get caught in between my device and the power bank. Unfortunately, this material doesn't extend all the way around the power bank, so the bottom of the bank is a more rigid plastic that doesn't feel as nice to my hands. It also creates a strange rim around the edge of the power bank where the two materials meet, which is not a problem per se, it just makes the overall power bank less smooth.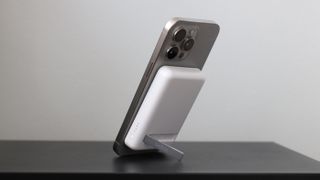 The main selling point of this Belkin power bank is its flip-out stand. After using the stand for a few days, I don't know why all phones/cases don't have a stand. I found the stand so incredibly useful not only for just displaying my screen for any incoming notifications, but also for a few voice calls, and watching videos. The stand works vertically and horizontally, although with the latter, only with your phone on its left-hand side, but it enabled me to watch YouTube and TV shows at my desk.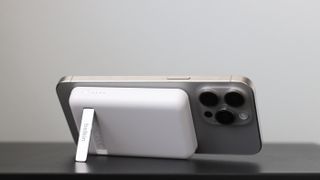 The stand is really sturdy, there is very little wiggle in the hinge, and when pulled out all the way it "locks" in place so isn't easily knocked in, although only a little extra force is required to quickly snap the stand back into the case. The only slight disappointment I had was that I couldn't pull the stand out with one hand, maybe I am just not dexterous enough, but this meant I couldn't use the stand while juggling multiple things.
The power bank fits nicely onto both phones I am testing with – the iPhone 15 Pro Max and the iPhone 12. The magnetic adhesion is good, on the smaller iPhone the battery goes right up to the edges, but it was actually more comfortable to hold than on the larger device. On the Pro Max, there is a bit more space around the edge, but this actually meant I knocked the battery off its magnetic alignment a few times, although never enough for the power bank to completely disconnect from the phone.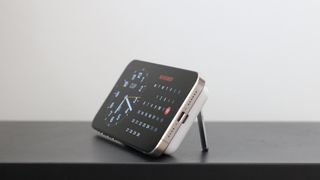 Belkin BoostCharge 5K: Performance
This is a power bank for those who intend to make the most use out of the magnetic charging, as the USB-C power connection is not the fastest around. The wireless charging is obviously designed with Apple's MagSafe system in mind but does work as a standard wireless charger for any phone (without magnetic attachment), or magnetically with an Android phone in a MagSafe-style case.
I am testing it with the iPhone 15 Pro Max, and a regular iPhone 12, both of which charged with no issues using the MagSafe wireless charging. The iPhone 15 Pro Max with its larger battery drained the whole power bank during the day but extended the life of the phone by several hours of heavy usage mostly made up of TikTok, YouTube, and Instagram.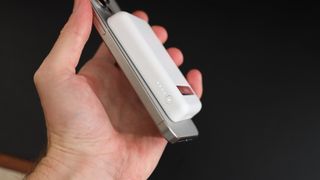 The iPhone 15 Pro Max was not quite able to complete a full charge while also in use though using the Belkin bank but took around 3 hours for a roughly 80% charge, the iPhone 12 and its smaller battery and power consumption faired better, and could recharge once. But I would argue a power bank like this is more useful as just an additional battery rather than a way to fully recharge my phone.
The output from the USB-C port I found a little disappointing, only offering a maximum of 10W of power, which doesn't charge a phone much faster than the wireless offering. For the size of the power bank, I can't be too fussy though, but there are much faster power delivery enabled power banks of a similar size but without the wireless abilities like the Anker Nano. So you might have to decide between speed or convenience before making a purchase.
Belkin BoostCharge 5K: Final Verdict
The Belkin magnetic power bank offers a remarkably versatile solution, seamlessly blending the utility of a portable charger with the convenience of a built-in stand. Not only gives my phone an extra boost of power but also provides a practical stand to enjoy videos, keep my phone's display visible for incoming notifications, or make some video calls.
While the power bank's capacity may not be among the largest available, it proved to be adequate for providing my phone with a full additional recharge. The smaller battery has allowed Belkin to maintain a sleek design, making the power bank both slim and compact, and most importantly lightweight for spending long periods stuck to the back of my phone.
However, in comparison to other power banks with stands on the market, it may not be the most budget-friendly option available. But for those who prioritize a combination of style, convenience, and power, I think this offering from Belkin is a worthy choice.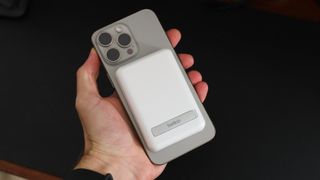 Should you buy the Belkin BoostCharge Wireless 5K Power Bank?
✅ Buy this if...
Your phone battery life never lasts the day
You hate having to find an outlet
You want to prop up your phone for videos and calls
🚫 Don't buy this if...
You want to be able to charge your phone several times
You want to be able to charge your phone very quickly
You don't like cases or anything else on your phone
You might also like...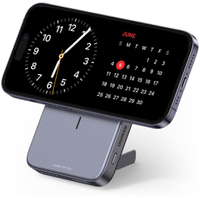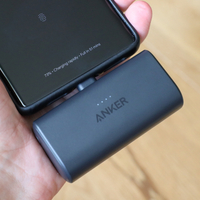 The Anker Nano might not pack any wireless charging, but it is a much faster way to charge your phone with its 20W output, plus its tiny enough to fit into pockets and bags with its super useful folding USB-C.