Photography can be a very expensive business, so we're all for pinching the pennies where possible. Cheaping out on core kit like cameras and lenses can be a false economy, but you don't need to spend top dollar to get a capable flashgun.
Sure, big-brand speedlights (should!) offer guaranteed compatibility with your camera and are likely to have superior longevity. But if you don't plan on using your flash on a daily basis, cheaper third-party options will get the job done. They're also very attractive if you fancy setting up a multi-light system with key and fill illumination, as for the price of a single premium flash, you could have up to 20 budget alternatives.
At the bottom of the pile are manual flashguns. These only have a single electrical contact on the hotshoe that detects the camera's flash fire signal. You'll need to manually set your camera's exposure and the flash's power, but for a stationary creative lighting set-up, manual control is often best. Another advantage with a basic manual flash is it should work on any camera with a standard sized hot shoe, as the position of this central firing contact is common across major camera brands.
If you'd prefer more convenience, for around £100/$100, it's possible to bag a third-party flashgun with automatic TTL metering. These utilise more of your camera's hotshoe contacts so camera and flash can communicate with each other to automatically set exposure metering and flash power. It's a great fire-and-forget system, and some flashguns are also able to operate in TTL mode wirelessly, as an automatic slave flash. The only drawback, apart from the extra cost, is you'll need a flashgun specifically compatible with your brand of camera.
Image 1 of 2
Image 2 of 2
1. Yongnuo YN-560 IV
Plenty of power and useful features at a very reasonable price: it's a winner
Flash power: GN58 (ISO100, 105mm) | TTL: No | Zoom head: Yes | High Speed Sync: No | Wireless slave modes: S1 & S2 | Compatibility: Any camera with standard ISO hot shoe
Plenty of power
Built-in RF slave triggering
Zoom head
Iffy LCD screen quality
No TTL or HSS
At nearly double the price of some ultra-budget strobes from brands like Neewer, Yongnuo's entry seems like questionable value. It doesn't offer fancy features like TTL metering or High Speed Sync, and there's only a single hot shoe contact, indicating this is a fully manual flashgun. But there are hidden depths.
For starters, the head can zoom to match the focal length of your lens. 24-105mm options are available, and while you need to set this manually, it's only a button-press away. The large backlit LCD screen is also welcome, though its vertical viewing angles are restrictive, with the display fading considerably when viewed from above.
Then there's the built-in radio frequency receiver that allows the flash to be used as a slave, triggered by a second YN-560 IV, or from Yongnuo's equally well-priced YN560 TX transmitter. This provides a 100-metre wireless range (far superior to more basic, optically-triggered slave modes) and can trigger up to 6 groups of flashguns.
The YN-560 IV isn't short on flash power, either, with a GN58 rating at ISO100/105mm. Our testing confirmed this, as the Yongnuo's max output matched pricier speedlights like the Kenro FL101, while also emitting even illumination free from colour casts. Recycle times are also nice and speedy.
Image 1 of 2
Image 2 of 2
2. Gloxy GX-F1000
A pro-spec flashgun packed with features - there's a lot to like here.
Flash power: GN58 (ISO100, 180mm) | TTL: Yes | Zoom head: Yes | High Speed Sync: Yes | Wireless slave modes: S1 & S2 | Compatibility: Canon, Nikon
Radio-frequency wireless link
Fast recycle times
Powerful
Flash burst not the most even
Relatively pricey
With a price approaching that of an entry-level Canon or Nikon flashgun, the GX-F1000 isn't everyone's idea of 'budget', but you do get a lot for your money. It's fully automatic, with Canon E-TTL and Nikon i-TTL compatibility, there's High Speed Sync up to 1/8000s, fast 2-second recycling time, and a huge max power of GN58 (dimmable though 8 levels down to 1/128). The zoom head will focus the flash beam to match a wide 18-180mm focal range, and it features a full range of tilt and swivel movement.
Naturally the GX-F1000 can be used a slave flash, with three slave group options. Triggering is via the usual optical sensor, but the Gloxy also adds a built-in 2.4GHz radio frequency link for a much greater range, especially when outdoors.
A removable flash diffuser dome is included, as is a set of 20 gels to tint the colour temperature from the default 5500K.
With so many features on offer, there are plenty of menu options to negotiate, but the large backlit display and control wheel interface are quite intuitive. Flash performance is consistent with the GN58 power rating, though we were less impressed with the quality of the flash burst. With the zoom head set to match our 50mm test lens, there was slight vignetting, as well as minor banding visible across the centre of frame.
Image 1 of 2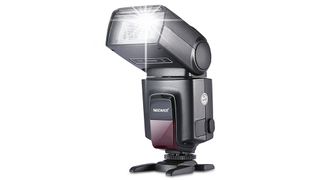 Image 2 of 2
3. Neewer TT560
If you're on the tightest of budgets, this is the flashgun to buy.
Flash power: GN38 (ISO100) | TTL: No | Zoom head: No | High Speed Sync: No | Wireless slave modes: S1 & S2 | Compatibility: Any camera with standard ISO hot shoe
Very low price
Reasonably powerful
S1 and S2 slave modes
No TTL or zoom head
Basic optical slave triggering
This hugely popular flashgun certainly ticks the budget box, yet with a power rating of GN38, we measured it at a third of a stop brighter than the equally cheap AmazonBasics flash, and it matched the brightness of the much pricier GN40-rated Nissin i40.
Power is adjustable in eight steps and flash coverage is fairly even, with only a hint of corner vignetting, though as you'd expect at this price, the head won't zoom to match your lens's focal length. It does however sport 0-90 degrees tilt and 270 degrees of rotation, and conceals a typical bounce card and diffuser panel.
You get essential extras like S1 and S2 slave modes, with the latter being useful if your master flash emits pre-flash strobing. In S2 mode, the TT560 ignores the pre-flashes and only fires in sync with the main flash burst. Both modes work well, although as with any optically-triggered system, don't expect perfect reliability outdoors.
Controls are very simple, with power and mode controls, and a test fire button. Being a completely manual flashgun, there's no TTL, and the basic (yet metal) hot shoe has a single contact so will work in any standard camera hotshoe.
Image 1 of 2
Image 2 of 2
4. Kenro Standard Speedflash KFL101
Seriously good value for a flashgun with TTL and High Speed Sync.
Flash power: GN58 (ISO100, 180mm) | TTL: Yes | Zoom head: Yes | High Speed Sync: Yes | Wireless slave modes: S1 & S2 | Compatibility: Canon, Nikon
Powerful output
TTL and HSS
Zoom head
Flash coverage somewhat uneven
Kenro's KFL101 bears a striking resemblance to the Gloxy GX-F1000, both in its physical design and specs. It boasts the same GN58 power rating, 1/8000s high speed sync for shooting fast-moving subjects, and an 18-180mm zoom head with the same -7 to +90 degrees of tilt and 360 degrees rotation.
There's also full TTL compatibility, including wireless TTL with flash power ratio adjustment. The only feature missing compared to the Gloxy flash is radio frequency wireless triggering, but then the Kenro flash is significantly cheaper as a result.
Strangely given the apparent hardware similarities, the KFL101's flash burst isn't identical to the Gloxy's. We found the Kenro to be ⅓ of a stop more potent and max power and without the slight central banding visible in the Gloxy's image. However, even with the exact same camera, lens and flash head settings, the KFL101 exhibited more severe corner vignetting - the most of all the flashguns on test.
Even so, if you can manage without built-in radio frequency off-camera flash triggering, the KFL101 is still incredible value for Canon or Nikon cameras.
Image 1 of 2
Image 2 of 2
5. Nissin i40
Compactness without compromise: the i40 is great on the go.
Flash power: GN40 (ISO100, 105mm) | TTL: Yes | Zoom head: Yes | High Speed Sync: Yes | Wireless slave modes: S1 & S2 | Compatibility: Canon, Nikon, Fujifilm, Sony, MFT
Seriously compact
Feature-packed
Useful max power
Occasionally glitchy in our hands
Slightly warm illumination
The i40 is Nissin's attempt at making a compact flashgun that doesn't sacrifice any performance. Unlike some slimmed-down speedlights, the i40 is powered by 4 AA batteries, not just 2, so you can expect at least 220 flashes per set/charge, as well as fast recycle times.
We found flash power to be consistent with Nissin's GN40 rating, making this one of the less powerful options here, but still a stop brighter than the competing Kenro Mini Speedflash. With the auto-zoom head set at 50mm to match our test lens, we noticed some minor vignetting, but no more so than with other zoom flashguns.
Rather than trying to cram in a LCD display and buttons on the rear panel, Nissin has kept things simple and there are just two dials. One sets the flash mode (TTL, manual, TTL slave and manual slave options are available), the other dial adjusts flash power (or exposure compensation when in TTL mode). It's a refreshingly simple and direct control system that works well, although we did encounter a couple of crashes that required the battery compartment to be opened and closed before the i40 would respond again.
Otherwise, build quality feels excellent. The head boasts a full range of articulation, there's High Speed Sync capability, and even a useful LED video light with 9 levels of brightness adjustment and a 3.5-hour runtime.
Image 1 of 2
Image 2 of 2
6: AmazonBasics Electronic Flash
For a basic occasional flash, you can't lose at this price.
Flash power: GN33 (ISO100) | TTL: No | Zoom head: No | High Speed Sync: No | Wireless slave modes: S1 & S2 | Compatibility: Any camera with standard ISO hot shoe
Very even & neutral illumination
S1 & S2 slave modes
Bargain price
Not that powerful
No TTL or zoom head
Questionable long-term reliability
Flashguns don't come much cheaper than this, yet Amazon's shoestring budget contender at least looks the part. You get a proper tilt-swivel head with 90 degrees of tilt and 270 degrees rotation, and the head conceals the usual bounce card and diffuser plate combo, so bouncing the flash burst off walls or a ceiling is easy. The flash head won't zoom to match your lens's focal length - not even manually - but you can't have everything at such a low price.
Build and material quality feels on par with rivals costing several times as much, there's a metal hot shoe mount, and even a stand and soft carry pouch are included.
The no-nonsense rear control panel is light on frills, but consequently very easy to use. Flash power is adjustable down to 1/128 brightness through 8 increments. Full power is rated at GN33, which is on the low side, and our testing confirmed it to be around 3 stops dimmer at max power than the brightest guns on test. On the plus side, illumination was perfectly even across the image frame when shooting with a 50mm full frame lens at a distance of 2.5m, and there was no colour cast.
This is a non-TTL, fully manual flash with a basic single-contact hot shoe, so works with all major camera brands (older Sony cameras require an adapter). You can also use it as an optically-triggered slave flash in S1 or S2 slave modes, though you'll need to be indoors and within close range to maintain reliable flash syncing.
Image 1 of 2
Image 2 of 2
7. Kenro Mini Speedflash KFL102
Great for close-range shoots and travelling light.
Flash power: GN32 (ISO100) | TTL: Yes | Zoom head: No | High Speed Sync: Yes | Wireless slave modes: S1 & S2 | Compatibility: Canon, Nikon, Fujifilm, Sony, MFT
Extremely compact
TTL & HSS
Fully articulating head
Weak flash power
No zoom head
Fiddly buttons
Nobody wants to carry more bulk than necessary, and that includes a flashgun. At just 110 x 65 x 35mm and 200g loaded with a pair of AA batteries, the compactness of Kenro's Mini Speedflash is genuinely impressive. Despite being so tiny, the head can still tilt and swivel for a full range of bounce flash effects, though the space-saving has meant the head won't zoom to focus the flash beam.
It's no surprise that small size also means lower than average flash power. The GN32 power rating is essentially the same as the AmazonBasics budget flashgun, but in our testing the Mini Speedflash was almost 2 stops dimer at max power, and therefore the weakest here by some margin. 5-second recycle times also won't break any records. On the plus side, the flash illumination is balanced and neutral, and there's certainly enough power for indoor use - just don't expect to overpower the sun.
Features-wise, you get full TTL compatibility, 1/8000s High Speed Sync, plus optically-triggered S1 and S2 slave modes. The backlit LCD display is small but clear and easy enough to navigate, however it's flanked by small, tightly packed buttons, so start sharpening your thumb nail.
The Mini Speedflash can be had in Canon, Nikon, Fujifilm, Sony, Micro Four Thirds mount options.
Image 1 of 2
Image 2 of 2
8. Sigma EF-610 DG ST
Unless you need extreme power, other flashguns offer much more value.
Flash power: GN61 (ISO100, 105mm) | TTL: Yes | Zoom head: Yes | High Speed Sync: No | Wireless slave modes: No | Compatibility: Canon, Nikon, Sony
Hugely powerful
Zoom head
Very easy to use
No wireless slave modes
Only two power settings
Plastic hot shoe mount
A flashgun from a top-tier brand like Sigma for a bargain-basement price - what's the catch? Well judging by the spec sheet, there isn't one. The EF-610 is rated at a huge GN61 power rating, making it the most potent performer here. Our testing backs this up, as we recorded the brightest output on test - this Sigma really packs a punch - and the illumination is even, with only a trace of vignetting.
There's TTL compatibility with Canon and Nikon DSLRs, and the head is of the zoom variety, so it can focus the flash burst to suit focal lengths from 17mm to 105mm. There's also a full range of tilt and rotation movement for bouncing the flash burst, though both axes are locked by default with individual release buttons, which can interfere with quick head adjustments.
But compromises have been made. The plastic hot shoe stings considering even the cheapest rival flashguns sport a metal mount, but this is nothing compared to the controls. Forget a backlit LCD screen - the Sigma is back to basics, big time. A single switch sets the flash mode between TTL, and two manual modes: one full power, the other 1/16th power. There's no other power adjustment, and the EF-610 can't be used as a slave flash as there's no form of wireless triggering, limiting you to on-camera or corded use only.
Five things to look out for in a budget flashgun
1. Zoom head
A flashgun with a motorized zoom head can focus the flash burst to suit your focal length, tightening it into a brighter, more focussed beam if you're using a telephoto lens.
2. Guide Number
Max flashgun power should be measured at ISO100 for consistency, but flashguns with a zoom head are often rated with the head at its tightest beam focus, giving an artificially high GN.
3. Fancy features
Extras like High Speed Sync or even an LED video light can still be had on a tight budget, but think twice before spending extra for features you may rarely - or never - use
4. Space-saving
Don't fancy carrying a standard-size flashgun? Some manufacturers offer much smaller alternatives that still cram in plenty of features, but max flash power is likely to be lower.
5. Remote control
Even the cheapest of cheap flashguns should still be capable of operating remotely in slave mode, wirelessly triggered by the flash burst of your on-camera flash.
Also read: