If you're wondering whether the Panasonic Lumix S5 II or Canon EOS R6 II is the better camera, we're going to compare the features and help you decide.
Canon and Panasonic have both launched Mark II versions of their key hybrid mirrorless camera models. The Canon EOS R6 II brings higher resolution, better AF, better burst speeds and better video than its highly respected predecessor, the EOS R6, while the Panasonic Lumix S5 II, at last, brings hybrid phase detect AF to the Lumix range, high-end video features and a lower price tag than the Canon.
The Canon EOS R6 was already one of the best Canon cameras to buy, and the R6 II is even better. At the same time, the Panasonic Lumix S5 is almost certainly the best Panasonic camera when you take price and capabilities into consideration, and the Lumix S5 II looks set to challenge the mighty Lumix S1H – or at least the upcoming Lumix S5 II X variant will.
In a four-horse race between Canon, Panasonic, Sony and Fujifilm for the title of best 4K camera for video, best vlogging cameras and even best cinema cameras, Canon and Panasonic have launched very serious contenders – perhaps the best hybrid cameras to date.
But how do they stack up against each other? It's a surprisingly close-run thing, but there are some key differences that could tilt your decision one way or the other.
Panasonic Lumix S5 II vs Canon EOS R6 II
Why you can trust Digital Camera World Our expert reviewers spend hours testing and comparing products and services so you can choose the best for you. Find out how we test.
1. Sensor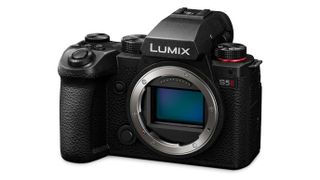 • Panasonic Lumix S5 II: 24.2MP full frame CMOS
• Canon EOS R6 II: 24.1MP full frame CMOS
There's nothing to choose between these two cameras for sensor size and resolution. Both have full frame 24MP CMOS sensors which should offer a good balance between resolving power and low light sensitivity.
This is reflected in the ISO ranges, which are almost the same. The Lumix S5 II has a native ISO range of 100-51,200, which can be expanded to ISO 50-204,800, while the EOS R6 II has a native range of ISO 100-102,400, expandable to ISO 50-204,800. In other words, the Canon goes 1EV higher. in its native ISO range, but the outright maximum is the same.
The other difference is that the Canon uses an anti-aliasing filter in front of the sensor whereas the Panasonic does not. In principle, this means that the Lumix S5 II might resolve ultra-fine detail more clearly, but might also introduce moiré effects in fine patterns.
There is one further string to the Lumix S5 II's bow – its high-resolution mode. This can capture 96MP images, though it's largely restricted to static subjects and tripod use.
2. Autofocus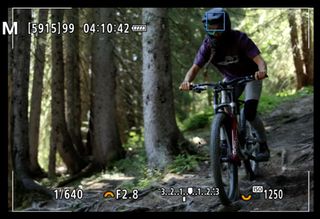 • Panasonic Lumix S5 II: Hybrid phase detect
• Canon EOS R6 II: Dual Pixel CMOS AF II, AI deep learning
Panasonic's new hybrid phase detect AF is a clear step forward from its previous DFD contrast-only system, with snappy face recognition and faster subject tracking. It's good, but is it as good as the Canon?
The EOS R6 II uses Canon's own unique Dual Pixel CMOS AF II system for phase-detect autofocus rather than dedicated phase-detect photosites (they're all 'dedicated'), and it uses deep learning AI for subject recognition that extends beyond just humans and animals to planes, trains and automobiles too. As good as Panasonic's new AF system is, we'll have to give this to Canon.
3. Stabilization
• Panasonic Lumix S5 II: 5 stop IBIS, 6.5 stop Dual I.S. 2
• Canon EOS R6 II: 8 stop IBIS
Both cameras have in-body stabilization and Panasonic claims 5 stops of compensation for the camera stabilizer alone and up to 6.5 stops via its Dual I.S 2 system with stabilized lenses.
Canon says the EOS R6 II offers up to 8 stops of shake compensation, depending on the lens, and while we didn't really get close to that using the RF 24-105mm f/4 quoted in that claim, it's common for IBIS systems to perform less well than claimed in real-world shooting.
On paper, the Canon EOS R6 II has a clear stabilization advantage, but in real-world shooting the Panasonic appears, to us at least, to have the edge.
4. Video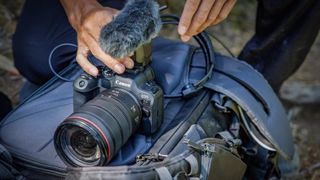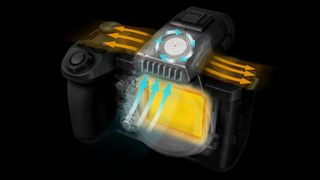 • Panasonic Lumix S5 II: 6K 'open gate' up to 30p, 5.9K up to 30p, C4K/4K up to 60p (APS-C crop) C4K/4K 10-bit 4:2:2 internal
• Canon EOS R6 II: 4K 60p oversampled, full width, 10-bit 4:2:2 internal
As ever, video comparisons quickly become complicated because of the many different resolutions, frame rates and compression trade-offs involved, so we'll try to keep it simple.
Both cameras can shoot full-width 4K at 30p, but the Lumix S5 II goes much further with 6K 'open gate' 3:2 capture using the full sensor area, or 5.9K in a 16:9 ratio. On the other hand, the Canon can shoot full width 4K 60p, while that S5 II can only shoot 60p in APS-C/Super35 mode.
Both cameras can capture 4:2:2 10-bit video internally, but both have bitrate and compression limitations. The S5 II has a maximum bitrate of 200Mbps and Long GOP compression only, and while the EOS R6 II does go up to 340Mbps, it only offers All-I compression in its timelapse modes.
The Canon EOS R6 II can also output 6K ProRes RAW to an Atomos Ninja V+, which instantly elevates in into serious professional territory for those prepared to rig up with an external recorder. The Lumix S5 II will only be able to do this with a paid software key later – but there's also the upcoming S5 II X which will offer this and more, and still cost less than the Canon.
Another key difference is that while Canon has removed its 30-minute recording limit and says improved cooling has extended the maximum recording times, the Lumix S5 II actually has active cooling via a fan in the viewfinder housing, promising potentially unlimited recording times.
5. Continuous shooting
• Panasonic Lumix S5 II: 9/7fps mechanical, 30fps electronic, 200+ raw
• Canon EOS R6 II: 40fps electronic, 12fps mechanical, 30fps Raw Burst, 110 raw/1000+ C-Raw (mechanical)
Both cameras have very impressive burst shooting capabilities, but the Canon comes out on top with its 12fps shooting speed using its mechanical shutter. The Lumix S5 II can only manage 9fps with its mechanical shutter, or 7fps with continuous AF.
If you switch to the electronic shutter modes, the Canon still has the advantage at 40fps versus the Panasonic's 30fps. Both are insanely high. The Canon looks to have the advantage in raw buffer capacity, but only if you use its C-Raw format, while Panasonic quotes a commendable 200+ raw shot capacity for its burst modes (it doesn't specific which).
If you're into sports photography, the EOS R6 II looks a pretty clear winner, though that's not necessarily what every user will be looking for.
6. Storage and displays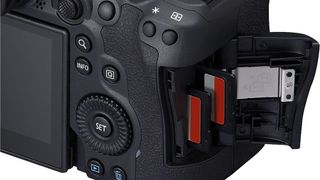 • Panasonic Lumix S5 II: 2x SD UHS-II, 3.68m dot OLED EVF, 3-inch 1.84m dot vari-angle screen
• Canon EOS R6 II: 2x SD UHS-II, 3.69m dot OLED EVF, 3-inch 1.62m dot vari-angle screen
There's nothing to choose between these two cameras for storage or display quality. Both have dual SD UHS II card slots, practically identical EVF resolution and 3-inch vari-angle touchscreens on the rear. The Panasonic's has a slightly higher resolution at 1.84 million dots versus the Canon's 1.62 million dots, but it's unlikely you'll notice.
It's interesting that neither maker has used a second CFexpress Type B slot for faster data capture and higher video quality, e.g. All-I compress or even internal raw. The Lumix S5 II and EOS R6 II are class-leading hybrid cameras but stop short of the most advanced video capture capabilities.
7. Size and weight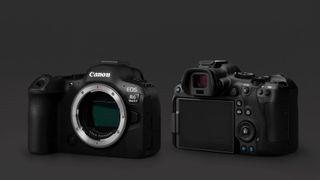 • Panasonic Lumix S5 II: 134.3 x 102.3 x 90.1mm, 740g
• Canon EOS R6 II: 138.4 × 98.4 × 88.4mm, 670g
The Lumix S5 II and EOS R6 II are very different in appearance but remarkably similar in size and weight. The Panasonic is all sharp edges and corners while the Canon is more contoured and smooth.
The size of the viewfinder housing makes the Lumix S5 II a little taller in the body, and it's also 70g heavier, but you're unlikely to notice much weight difference with lenses fitted.
8. Price
• Panasonic Lumix S5 II: $1,998/£1,999 (about AU$2,882)
• Canon EOS R6 II: $2,499/£2,799 (about AU$3,552)
The price difference is perhaps the biggest story here. The Lumix S5 II has come in at a very competitive price point, offering a lot of features at a very good price – just like the Lumix S5 before it.
The EOS R6 II, however, looks expensive, especially for UK buyers. There's no doubting its quality and class, but that's a big price differential to swallow on that basis alone.
When the Lumix S5 II X arrives, it will still be cheaper than the EOS R6 II and if there's any debate over which brand offers the best video features at this price, the S5 II X should settle it once and for all.
Panasonic Lumix S5 II vs Canon EOS R6 II: verdict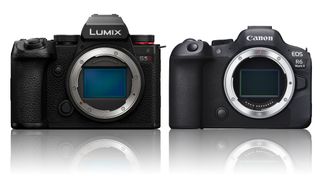 This is a hard one to call. Even if these two cameras cost the same, you would perhaps give the Lumix S5 II the edge because of its 6K video and 96MP high-res mode. Of course, the EOS R6 II has Canon's excellent AI AF, and the potential to record 6K ProRes RAW externally. The fact is, though, that the EOS R6 II is a lot more expensive.
And yet the EOS R6 II is a solid, quality performer with well-rounded stills and video specs and is a pleasure to handle and use. It's also better for sports photography, and many might decide its AF capabilities are more important than internal 6K video.