Today's smartphones are packed with megapixels and ever-more sensitive sensors, meaning that even photographers dedicated to using DSLRs and mirrorless cameras are relying more and more on them. Phone cameras do, however, have their limitations, which makes a lot of creative photography difficult.
Cue a raft of apps that allow you to get more out of your smartphone, and do more with the results. Here are just a few that can help you get the best from your smartphone's already-brilliant camera.
1. Camera+
Platforms: iOS
Price: Free/£2.99
Camera+ has now been around long enough for much of what once made it unique to be baked into the native camera applications of modern smartphones, but it's still worth considering (particularly if you use an older device). A constant flashlight option, the ability to shoot in Raw rather than JPEG, and even touch-exposure and manual-focus options are among its highlights. The latter enable you to focus on whatever you click on the touchscreen while simultaneously setting the exposure for somewhere else. As well as continuous custom settings, Camera+ includes extensive manual editing in The Lab (including noise reduction on Raw and JPEG images), though both filters and editing are enhanced if you pay to upgrade to the pro version. A new update now means Camera+ includes depth information for creating 'bokeh' blurred-background effect shots when editing photos. That even extends to desaturating the background so the foreground stands out even more.
2. Snapseed
Platforms: iOS and Android
Price: Free
Website: na
First launched in 2011, Snapseed has undergone numerous revisions and updates to become one of the most comprehensive and user-friendly editing apps on the market. Whether you're an advanced photographer who wants to make localised, non-destructive edits to DNG Raw files, or a casual snapper who wants to add stylistic filters to your shots, Snapseed has you covered. The interface for all editing functions is immediately intuitive: select the image attribute you want to edit, then drag the slider left or right to make adjustments. Removing distracting elements from an image is almost trivially easy: just zoom in to the portion of the image you want to adjust, then use the healing tool to paint them out. If we have a criticism it's that some sort of Lightroom-esque image organiser would be nice. As it stands, you import and work on each image individually, but this is a minor complaint. Snapseed is a fantastic app that any serious smartphone photographer should be trying out.
3. Pixlr
Platforms: iOS, Android, browser
Price: Free
Pixlr is a free photo editor that puts a range of tools at your disposal. The generous range of editing tools can be adjusted in intensity with sliders, and it's also possible to make localised adjustments to specific areas of an image. There are plenty of filters at the user's disposal as well, and it's also possible to employ creative techniques such as double exposure, further expanding your options with the app. If you fancy something different, there are also options to add stickers and borders to your shots.
4. Instagram
Platforms: iOS and Android
Price: Free
If you haven't used Instagram, you might not be aware that it offers a generous host of editing tools as well as the trademark filters. The app offers slider-based adjustments for brightness, contrast, saturation, warmth, highlights/shadows and more, as well as digital versions of optical effects like tilt-shift and vignette. There's even a perspective fixing tool that actually works pretty well when the wide-angle of your phone's lens has caused your verticals to go a bit squiffy. One little annoyance with the Instagram app is that it doesn't allow you to perform a precise crop. You have to zoom into the portion of the image you want and it's all rather floaty and imprecise. If you want a very specific selection of an image, you're best off using a different app to make your crop before loading up Instagram. But otherwise, Instagram has an edge over everything else with its simplicity and convenience.
5. TouchRetouch
Platforms: iOS and Android
Price: £1.99
While a fair few photo apps offer the ability to remove unwanted objects and blemishes from your images, TouchRetouch is specifically dedicated to it, and unsurprisingly does it the best. Simply highlight the object you want to remove, and then the app will remove it, intelligently replacing it to blend into the background. If the object you're removing is a complex one, it may take a little more finesse, but the more you play with the app, the easier you'll find it to use. For iOS and Android only, TouchRetouch will set you back £1.99, but if you can see yourself using it a lot, it's a steal.
6. Adobe Photoshop Express
Platforms: iOS, Android & Windows Phone
Price: free
Since most photographers are at least familiar with Adobe Photoshop as desktop software, a free mobile version with support for Raw and TIFF photos was always going to be hard to resist. Able to fetch photos from your phone, Adobe Creative Cloud, Dropbox, Facebook, or Google Photos, Photoshop Express can crop, straighten, rotate and flip photos, remove redeye, blemishes, and add text. You can also add 45 filters and effects, and make photo collages, and upload the results to Adobe Creative Cloud, Flickr, Instagram, Facebook, Twitter and even WhatsApp. PS Express is nevertheless a lighter, feature-poor version of the desktop version, and when it comes to layers, masks and batch-editing, it doesn't get near its big brother. That's not surprising, especially since it's free, but it's definitely worth installing on your phone or tablet.
7. Slow Shutter
Platforms: iOS
Price: £1.99
Are you ready for #WaterfallWednesday? A massive favourite among landscape photographers, capturing waterfalls is nevertheless not easy to do well. One technique that's almost a rite of passage is to make the water look silky smooth and milky, and if using a DSLR, that usually means using a neutral density (ND) filter. However, if you put your phone on a tripod, Slow Shutter will do everything for you. You can set it to expose for 1, 3 or 10 seconds, and on three sensitivities, so it's pretty basic, but incredibly easy to use. Photos are quick and easy to take, and easy to export to your phone's camera roll. Slow Shutter can also be used to capture light-trails from traffic, fireworks, and simply to boost photos in low light. Just don't forget your tripod.
8. Lapse It
Platforms: iOS/Android
Price: Free/£2.99 (Lapse It Pro)
Samsung is trying to sell its latest phone on its native slow-mo capabilities, but for most phoneographers, time-lapses are where it's at. This is a technique that gives an accelerated view of slowly changing events – think super-fast sunsets, clouds racing across the sky, or crowds growing or dissipating – and requires putting a phone on a tripod and leaving it alone for as little as a few minutes or as long as an hour or two. LapseIt makes things really simple, allowing you to choose the rate of capture (the interval between shots), and tweak various settings including exposure, ISO, focus and white balance. It switches off your phone's screen while it's shooting, and before making the resulting video easily shareable, allows filters and cropping (and on the paid LapseIt Pro version, the addition of music). All that makes it way more advanced than your phone's native time-lapse mode. You can also now import pre-recorded videos from your gallery as time-lapse projects to speed them up or slow them down.
9. NightCap Pro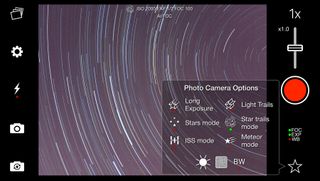 Platforms: iOS
Price: £1.99
There are loads of apps for phones that offer manual modes, but very few tailored to night photography. Available for the iPhone and iPad, this astrophotography-centric app attempts DSLR-like results by extending the ISO to 6400 (which, admittedly, some phones are now offering anyway). Luckily that comes with noise reduction, and it produces TIFF files, which give more flexibility than JPEGs. Other features include an intervalometer for setting up night-sky time-lapses, though it's the astronomy-centric presets – Stars, Meteors and a Star-trails mode – that impress the most. Another great option is the ISS mode, which is preset to record the light-trail left by the International Space Station. However, since low light is an area being vastly improved upon with every new generation of smartphone, this is an app that's always going to work much better with the very latest phones. Whatever you use it with, a tripod is essential.
10. Darkroom
Platforms: iOS
Price: free
Though strictly for iPhone users, darkroom has quickly become one of the must-have photo editing apps around. Its attraction is in its simplicity; despite packing everything from cropping, tilting, changing the aspect ratio, adding borders and text, and dozens of different parameters for altering the picture quality, the interface is just so clean. It's also almost all on a single screen, though perhaps the most valuable aspect is its umpteen highly advanced filters. What's more, you can design your own filter, which is really useful once you know your own particular preferences for your photo photographic style. However, you do get more premium tools and filters if you pay a fee, such as support for Raw, live photos, high-resolution images and batch editing.
11. Google Photos
Platforms: iOS and Android
Price: free
You take a photo, and when you're next on Wi-Fi, this sorting, sharing and storage app will upload unlimited photos in up-to-16MP resolution (any higher, and you have to pay). However, despite being thought of mainly as a stress-free way of backing up the photos you take on your phone, Google Photos is packed full of bite-sized technologies that could be called artificial intelligence. For example, if you take a lot of pictures of your cat or dog – and who doesn't? – Google Photos uses face and image recognition to automatically group them together. It will also self-select a few of your images and add a filter, make it monochrome, or even create a small animation out of several photos, or a small video clip it finds on your phone. It can be hit-and-miss, but there is some serious power in Google Photos that's worth investigating.
12. A+ Signature
Platforms: iOS
Price: free
The fear of having your photographs ripped off and used without authorisation on the internet is common to all photographers. However, just as valid a reason for adding a watermark to your work is to look like a professional who cares about what they do. This simple annotation app makes it easy to add a watermark in all kinds of different styles. It's actually little more than a text addition, giving you a choice of adding text, date, or drawing/handwriting. Once you've added text you can change its size, capacity, colour, font and many other parameters besides. Repositioning the watermark to wherever you want on the image, whether that be diagonally across the centre, or tucked away in small type in the corner, is easy enough, as is sharing the result in full resolution and uploading it to social media or elsewhere.
13. Watermark X
Platforms: iOS
Price: free
Website: na
Though the free version of this app is littered with way too many adverts (not least for the upgrade itself), Watermark X does have a nice collection of features. Firstly, it lets you move and scale a photo around a 1:1, 4:3, 3:4 and original size canvas, then it lets you select from 18 preset styles. That's limited, of course, and some and only available in the pro version (£17.49 for a year after a free seven-day trial). Designing your own and batch-adding also costs. Still, for quick and effective watermark annotation, Watermark Studio X works well.
14. TADDA HD Pro Camera
Platforms: iOS
Price: Free
The blurred background effect so beloved of phone photographers these days is made simple by this easy-to-use app. You simply select the blur option focus on whatever you want to. Everything else in the image is then blurred. However, more interesting to most photographers will be the mask option, which makes it easy to apply an effect to only a small highlighted area. Add all kinds of adjustments, such as clarity, perspective shift, and a grading tool, as well as 100 filters, and all kinds of picture effects and edits are possible. However, some of the more advanced options require you to pay, though it does at least let you use the tool to see what the results will be first.
15. VSCO
Platforms: iOS, Android
Price: Free (paid version available)
VSCO's killer selling point is in its collection of preset filters, which provide a range of film-esque stylistic looks that are pleasingly subtle and not too overbearing. Each of these filters can be fine-tuned with adjustments to brightness, contrast, saturation, etc. Users have a selection of free presets to choose from, with more available from the store if you're willing to shell out a few pounds for them. There is also a VSCO community where users can share their images, though it's small potatoes compared to Instagram. VSCO is free to download, and is well worth trying out if you'd like to freshen up your mobile photography.
Read more: How to use Instagram for your photography