Watch video: How to use Pixlr Mobile
You're spoilt for choice if you're looking to add an editing suite to your smart device's library of apps. And, at first glance, Pixlr Mobile's vibrant overlays, effects and templates might look a little too gimmicky for serious photographers.
However, the app's wide range of templates is a great asset for those who don't possess any graphic design experience – and the ability to make attractive collages from a series of images will appeal to the social media savvy. A great complement to the best camera phones, this is a robust bread-and-butter image editor that's a handy on-the-go alternative to the best photo editing software.
Beyond all the usual adjustment tools you can dodge and burn, heal unwanted anomalies and more. Adjustments are masked automatically, which allows you to apply selective edits on the go. The free version of Pixlr is available on iOS and Android, and is feature rich and will no doubt satisfy lots of users. But paid Premium subscriptions boast an ad-free experience and a much wider range of stickers, overlays, borders and fonts.
Image manipulation is processor intensive, and we did experience a few crashes. As such, we'd recommend trying the free version of Pixlr first to see how your smart device fares. When everything is running smoothly you'll find a capable image editor that's simple to use. Here are the main features.
How to use Pixlr Mobile
1. The right tool for the job
Pixlr boasts plenty of advanced features, but it performs well as a generic editing suite. You'll find all the usual adjustments such as exposure, contrast and temperature, as well as more advanced tools that allow you to dodge, burn, smoothen and heal your images.
2. Creative juices
Even the free version of Pixlr is packed with a large choice of filters and a library of fun overlays, including bokeh discs and starry skies. You can also add borders and stickers to your creations, as well as text in a variety of different fonts and colors.
3. Double the fun
Pixlr has a dedicated double exposure function. We found the app had a tendency to crash during this, but it could have been a hardware problem. When it works this feature is straightforward and allows you to alter elements such as size, transparency and blend mode.
4. Create a collage
The Collage function is simple to use. You select a few photos and Pixlr will drop them into one of many templates. Collages are perfect social media fodder and you can change template, move and resize your images, and alter the color of the background.
5. Templates
Pixlr has a number of stylish templates, which you can fill with your own images. Templates can be edited, but options seem limited. You can edit your work further as a flat image using the app's general editing tools though. We struggled to make our designs look as good as the examples but this is still a useful function, especially if you don't have any graphic design experience.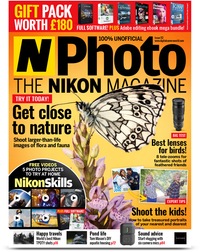 N-Photo: The Nikon Magazine is a monthly publication that's entirely dedicated to Nikon users. For the best news, reviews, projects and more, subscribe to N-Photo today!
Read more:
Best camera apps for iPhone and Android
The best photo editing software
Best budget camera phone