Watch video: How to shoot pet portraits at home
Even those who claim not to be cat lovers can't resist kittens. As lovable as these playful bundles of fur are, though, they grow up extremely fast. It makes sense, then, to preserve this fleeting period of your feline's life by capturing a series of purr-fect pet portraits.
However, it can be challenging to photograph them – and it has even been reported that black cats are being shunned by the social media-obsessed, simply because they are harder to photograph. As our images of pretty kitty Maggie proves, you don't necessarily need the best pet camera to photograph your pet indoors. And if you're a dog lover, the techniques in this project are entirely transferable – so your pet pooch needn't feel left out.
• Read more: Looking for photoshoot ideas?
Bright bursts of flash can be alarming and cause problems when photographing particularly young animals, and we didn't want to scare our timid subject, so we stuck to window light and continuous lighting. The latter can help brighten particularly dark areas of your house, but if you don't own any lights you can still take beautiful images using only window light.
Young animals aren't always adept at following direction. You can try to entice them using treats or calling for their attention, but always remember that their wellbeing comes first. Make sure that they're comfortable and you'll reap better results. Let's photograph some felines!
How to photograph a kitty cat
1. Play date
Kittens and puppies have lots of energy, and can be nervous or excited around new people. Having their owner nearby may help them feel more comfortable, and we'd recommend letting them get used to you before you take any pictures. We played with Maggie using her favorite toy and, within a few minutes, any reservations she had disappeared completely.
2. Trash the flash
It's thought that flash lighting can cause potential damage to the eyes of very young animals, and it can certainly scare some of them. We used room lighting and a couple of portable Lume Cube Panel LEDs to illuminate our subject, and took advantage of our lens' fast aperture.
3. Fleeting focus
For most cameras you should use single-point AF to precisely focus on the eye that's closest to the camera. You can use AF-S to lock focus and recompose, but you'll spend more time using AF-C as animals rarely sit still. Back-button focusing enables you to switch between the two at will.
4. Animal AF
Of course, if you're using a cutting-edge mirrorless camera like the Nikon Z7 II or Canon EOS R5, you can take full advantage of animal eye AF feature to automatically track and lock onto one of your subject's eyes!
5. Settings
We used aperture priority and kept our shutter speed at around 1/200 sec or higher to mitigate fast movements. This was achieved using continuous lighting, a wide aperture and a high ISO. Our Nikon D800 can handle shooting at ISO1000 comfortably – and while the general rule is to keep your ISO as low as possible, it's better to have a small drop in image quality than a blurry subject.
6. Curb the clutter
Furniture and ornaments can make indoor environments rather cluttered. We tried to photograph our kitten in front of clean backgrounds but, when this wasn't possible, we tried to position our subject as far away from the clutter as possible. Paired with a wide aperture, this would then produce a super-shallow depth of field.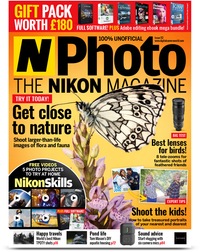 N-Photo: The Nikon Magazine is a monthly publication that's entirely dedicated to Nikon users. For the best news, reviews, projects and more, subscribe to N-Photo today!
Read more:
Home photography ideas
The best camera for portraits
Best portrait lenses for Nikon