When the Lume Cube Panel dropped last year, it was a slight departure from the diminutive cubic LED lights that the San Diego-based outfit is known (and, indeed, named) for.
And while the recently released Lume Cube Panel Mini is an exciting new prospect, its paired-down features and lower price tag mean that the original bicolor LED panel is still very much the definitive Lume Cube offering.
If you're a videographer or photographer craving a feature-rich LED light source that's small enough to slip into your back pocket, here's everything you need to know about the Lume Cube Panel…
• Read more: Best LED light panels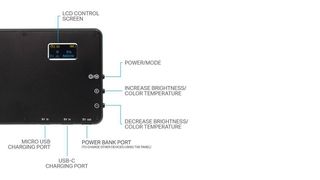 Lume Cube Panel: Build and Handling
Inside the box you'll find a soft drawstring pouch, a clip-on softening diffuser, a cold-shoe mount, a micro USB charging cable and a mini-USB to USB adapter. The Panel might be the new Mini's larger sibling, but it still boasts a super-compact design. It's not much bigger than a standard smartphone (151 x 80mm) and, at 9.8mm thick, it feels sleek yet suitably robust. The light is housed within a metal case with a matte finish, which feels durable and of decent quality.
The light weighs a respectable 180g, which makes it more than suitable for use on your camera's hotshoe or attached to a rig. A neat feature is a small LCD screen on the back of the light, which displays plenty of useful information. You have a battery icon and an estimate of how much time is left, which changes as you increase or decrease the brightness. The brightness itself is also present, along with the color temperature.
The light is controlled via three buttons on the left side of the panel. The first is held down to turn the light on or off, and can be tapped to select the brightness or color temperature; the other two buttons enable you to increase or decrease either option. The diffuser can clip or slide onto the light and feels very secure once in place. It also helps to protect the panel when not in use.
Lume Cube Panel: Performance
The Lume Cube Panel performs very well as a light source. If you're going to invest in a bicolor LED, you want it to be accurate and the Panel's impressive 96+ CRI rating means that you can count on it to produce accurately rendered colors.
The color temperature range isn't the biggest in its class, but an output of 3200K to 5600K still gives you plenty of flexibility for both indoor and outdoor shooting. The brightness can be increased or decreased by 5% increments, meaning you have 20 settings to play with. At 100% brightness the device emits 1600 lux at 5m – and owing to our experience using the light in the field, we found the light itself to be very impressive.
Arguably the Panel's standout feature is its ability to double as a power bank. You simply slot the mini-USB to USB adapter in the 5V output and connect your chosen USB device. Sure, it's unlikely to replace your dedicated power bank with multiple outputs, but it's extremely handy in a pinch. We even managed to charge an iPhone while using the light at the same time!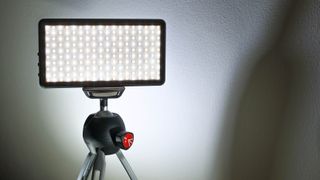 The rear LCD screen is a fantastic feature. And while we wouldn't suggest treating the battery / charging information as 100% accurate, it provides a decent enough indication to prevent you from getting caught out. It's just a shame that the rear LCD doesn't provide you with the same real-time battery information when you're using the Panel as a power bank.
Lume Cube rates the 3.85V Li-Polymer battery as capable of lasting 90 minutes at 100% brightness and, when we tested the light, we were impressed to find that it lasted roughly 99 minutes. It took us about two hours to completely recharge the battery once it was dead and it's worth noting that, left on a tripod at 100% brightness for an extended period of time, our Lume Cube Panel got warm but never too hot to handle.
Having the opportunity to charge the light via USB-C and micro USB might seem like overkill, but it makes a lot of sense for existing Lume Cube users. You see, the original Lume Cube and Lume Cube Air are charged via micro USB, while the Lume Cube 2.0 is USB-C. So, no matter what Lume Cube products you own, you won't have to faff around finding the right cable – the Panel should fit right in.
The Lume Cube Panel has a lot going for it, though it doesn't have the same uniqueness as Lume Cube's previous products and there are cheaper LED panels out there that also double as power banks. However, Lume Cube products have a very good track record and when compared to similar light sources, such as the Metz Mecalight L1000 BC and Boling BL-P1, the Panel is competitively priced.
Lume Cube Panel: Verdict
Portable LED lights are a must-have piece of kit for videographers and the Lume Cube Panel is a feature-rich, pocket-sized offering that doesn't disappoint. It boasts an impressively bright LED panel, a high CRI and a decent color temperature range. Its rear LCD screen is a very useful addition and the device also doubles as a power bank. For run-and-gun filmmakers or any content creator looking for a portable lighting fix, the Lume Cube Panel is surely a tempting prospect.
Read more
Best photography lighting kits: for studio, location and video
Best flash diffusers, softboxes and modifiers for your speedlight
Best backdrops for photography: collapsible backgrounds for the home studio