Trouble streaming the above video? View/download it here
Attempting to usurp the humble mouse and keyboard is a little bit like reinventing the wheel. But if you've ever used a mouse to perform delicate dodging or burning, try this digital pen technique once and you'll never want to go back. The best drawing tablets with screens have become increasingly popular over the years and increasingly affordable too. But even the cheapest options can be difficult to justify, unless they're going to be getting consistent use.
That's why tablet styluses, like the Apple Pencil and Samsung S Pen, are so attractive. You may already have a compatible device at home and if you don't, investing in an iPad or Galaxy Tab will at least provide you with plenty of other benefits, beyond digital drawing. The Apple Pencil, in particular, has received plenty of plaudits and is an excellent tool for artists and photographers alike. It's pressure sensitive, just like a real pencil, thin and comfortable to use, and a relatively inexpensive investment at £139/$129 (providing you already have a compatible device).
We paired our iPad Pro 12.9 (2021) and second-gen Apple Pencil with Affinity Photo 2 for iPad (£18/$18.50) to create smooth and accurate edits using the Dodge Brush Tool.
We shot this stunning portrait at TankSpace's incredible underwater studio.
Download the project file(s) to your Downloads folder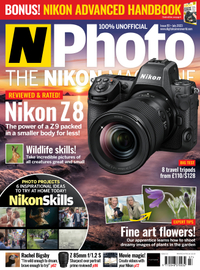 N-Photo: The Nikon Magazine is a monthly magazine that's written by Nikon enthusiasts for Nikon enthusiasts, you can be sure that all the content is 100% relevant to you! So for the best Nikon-focused news, reviews, projects and a whole lot more, subscribe to N-Photo today – with our unmissable sub deal!