Watch video: Be a city slicker with your urban architectural shots
Every office block, skyscraper or flyover begins its conception via an artist's pen on a blueprint. So it's perhaps no surprise that the details, curves and textures of these grand designs can make for some incredible images.
In this project I run through my favorite tips that you can try, the next time you hit the streets. Although there is specialist equipment for this genre, such as pricey tilt-shift optics, you can still capture some amazing images using budget-friendly kit like a tripod, a neutral density filter or a circular polariser.
• The best tilt-shift lenses are the premium tools for astonishing architectural images
On a full-frame camera, such as the Canon EOS R, it's a good idea to carry a 16-35mm (like the Canon RF 16-35mm f/4) for wide-angle vistas, which enables you to squeeze in loads of the scene in front of you. A 24-70mm (like the Canon RF 24-70mm f/2.8) is also an ideal everyday lens, which you can keep mounted for a wide 24mm angle and a tighter 70mm composition.
For APS-C cameras, a 10-20mm wide-angle zoom and 18-55mm kit lens are ideal. It may sound strange, but telephoto lenses like a 70-300mm are also great to experiment with – as they help you achieve a tighter composition, crop out distractions and fill the frame.
The trick is to, quite simply, see buildings in a new light and identify what makes a certain subject special. Use mid-aperture values such as f/8, f/11 or f/16 to ensure that your buildings are pin-sharp, and focus about a third of the way into the scene for the best depth of field. Use your camera's electronic level to make sure your horizon is straight, so that buildings don't appear to lean to one side when you're shooting them straight-on.
When taking pictures in busy cities, you may catch the attention of security guards. They might ask you to move on, so make yourself aware of the laws regarding shooting in public spaces. If this situation arises, always be calme and explain what you are doing politely.
1. Set up your camera
Put your camera into aperture priority mode and dial in f/8 to ensure sharpness. Tweak the ISO until the shutter speed is the same, or faster, than the reciprocal of the focal length (for example, 1/200 sec at 200mm) and make sure that any image stabilization is turned on.
2. Tackle lens issues
Converging verticals, where the top of the building appears to lean in, can be an issue. Try backing up from the building and then zoom in to help reduce the problem. You can also correct a certain amount of converging verticals in your images in post-production.
3. Switch up your subjects
Try to capture glass, steel, brick and stone. Each material has its own story to tell and will work with different light – glass works well when shooting at midday, as it reflects the blue sky, meanwhile brick looks better during the warm golden hours.
4. Crack composition
Composition is critical and symmetry brings a welcome sense of balance to a location. Turn on your camera's rule of thirds gridlines to help you line up accurately, and use a tripod to carefully compose until the framing is perfect.
5. Introduce motion
Buildings are static subjects, but you can introduce motion to skies and water by slowing down your shutter and trying a long exposure. Use a circular polarizer (CPL) filter to restrict light flow or, for even longer exposures, you can use a strong light-blocking neutral density (ND) filter.
6. Remember to show scale
Buildings are getting bigger, but it can be hard to show this scale in a frame. The solution is to introduce other objects, such as vehicles or people, so that the viewer can compare and get a better perspective of your main subject.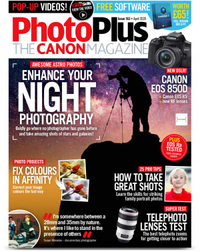 PhotoPlus: The Canon Magazine is the world's only monthly newsstand title that's 100% devoted to Canon, so you can be sure the magazine is completely relevant to your system.
Check out more architecture photography tips, along with these top tips for architectural shots at night. You might also like the best cameras for landscapes and the best lenses for landscapes.