As its name suggests, the My Passport Wireless SSD is based around a fast solid-state drive.
During our tests, we clocked it at blazing 350MBps read and 285MBps write speeds during sustained video file transfer, while folders of images shift at an equally impressive 290MBps / 256MBps.
But this is much more than just an SSD. It's a device designed to be used as stand-alone storage in the field, so during a shoot you can back up images from your memory card without needing a computer.
Read more: How to understand everything written on your memory card
This is made possible by the Passport's built-in SD card reader. Simply insert a card, press the nearby transfer button for two seconds, and the Passport automatically copies the card's contents to the SSD, with status LEDs showing progress.
What's more, once your shots are on the drive, you can then view them on your smartphone or tablet, as the Passport also acts as a wireless media server with its Wi-Fi hotspot. Even Raw images stored on the drive are viewable.
WD also claims the device can wirelessly stream 4K video, however it does so by offloading the video to whatever default media player is installed on your smart device, so if this is incompatible with the video codec used by your camera, the show won't go on.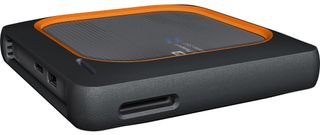 Powering all this is a built-in battery good for up to 10 hours continuous use. But if you don't need all-day power, the battery can also double as a 6,700mAh power bank, with a USB output on the drive able to supply 1.5A of charging power.
Packing so much tech makes the device relatively large by portable SSD standards: it measures 135mm square and 30mm thick. You can streamline things a little by removing the soft rubber bumper, if you can manage without its shock protection for a while.
Verdict
The My Passport Wireless SSD is a refreshingly versatile and high-performing mobile storage solution. Having the ability to quickly backup SD cards on the go to a convenient self-powered drive is great during a long shoot.
Key specs
Capacities 250GB, 500GB, 1TB, 2TB
Size 135 x 135 x 30mm
System requirements Windows 7, 8.1 or 10; or macOS 10.11 or later
Weight 440g
Card reader SD 3.0
Connection ports USB 3.0, USB 2.0
Wireless connectivity Wi-Fi (802.11a/c/n)