With a maximum angle of view midway between that of the Canon 16-35mm and Sigma 14-24mm lenses, the Tamron SP 15-30mm f/2.8 Di VC USD is the best of both worlds in a lot of ways. It combines the fast and constant f/2.8 aperture of the Sigma and the added bonus of optical stabilisation as featured in the Canon. All this makes for a solid compromise, made better by the Tamron's up-market build quality and handling, and a construction that's complete with weather-seals and a fluorine coating on the front element.
One drawback with the Tamron lens compared with the Canon is it's nearly twice the weight. However, it's a touch lighter than both the Sigma full-frame lens. The zoom and focus rings work with smooth precision, with the focus ring placed near the rear of the lens, and there's a focus distance scale to help with accuracy.
High-quality optics in the lens's internal construction include a specially developed XGM (eXpanded Glass Molded Aspherical) element and several LD (Low Dispersion) elements. Ghosting and flare are a constant danger with this type of lens but the Tamron fights back with two types of conventional and nano-structure coatings.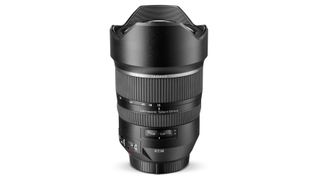 Performance
Sharpness across the frame isn't as impressive as from the Sigma 14-24mm lens when shooting wide-open, according to our in-house lab tests. However, if you reduce the aperture by a single stop to f/4, the Tamron draws level and gives better edge and corner-sharpness than the Canon 16-35mm and Sigma 12-24mm lenses. Overall, it's a great lens for the price and is the top choice if you want that double-hit of a fast aperture with optical stabilisation to provide a four-stop advantage.
The lens has a built-in hood, though a Lee Filters adapter is available if you want to hook it up with some filter action. The ring-type ultrasonic autofocus system is built to be super-fast, with impressive high-torque specs, giving this lens real versatility in a variety of shooting situations.
Read more: