In the Studio Creator Podcast & Vlogging Kit, you pretty much have the best TikTok training wheels for budding content creators who shoot using their phones.
While seasoned YouTubers, vloggers and TikTokers might demand the best cameras for TikTok, the best ring lights and the best microphones for vlogging, for youngsters and casual creators that is going to be overkill.
That's where the Studio Creator Podcast & Vlogging Kit comes in. Rather than dropping big bucks on expensive gear, all you really need to get going is a basic light, microphone and tripod – which is exactly what this set delivers… all for 20 bucks!
Studio Creator Podcast & Vlogging Kit: What you get
Included in the Studio Creator Podcast & Vlogging Kit is everything you need to get started on your content creation journey.
The foundation of the kit, quite literally, is the tabletop tripod. By attaching the enclosed smartphone holder clip (with cold shoe), which adjusts to fit multiple handset sizes, you can mount your phone in either portrait or landscape orientation, depending on whether you want to shoot vertical video for TikTok, Instagram Stories and YouTube shorts, or horizontal video for more traditional platforms.
To provide illumination there is a compact LED light, powered by three AAA batteries, with a built-in diffusion panel and three brightness settings.
Finally there is a shotgun microphone that connects to your phone via the bundled audio cable with 3.5mm in and out plugs. This means that if you have a handset, such as a modern iPhone, that does not have an audio jack, the mic will not connect without an additional adapter (such as the white Apple adapter seen in the image at the top of this review).
The modular design with multiple cold shoes means that you can attach the accessories in various ways; you can have your phone with the LED on the top and the mic on the side, attach just the LED or mic alone, or remove everything else and use the tripod on its own.
Studio Creator Podcast & Vlogging Kit: Verdict
Obviously this kit costs 20 bucks, which works out as about 6 bucks for the light, 6 bucks for the mic and 6 bucks for the tripod. Which is to say that the light isn't going to be a Lume Cube, the mic isn't going to be a Røde, and the tripod isn't going to be a Peak Design!
The tripod is the most no-frills component, made of simple black plastic that feels a bit basic. However, it's actually more versatile than a lot of the best mini tripods as it can either unfold into a standard tripod or fold into a grip to shoot handheld. It's more than sturdy enough for a smartphone (but don't go thinking you can put a camera on it) and the angle can even be adjusted.
My only gripe with it is that, in handgrip mode, the phone can only be mounted in horizontal orientation – so if you want to create vertical video, you're limited to tabletop shooting.
The LED light punches well above its weight. Some people may see the fact that it is powered by AAA batteries, rather than a built-in rechargeable, as a negative. However, I've had plenty of clever internal batteries run out while shooting with no way of recharging them – and I would have done anything to be able to slap in some old-fashioned batteries!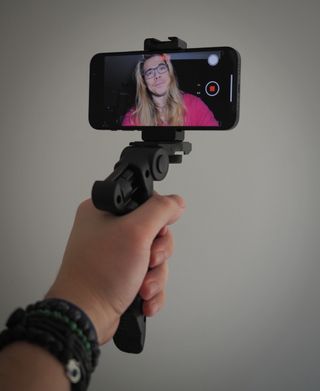 It has three brightness settings, which you can see in the video below, and while it's a fairly harsh and flat light, the diffusion panel takes the sting out of it. It works well as a supplemental light to existing illumination in a room, or to act as a key light in pitch blackness.
Lastly we come to the microphone. As noted, there's a drawback for iPhone users or anyone else whose phone doesn't have an audio jack: you will need an additional adapter to connect the audio cable unless your handset has a 3.5mm headphone / microphone socket.
However, you might not miss much if you stick with your phone's native microphone; the shotgun mic doesn't provide any better audio quality than my iPhone 13 Mini's built-in microphone. Again, you can check out the performance in the video below.
I tested the audio in light wind, and the windshield doesn't cut through it at all. The mic is slightly better at picking up ambient sound (such as music playing in the background), but otherwise the recording was not noticeably different to my phone. The fact that it is on a wire means that you can move it slightly closer to sound sources, but really I wouldn't worry about using it unless your phone has a poor internal microphone.
Watch video: Studio Creator Podcast & Vlogging Kit sample recording
Studio Creator Podcast & Vlogging Kit: Verdict
The Studio Creator Podcast & Vlogging Kit is a bit of a no-brainer if you want the most affordable way to get started with vlogging, YouTubing or TikToking.
No more propping your phone up against a stack of books – you get a tripod. No more horrible room lighting or only being able to shoot next to the window – you get an LED light. And while the microphone didn't make a great deal of difference compared to my iPhone's built-in mic, if your phone has microphone issues or the sound quality isn't great, this will give you the clear audio you need.
Remember that for 20 bucks you're not getting premium performance out of any single component, but buying branded versions of any of these components will set you back more than 20 notes each. For a basic starter kit, it more than does the job.