The Sony FE 40mm f/2.5 G has a slightly odd focal length that's a little longer than the classic 35mm 'street' lens and shorter than a 50mm 'standard' lens. In practice, you quickly adapt to the focal length and it's a pretty good blend of the qualities of both.
There are no other 40mm lenses in the Sony range, and it's a pretty uncommon focal length generally. The closest equivalent from Sony is the Zeiss Sonnar T* FE 35mm F2.8 ZA, which is a similar size but even lighter (though not quite as fast in terms of maximum aperture).
What the Sony FE 40mm f/2.5 has that the Zeiss does not is an aperture ring which can be 'de-clicked' for video and a pair of fast, smooth and silent linear AF motors.
• Read our full reviews of the other two lenses in this family:
• Sony FE 24mm F2.8 G review
• Sony FE 50mm F2.5 G review
Specifications
Format: Full frame
Focal length: 40mm
Maximum aperture: f/2.5
Optical construction: 9 elements in 9 groups
Minimum focus distance: 0.28m
Filter size: 49mm
Dimensions: 68mm (W) x 45mm (D)
Weight: 173g
Key features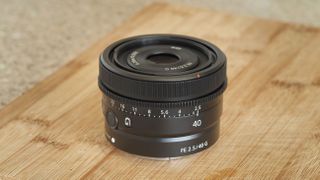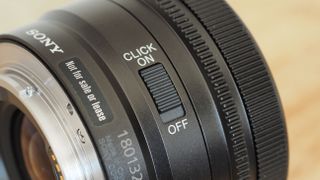 If you had to choose one prime lens for your camera, what would it be? Some would say a 50mm would be the obvious 'standard' lens that most closely resembles the angle of view of human vision, while others might prefer the semi-wideangle of view of a 35mm lens. The Sony FE 40mm f/2.5 G sits in the middle; it's still wide enough for street photography once you adapt your position to suit the slightly longer focal length, and it can still produce good background blur with a wide lens aperture and subjects close to the camera.
But the 40mm focal length is not the only story here. The FE 40mm f/2.5 G also has an aperture ring, which is great for photographers who like hands on control, and this can be 'declicked' for smooth iris adjustment via a switch on the barrel, making this lens perfect for videographers too.
One further interesting feature is that the size and weight and even the 49mm filter ring are the same across all three of Sony's new compact prime lenses, so that if you do want to collect the set, you don't just get a strong family appearance, you get to use the same set of filters too.
Build and handling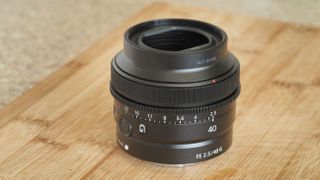 The specifications are pretty modest – a 40mm f/2.5 lens hardly pushes back the boundaries of lens design – but this has the feel of a premium lens, not a budget alternative. The finish, design and controls are all first rate.
The aperture ring is quite narrow, but heavily knurled around the rim so it's easy to use, and the aperture stops are pretty firm, with no looseness or play.
There is a focus ring at the front but no focus distance scale. We assume that this is trickier to implement with lenses that use focus-by-wire systems rather than mechanical focus systems, but it's still a shame because without a focus distance scale you don't get depth of field markings either, so that rules out zone focusing and hyperfocal distance focusing, which can be two of the most useful features of prime lenses.
We really like the 'inverted' lens hood, though. Most lenses hoods make the front of the lens wider, but this one is custom made with a rectangular aperture that both shields the lens from stray light and offers physical protection, so you won't feel so worried about putting the camera back in your bag without a lenscap.
Performance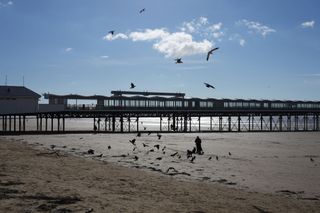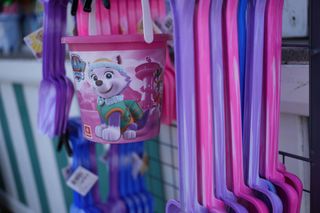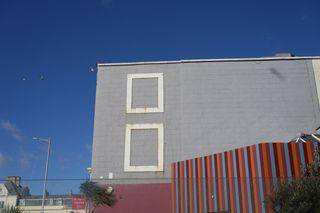 We can't fault this lens's performance. The dual linear motors might sound like overkill for such a small and lightweight lens, but they do deliver fast, smooth and effectively silent AF.
The optical performance is excellent too. Our lab tests reveal differences you can't see with the naked eye, but our real-world tests with this lens reveal edge to edge sharpness that we just didn't get from the FE 24mm F2.8 lens.
There is some barrel distortion in the RAW files, but nothing like that from the 24mm lens and it could easily go unnoticed. Camera JPEGs are corrected automatically, and we suspect it won't be long before raw tools like Adobe Camera Raw get lens correction profiles for these new lenses so that raw files are corrected automatically too.
Lab tests
We run a range of lab tests under controlled conditions, using the Imatest Master testing suite. Photos of test charts are taken across the range of apertures and zooms (where available), then analyzed for sharpness, distortion and chromatic aberrations.
We use Imatest SFR (spatial frequency response) charts and analysis software to plot lens resolution at the centre of the image frame, corners and mid-point distances, across the range of aperture settings and, with zoom lenses, at four different focal lengths. The tests also measure distortion and color fringing (chromatic aberration).
Sharpness: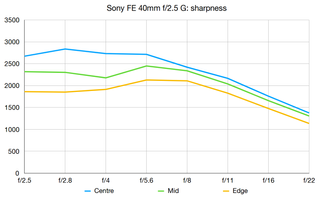 Sharpness is simply sensational in the centre and mid-frame regions, right from wide open through to f/8. Things get a little softer towards the corners, but not enough to be concerning. All-in-all, this lens is superbly sharp.
Fringing: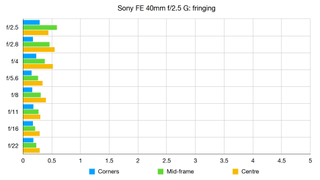 At larger apertures, chromatic aberration is very slightly more pronounced that it is with the FE 24mm f/2.8 G. But fringing levels are still easily low enough to go unnoticed in everyday shooting.
Distortion: -1.38
A negative score indicates barrel distortion, a positive score pincushion. A score of zero signifies no distortion.
There's a touch of barrel distortion visible, but bear in mind we do test lenses with in-camera distortion correction disabled, so this is a worst-case scenario.
Verdict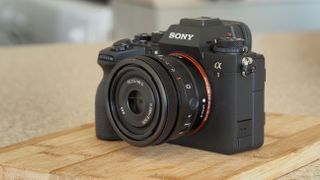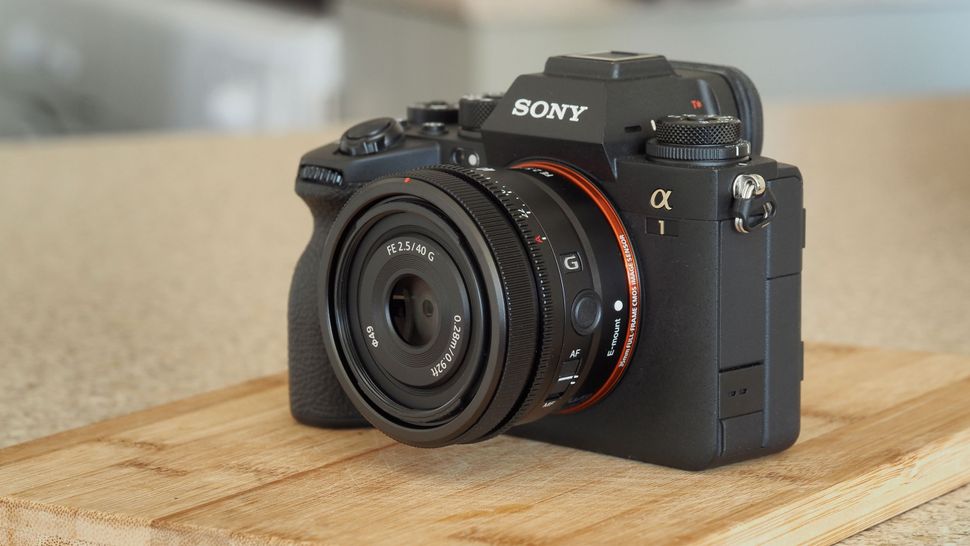 The Sony FE 40mm f/2.5 G is a great little general-purpose prime lens that kind of does the job of a 35mm lens and a 50mm lens combined. It's small and light but very well made, and has none of the compromises you might expect from an ultra-compact prime. The optical performance is great, the aperture ring is really good to have and there's even a customisable focus hold button. Out of Sony's three new compact prime lenses, this one feels perhaps the most useful.
• Pre-order the Sony FE 40mm f/2.5 G from Wex
• Pre-order the Sony FE 40mm f/2.5 G from Park Cameras
Read more:
• Best Sony lenses
• Best Sony cameras
• Best wide-angle lenses
• Sony FE 24mm F1.4 GM
• Sony FE 35mm F1.4 GM