Sony calls the ECM-S1 a 'streaming mic', but you could also use it for recordings or podcasting. It's essentially a desktop mic that can connect to cameras, computers and smartphones but, unlike most rival mics, it's wireless.
The ECM-S1 mic connects via Bluetooth to a wireless receiver that offers a choice of outputs. Whereas the best USB mics are designed to connect straight to computers or other devices digitally, the ECM-S1 receiver can fit straight on to a Sony Alpha camera with an MI digital interface hotshoe for streaming or in-camera recording.
Sony does make some of the best cameras for filmmaking and best cameras for vlogging, but not everyone is a Sony user. However, the receiver also has a USB output for connecting to a computer or laptop and a 3.5mm analog output for use with other camera brands – you will need a patch cable for this. You will also need a USB cable to connect the receiver to a computer.
So this does make the ECM-S1 unusually versatile for a mic of this type, and its cable-free connection will make it much easier to move around, remove any potential trip hazard and make it a lot neater if it's going to be in shot while you're filming.
Sony ECM-S1: Specifications
Swipe to scroll horizontally
| | |
| --- | --- |
| Pickup patterns | Uni-directional, Omni-directional, Stereo |
| Wireless connection | Bluetooth LE |
| Output | Digital (MI interface, USB), analog (3.5mm jack) |
| Range | Up to 150m with good line of sight |
| Battery life | Mic 13h, receiver 3h (unless powered by MI shoe) |
| Size | Mic 63.0 x 137.5 x 63.0mm, 157g, receiver 32 x 29 x 50mm, 25g |
Sony ECM-S1: Key features
The ECM-S1 mic has features which will be familiar to desktop mic users. It has a choice of pickup patterns including a speaker-facing cardoid pattern, an all-round omnidirectional mode and a stereo mode for interviews or meetings.
It offers manual volume control useful for different distances and audio levels and Noise Cut and Low Pass digital filters for noisy environments. There's also a 3.5mm headphone socket for monitoring the audio while recording.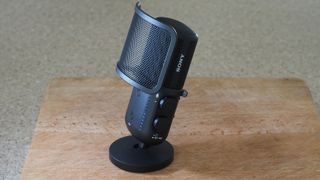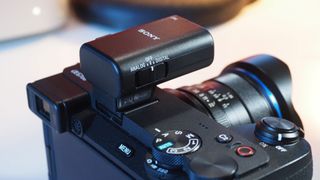 The mic and receiver are paired straight out of the box and communicate via Bluetooth LE. Sony says the wireless connection has a range of up to 150m given good line of sight.
The receiver unit has both digital and analog outputs, so it can be used with computers and other camera brands too. This gives the ECM-S1 extra versatility compared to regular USB mics as it offers regular analog camera connection too.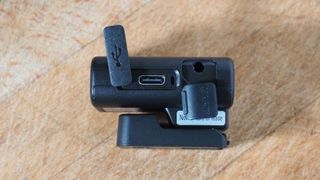 Sony ECM-S1: Build and handling
The Sony ECM-S1 is certainly nicely made. The body is plastic but feels solid, and its flat, round-edged shape makes it easy to slide into a bag for use on location. The base has a regular 1/4" thread for mounting on a tripod, boom or light stand, but you also get a small clip-on base for regular table or desktop use. There's also a clip-on pop shield to prevent or reduce plosives or 'p' sounds when the mic is very close to your mouth.
A tall line of LED lamps on the front gives a good guide to your audio levels and you can turn a dial on the side to reduce the volume if it peaks too far into the amber or red zones. Round the back are three-position slider switches for the three pickup patterns and noise filter options. These are OK but, as usual with small sliders like these, selecting the middle position is a bit trickier.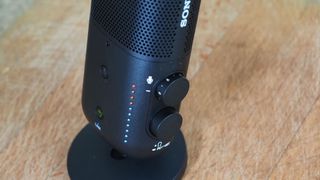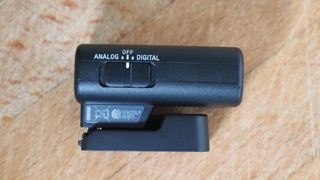 This is especially true of the 'Off' position on the receiver unit, which is between the 'Analog' and 'Digital' settings and doesn't have a very definite 'click'.
It's worth pointing out that the ECM-S1 is not necessarily a completely cable-free setup. It is if you're recording straight on to a compatible Sony camera via the MI shoe, but if you're streaming or recording to another camera or device, you'll need a cable to connect the receiver to the device.
Sony ECM-S1: Performance
The audio quality is very good for a desktop mic of this type, though it will work best in a room with some sound damping as it will pick up some reverb. This is normal for desktop mics. You could use it closer to your mouth on a boom, for example, to get a warmer 'radio' voice, where you'll need to reduce the input volume and put on the pop shield.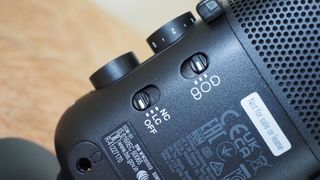 The stereo or 'interview' pickup pattern offers decent stereo separation, for a more spatial effect that would work well for interviews or round-table conversations, while the omnidirectional pattern works as expected and would be good if you need to record ambient sound or walk around the mic while talking.
The Noise Cut filter does a very good job of cutting background noise but at the expense of flatter, 'tinnier' vocals – but would still be useful if you need to make your speech audible in noisy locations.
Sony ECM-S1: Verdict
Compared to desktop favorites like the Blue Yeti, the Sony ECM-S1 is a very expensive mic – and yet the freedom to place it where you like, cable free, is really compelling. It's super simple to use and ideal for meetings, interviews or round-table conversations which you need to film from further back – a lot further than you might want to trail a cable, for example.
And while the receiver is designed to clip on to MI interface equipped Sony cameras, its USB and analog outputs make it compatible with a much wider range of devices. The ECM-S1 is useful to more than just Sony fans.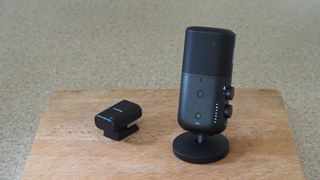 Read more: check out our top picks for the best wireless microphones or the best camera for steaming.