The Sigma 17mm F4 DG DN | C is a recent addition to the company's 'contemporary' line-up that includes several prime lenses available in both Sony E-mount and Leica L-mount options, for full-frame mirrorless cameras. They're designed with a focus on high-end performance, while keeping the size and weight down to easily manageable proportions. They also have an entirely consistent look and feel, throughout the range, making for intuitive handling when swapping between lenses.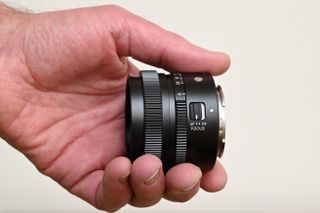 We've already been impressed with Sigma's 20mm, 35mm, 50mm and 65mm DG DN | C lenses in the series, all of which have a pretty nippy f/2 aperture rating. The 17mm is currently the most wide-angle in the line-up. It's two f/stops slower, at f/4, but gives a really generous field of view that's ideal for expansive landscapes and cityscapes. It also works well for vlogging, so you can put yourself in the picture within the context of the surrounding scene. For creative expression, there's the bonus of being able to exaggerate perspective, so that you can make foreground objects really stand out against a rapidly receding backdrop. All in all, it promises to be a very versatile lens.
Specifications
Mounts: Sony E, Leica L
Full frame: Yes
Image stabilization: No
Autofocus: Yes
Lens construction: 9 elements in 8 groups
Angle of view: 103.7 degrees
Diaphragm blades: 7
Minimum aperture: f/22
Minimum focusing distance: 0.12m
Maximum magnification ratio: 0.28x
Filter size: 55mm
Dimensions: 64x48.8mm
Weight: 225g
Key features
The 103.7-degree viewing angle is king of the key features list, giving and eye-popping perspective when you put your eye to the viewfinder. Considering the sheer size of the field of view, the Sigma is truly remarkable in being just a couple of inches long and super-lightweight at 225g. That's great news for travel and street photography. And unlike many ultra-wide-angle lenses, the Sigma features a screw-in filter attachment thread at the front, with a modest diameter of 55mm.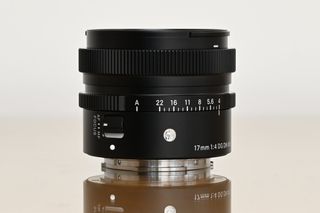 Like other lenses in the series, it has a linear stepping motor autofocus system which is quick and virtually silent, as well as being equally adept at stills and video capture. An AF/MF switch on the side of the barrel gives direct access to focus modes without the need to dip into camera menus. There's also a physical aperture control ring calibrated in one-third f/stop clicks, which sits behind the manual focus ring.

Optical finery includes two aspherical elements and three SLD (Special Low Dispersion) elements, in a line-up that features nine elements in total, arranged in eight groups. Super Multi-Layer Coating is also applied to reduce ghosting and flare.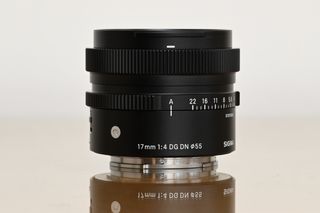 Build and handling
Although reasonably priced, the Sigma 17mm is impeccably turned out. It features an all-metal barrel with a variety of steel and aluminum parts, plus a solid brass mounting plate. The mounting plate also features a weather-seal, although the lens isn't comprehensively weather-sealed throughout.

The petal-shaped hood that's supplied with the lens is also made from metal and you even get two lens caps in the box, giving the choice of using a conventional plastic clip-in cap or a magnetic metal one.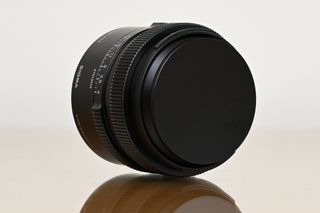 The AF/MF switch and aperture ring are definite plus points for handling. However, there's no switch for locking the aperture ring in it's A (Auto) mode. That would have been handy for when you want to control the aperture from the camera body, for example in Program AE and Shutter-priority shooting modes. Instead, you need to be careful not to jog the aperture ring from its 'A' setting accidentally.

There's also no switch to de-click the aperture ring, for smooth transitions when shooting video. Even so, handling is very refined overall. The focus ring works with smooth precision and the aperture ring's one-third f/stop click steps ensure accuracy and consistency.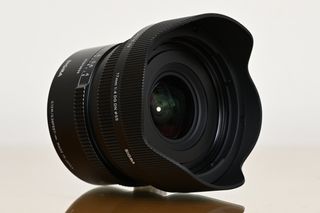 Performance
We've seen plenty of ultra-wide-angle lenses that are pretty sharp at the center of the frame but lackluster towards the edges and corners. This Sigma isn't one of them. It's super-sharp across pretty much the entire frame and holds up really well into the extreme corners.

Another impressive aspect of performance is that color fringing is very negligible, with almost no lateral chromatic aberration even at the corners of the image frame. The lens is also very good at keeping ghosting and flare to a minimum, which is a big plus point for landscape and cityscape photography, where the extra-large field of view typically pulls in lots of sky with light entering at oblique angles.

Ultra-wide lenses are also often notorious for very noticeable barrel distortion. Although the Sigma produced obvious barrel distortion in our lab-tests, which are based on shooting test charts from a necessarily close distance, it fared pretty well in real-world shooting, with only a modicum of distortion. Vignetting can be very noticeable at f/4 and f/5.6 but that can add to creative expression. Either way, automatic in-camera corrections are generally available for both distortion and vignetting, should you wish to use them.

Sample images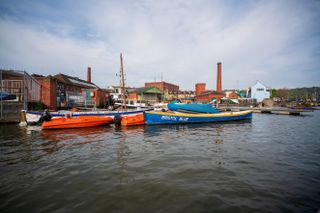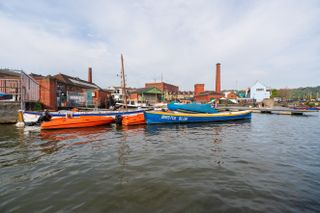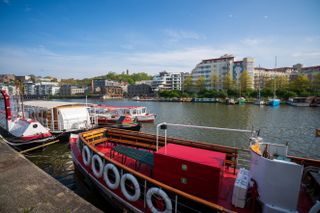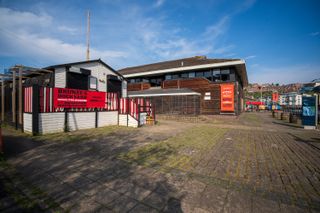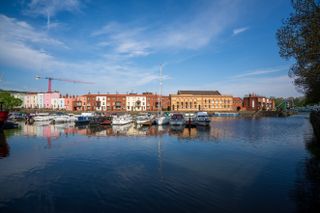 Lab results
We run a range of lab tests under controlled conditions, using the Imatest Master testing suite. Photos of test charts are taken across the range of apertures and zooms (where available), then analyzed for sharpness, distortion and chromatic aberrations.

We use Imatest SFR (spatial frequency response) charts and analysis software to plot lens resolution at the center of the image frame, corners and mid-point distances, across the range of aperture settings and, with zoom lenses, at four different focal lengths. The tests also measure distortion and color fringing (chromatic aberration).

Sharpness: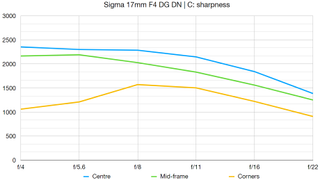 Lab-test results for ultra-wide-angle lenses don't tell the whole story. By necessity, standard sized test charts need to be shot from very close distances, which can skew the results. Even so, the Sigma's lab results for sharpness look very good on paper, and translate into excellent corner-to-corner sharpness for real-world shooting.

Fringing:
Levels of lateral chromatic aberration are pretty negligible even at the extreme edges and corners of the image frame, at all aperture settings. You're unlikely ever to need to use automatic in-camera correction for this.

Distortion: -5.15 (barrel, severe)
As with sharpness, shooting test charts at close range can make the distortion of ultra-wide-angle lenses look worse than it really is. The Sigma definitely isn't a zero-distortion lens but its images are generally entirely usable without having to rely on automatic in-camera correction. That's certainly not the case with many recent lenses designed for mirrorless cameras, some of which are basically unusable without in-camera correction.
Verdict
Think ultra-wide-angle lenses and you're probably thinking of hefty beasts that weigh you down. This Sigma is something altogether different. Thanks to a modest f/4 aperture rating and clever design-work, this 17mm full-frame compatible lens is outrageously small and lightweight for its type, but impeccably engineered and a high-flyer in terms of image quality. And it comes with a very attractive price tag.
Read more:
• Best camera lenses to get
• Best Canon lenses
• Best Nikon lenses
• Best Sony lenses